2009 Brass in Concert Championship - A question of repertoire
19-Nov-2009
Chris Thomas looks at what was played at The Sage this year and wonders if there is a real desire for musical innovation at the contest.
---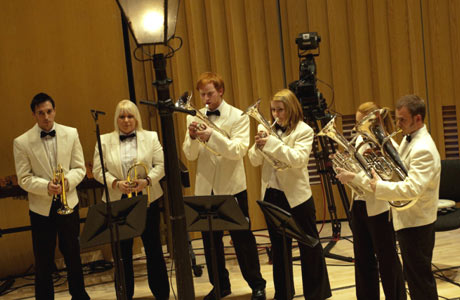 Leaning on a lampost - Leyland style
Picture: Ian Clowes

For more pictures:
http://www.pbase.com/troonly/2009_brassinconcert

The fact that Brass in Concert has, in recent years particularly, become almost as much of a hot bed for new arranging and composing talent as it is for the playing of the bands themselves, has not only proved healthy for banding overall, but has also provided a useful first introduction for audiences to some of the brightest young arrangers and composers around.
Nothing new?

Many of these young talents have emerged from the ranks of the bands themselves and although this is no new phenomena (master arranger Alan Catherall is still be seen plying his trade as a player with Reg Vardy after more years with the band than he no doubt cares to remember!) it has marked an era of growing numbers of bandsmen and women, many of whom have passed through the channels of banding academia, showing that they are as talented with their imagination, a computer and a copy of Sibelius as they are with a trombone or a euphonium.
Comedy?

Leigh Baker has proved himself to be one of the most notable exponents of the art, his arrangements and compositions having been the driving force behind several prize winning Brass in Concert programmes by Brighouse in the last few years, with particular success in the elusive and often sadly misjudged medium of the "comedy item".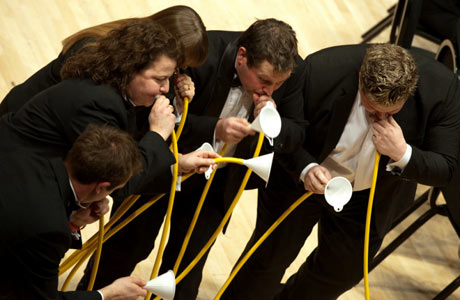 In need of a colonic? Desford clean their pipes
Picture: Ian Clowes

Master

Yet anyone hoping to emulate Howard Snell as an undisputed master of creating the original entertainment contest programme from scratch, will quickly realise just how tricky it is to be all things to all listeners….not to mention the adjudicators. Let's face it, there have been a good number of misses as well as hits in Brass in Concert programmes over the years.
Yet fresh material has to be a vital part of brass band entertainment culture and if there was a band willing to meet that challenge head on at this year's event it was Leyland and Jason Katsikaris.

Originals

With a programme of entirely new originals by fresh young composers and one arrangement, this was music that at long gave British brass bands a belated kick up the arse into the twenty first century; even if it has taken a decade to get there.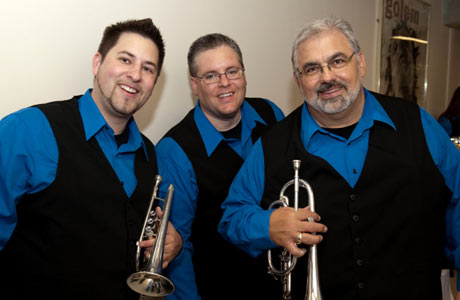 Three Americans in Gateshead: Fountain City enjoyed their experience at BiC
Picture: Ian Clowes

Fresh in the mind

With David Read's comments about the need to innovate and energise still fresh in many people's minds, it remained a bold decision to present a programme that challenged and dared to push boundaries but ultimately, and regardless of whether it was adequately rewarded by the adjudicators on the day, this was the very spirit of innovation that David Read had talked of.

It also served as a telling parting gesture with more than a hint of an underlying message from Jason Katsikaris before his return to Australia.

The refreshing vitality of his presence over the last couple of years has been such that British brass bands can ill afford his loss during increasingly challenging times for the movement.
Big and bold

Wired and Intro and Flight to Sparta, the contributions of Lucy Pankhurst and Peter Meechan respectively, were big, bold and in your face, but the brand of big band funk and groove that in differing ways underpinned both works was fresh, invigorating and crucially different.

Even more striking though was Simon Dobson's Lock Horns, Rage On, a startlingly original, garish, full on take on the traditional march format, drawing its inspiration in part from the composer's brother in law who suffers from obsessive compulsive disorder.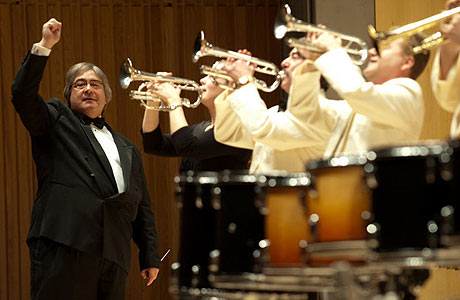 Swing when your not winning: Cory couldn't repeat their 2008 success
Picture: Ian Clowes

Odd premise

As odd a premise for a march as it might be, Simon Dobson has once again produced a piece that screams his credentials at the audience and surely stakes his claim firmly to a shot at a major test piece in the very near future.
Phillip Littlemore's stylish arrangement of Morton Lauridson's O Magnum Misterium carried off the prize for best new arrangement and skilfully exploited the bottom of the band in particular, in glowing textures and colours whilst providing the calm at the centre of Leyland's programme.

It should be an arrangement that is heard again rather than consigned to the post contest bottom drawer.

Powerful

To conclude Leyland's programme Jason Katsikaris turned to another young composer of promise in Tom Davoren.

Drawing its inspiration from Jason and the Argonauts in a non too veiled tribute to Katsikaris himself, the filmic backdrop of Visions of Kolkhis was more populist in style than the opening works, being closer to Paul Lovatt-Cooper than Simon Dobson, but it made for a powerful end to a cleverly constructed set.

We can only hope that Leyland continues its mission in the absence of the band's inspirational erstwhile MD.
New scores

Elsewhere in the day's events there were bands that programmed new scores with varying levels of success. For Fodens, the band's Composer in Residence Andy Scott is a man with the originality to take band music into new territory and his My Mountain Top, Space Invaders and a terrific new arrangement of Stevie Wonder's Saturn were central to the success of Fodens imaginative and highly visual space themed winning programme.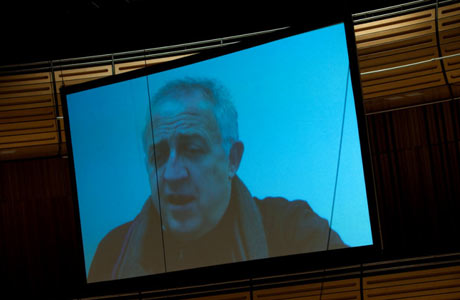 Talking heads: Bram Tovey appeared from above
Pictyre: Ian Clowes

Track record

The proven track record of Stephen Roberts was cleverly utilised by Desford in a programme that featured solely his own arrangements and compositions, including a striking opening fanfare Call to Arms, bristling with the spirit of Henry V and Olivier and a comedy number, Mozart's Das Butterbrot, that succeeded where others had failed, largely on account of it avoiding the cringe inducing slapstick antics still employed in some bands to dismal effect.

Less successful was the Finale from Mahler's Third Symphony that closed the programme, which missed the sheer breadth of the orchestral original and consequently fell slightly flat despite an overall set that was highly entertaining in its conception.
Own ranks

Carlton Main drew on its own ranks in Rebecca Lundberg, the band's principal trombone player, who provided three arrangements and a significant chuck of Carlton's programme.

The music drawn from Miss Saigon that concluded the programme, despite Rebecca Lundberg's able arrangement, was simply not memorable enough to make a serious impact although the same arranger's version of John Brunning's affecting Pie Jesu featuring an all girl quartet, proved to be the highlight of Carlton Main's set.
Tiger, Tiger

For Brighouse there was only the one Leigh Baker number this time round, but his witty arrangement of Tiger Rag, brilliantly exploiting a natural comedian in the form of Shaun Crowther, brought the house down and deservedly so.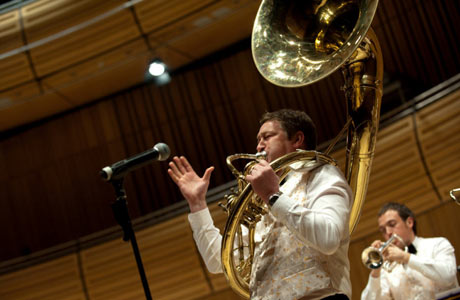 Give 'em what they want: Shaun Crowther pleases the crowd
Picture: Ian Clowes

Trump card

For Brighouse though, the trump card was Paul Lovatt-Cooper's latest piece Enchanted Cities.

That it was PLC's work there was no doubting from the opening bars as the familiar Lovatt Cooper-esque rhythmic patterns and ostinatos were quickly evident. If there was evidence needed of how the banding world has taken Lovatt-Cooper's music to heart however, it was here in spades as the audience expressed its enthusiasm in wild appreciation for a composer whose music is going to be with us for a long time one suspects.
Mixed bag

As ever then, Brass in Concert 2009 provided an eclectic mixed bag of new arrangements and compositions, but in a format that is crying out for rejuvenation and innovation, it's going to take bands that are willing to take risks to further the cause of Brass in Concert in future years; and in that respect at least, Leyland and Jason Katsikaris are to be applauded for a genuine spirit of enterprise.
Chris Thomas