2009 Brass in Concert Championship - The Good, The Bad and the Downright Odd
19-Nov-2009
There was plenty to smile about, curl your toes about and raise an eyebrow or two about at The Sage this year...
---
There was plenty of things to enjoy, or not, as the case may have been at The Sage on the weekend. Plus - some very odd moments too...

More pictures at:
http://www.pbase.com/troonly/2009_brassinconcert

The Good:
1. The Sage
Brass in Concert has been invigorated by its move to the anthropomorphic venue. Not only is it a wonderful place to look at from the opposite bank of the Tyne, it is also a wonderful place to visit too.
It's big enough to accommodate all the players, supporters and listeners, and the main auditorium itself has crystal clear acoustic, comfortable seats and clear sight lines.
The facilities are good (the food is excellent) and the place generates a friendly atmosphere on the main concourse for those with time to have a natter and discuss all things brass bands.
---
2. Frank Renton
Frank is the man.
Be it the dry wit, knowledgable insights into the music, the ability to interact with the audience when there are those longeurs waiting for the next band to take to the stage, the interaction with those MDs who are not scared to death just to stand there stricken immobile like Lot's wife – Frank is an essential element in the success of Brass in Concert.
It's a rarity for him to get anything wrong or get muddled, and his neat line of occasional self-deprecation ensures that the audience doesn't get to resent his overt self-confidence.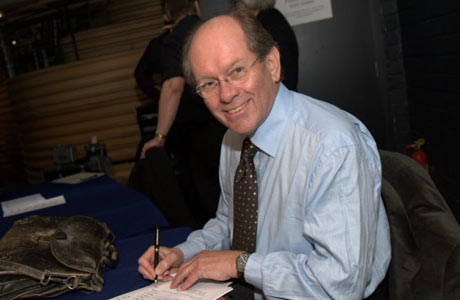 The main man: Frank Renton does his homework back stage
Picture: Ian Clowes
---
3. The Audience
The average age may well be on the Saga Holiday side of life, but they are a generation that loves their brass banding, buys the tickets and the CDs and DVDs too.
This is not the 'download' generation for certain and it does tend to be somewhat conservative in what it likes to see and hear at the contest, but they stay in to listen to the bands, good or bad.
As brass band contest supporters go, there aren't too many better.
---
4. Brass & Percussion Workshops and Youth concert
Making Brass in Concert a much more inclusive weekend of banding has been a great idea that is now flourishing.
The workshops now attract players from all over the country (there were some players from as far afield as Aberdeen and Northern Ireland this year) and a sea of supporters and passers by enjoys the impromptu concert on the concourse.
There is now something for everyone to be a part of, even if the organisers could have done a bit more this year to help get a few more people into enjoy Youth Brass 2000.
Those who missed them, missed a treat.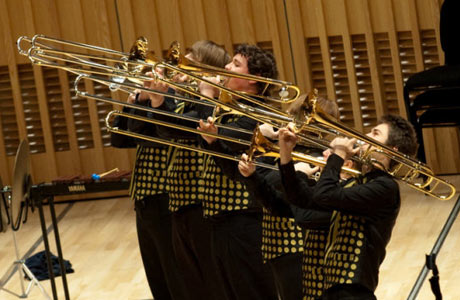 Up, up and away: Youth Brass 2000 entertain the crowds
Picture: Ian Clowes
---
5. Gala Concert
The Gala Concert opener has now become a real feature of the weekend, and attracts a great audience to The Sage on the Saturday night.
Getting the mix right of performers is tricky, but you cannot go wrong if the three featured bands can boast current World, National, British Open, US Open, US National, Brass in Concert, Welsh and European titles between them – plus the Young Brass Musician of the Year too.
As for next year?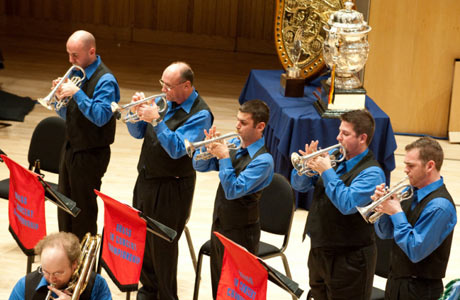 National champs: Fountain City do what they do best...
Picture: Ian Clowes
---
The Bad:
1. The Marking System
Outdated, antiquated, too prescriptive and badly weighted.
You don't need to be a statistical analyst to see that the current system is so flawed that it now has a corrosive impact on the contest itself. Get someone to explain it to the organisers before it completely kills off the chance of rewarding innovative music making and presentation.
---
2. Swingers
British brass bands and especially their conductors have little understanding of authentic swing music.
You would have thought the lesson should have been learnt from Central Band of Florida a few years back who showed just how it should be played – but no.
This year Fountain City showed that swing music comes naturally to those who have been brought up on it as players and listeners – and who have a kit player who knows how to hold it all together in the sub conscious mind.
Those who once again tried to kid us they were brought up on a diet of Benny Goodman fell flat on their faces.
Cory couldn't even get the identity right about who was the 'King of Swing' in the first place.
---
3. Screamers
High pitched screaming is best left to pre pubescent teenage girls with a fixation on gormless X Factor Boy Bands, post pubescent teenagers in Slasher horror movies and trumpet players who know that its isn't just about ramming a tiny mouthpiece down the back of your throat and trying to burst the eardrums of pensioners in the first ten rows of the hall.
Once again the Brits have not learnt a single lesson from the examples shown to us by those understand what it is all about – usually the Americans.
Fountain City had an authentic screamer who played in a manner that didn't sound like a man extricating a red-hot poker from up his jacksy.

The Brits sounded as if they were auditioning for a part in the next Exorcist horror movie - it was excruciating.
---
4. Pros
The use of professional players isn't against the rules, but surely the drafting in of top class players to be featured soloists and little else besides, is ever so slightly against the spirit of the competition's ethos?
Band's may bleat that they have an 'association' with such star players, but it is stretching credibility a little when that 'association' doesn't really apply to them playing in a local grading contest or next year's Area qualifier.
What happens of a band turns up with Wynton Marsalis in uniform next year? That could be the best use of an old pro since Christine Keeler was a lass.
---
5. Choreography
Swaying back and forth out of time to the music isn't a good idea in anyone's book – it just makes bands look as if they are a bunch of drunks at throwing out time at the local Wetherspoon's pub.
Do choreography it well (as Fountain City and Reg Vardy did this year) and it brings a new dimension to the stage presentation of a performance.
Do it badly (and so many did) it looks cheap, amateurish and laughable.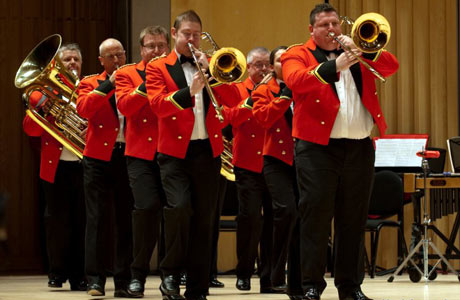 Marching to the beat: Reg Vardy show a neat turn of step
Picture: Ian Clowes
---
The Odd:
1. The Prizes
How come there isn't a prize for the best tea lady or repiano cornet at Brass in Concert? Everyone else seems to get something or another.
And how come Michael Dodd, who won the 'Best Soloist Award' wasn't also the 'Best Euphonium'?
If the contest is trying to promote invention and innovation, why isn't there a separate 'New Composition' Award? Pairing it as part of a new arrangement award seems to defeat the object.
And for that matter, why should the Secretary of the winning band get an award?
And is there a hint of political correctness about some of the awards? At least one this year was questionable to say the least.
Time for a rethink.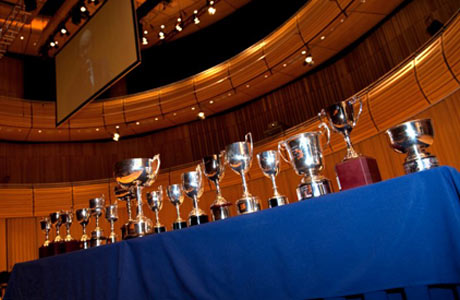 Prizes, Prizes everywhere: These lot will take some cleaning
Picture: Ian Clowes
---
2. Synthesizers
Time to ban them.
Surely it is the thin end of the wedge when all a band has to do is get someone to press a button on machine to mimic an actual instrument.
Not only that, but with Rothwell this year it sounded as if West Side Story had been come under attack from Martian space invaders.
There is a possible defence if no other instrument can play an 'effect', but getting them to play fairly straight forward drum parts is a bit rich.
---
3. Overhead projected images
Great ideas when utilized by people who actually know how to get the best out of them.
Getting someone in Form 5B in school to produce a PowerPoint presentation is of little use if the images are just taken from a NASA website or Google Earth, or if they cannot be linked to the music that is being played.
And as for having a talking head?
Foden's use of Patrick Moore was inspired and looked professionally recorded. However, a few minutes later Bram Tovey looked like a Taliban hostage reciting a jihadist message on an i-phone. It very nearly lost them the contest too, as the sound quality was so poor Glyn Williams and the quartet on stage very nearly came a cropper.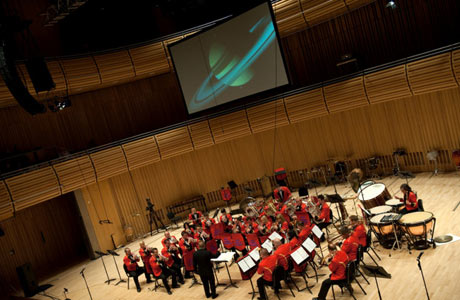 Ring of confidence: Fodens opt for outer space overhead
Picture: Ian Clowes
---
4. Too many bands
Even the most die hard entertainment contest lover found having to listen to 12 bands at least a couple too many on the day.
Any contest that starts at 9.30am and ends with the last band leaving the stage after 6.20pm (with just 25 minutes for lunch) and then having to wait another hour for the announcement of the results makes for a day that ends in anticlimax.
And so it proved. The results ceremony was played out to a half full hall, and the announcement of the winners was greeted by not a single cheer from band members – nearly all of whom were enjoying a well deserved beer in the bar.
Quality not quantity is appreciated more nowadays. 10 of the very best bands, starting a hour or so later with a hour break for lunch would give everyone the chance to make it to the end of the day without the mad rush for the bar or the bus home.
---
5. James Gourlay
Last but not least.
There is always a fine line between genius and madness, and Jim treads it better than most.
His ABBA inspired Karaoke 'Super Trouper' was an example of achieving both at the same time.
Bonkers but strangely brilliant.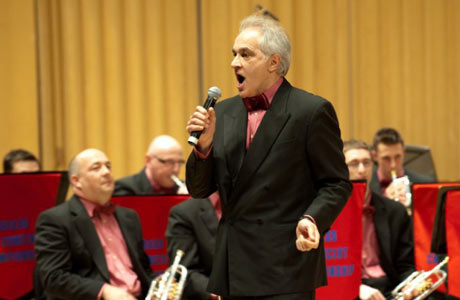 Bonkers: Jim Gouraly takes to the mike...
Picture: Ian Clowes