2009 Brass in Concert Championship - Introduction & Prediction
10-Nov-2009
The entertainers are in town and ready to give it their all - but who will come out on top in the brass band world's version of X Factor.
---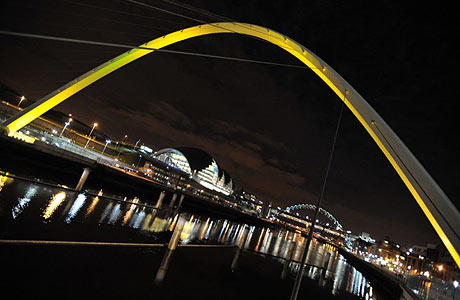 Bridge over untroubled waters? The Sage at night
Picture: Ian Clowes

The last major championship of the year takes place at the wonderful Sage Centre on the banks of the River Tyne on Sunday, with an air of undisguised confidence about the event.
It isn't misplaced either, as a contest that once took place in the canteen of a fag factory has grown with astute organisation into a hugely popular and colourful festival of brass, unrivalled in the banding world.
Rebranded

Things are looking up then for Brass in Concert – now rebranded as '…in association with British Bandsman' – which as sponsorship naming rights go, thankfully, doesn't quite match the local comedy villain Mike Ashley's attempt to rename St James Park as a dot com pleasure dome for trashy 'chav' inspired leisurewear and Chinese made training shoes.
That said, Brass in Concert still has its issues and squabbles – as anyone who delved into the post contest murky waters of last year could testify to. That particular issue has been sorted out by all accounts, but the fact remains that there is no Scottish band at the contest for the first time since 1984.
No comment

Heaven forefend that there is a suggestion that the two are linked, but as the fictional Prime Minister Francis Urquhart was found of saying: "You might very well think that; I couldn't possibly comment…"
Judy Garland

This year though there is a welcome return of a competing band from across the Atlantic Ocean – and a group making the longest journey from Kansas City since Judy Garland popped on her red shoes and was whisked off to the Emerald Palace.
Fountain City are on a run of all conquering form at present – fresh from winning the US Open for a third year in a row – their sixth consecutive major domestic title.
Those who have heard them in action since their last appearance in the UK in 2007 can testify to the fact that they have made impressive musical progress under the baton of Joseph Parisi.
They could be a band to fear as they haven't made the trip just to make up the numbers, and they will be keen to at least emulate the 4th place gained by Brass Band of Central Florida a few years back.
Judges

Whether they can, will be down to whether or not they will be able to impress the line up of judges.
The musical element is in the hands of the experienced pairing of Derek Broadbent and Nigel Boddice, whilst the entertainment factor comes under the scrutiny of Alan Fernie and Chris Wormald.
Hopefully there will be no Simon Cowell, 'Jedward' voting problems...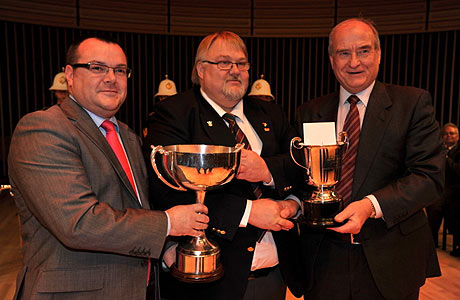 Points mean prizes: Cort take the 2008 honours
Picture: Ian Clowes

Points

The weighted points balance between these two diverse elements remains outdated however (one of the few things about the event that is it must be said) and surely needs revision. Like Jordan's bikinis and Geoffrey Boycott's batting average, the statistics reveal as much as they conceal – and the final results are not always what they seem to reflect at first glance.
Much though depends on what the competing bands bring to the splendid stage here – and this year there is a fine line up of rivals.
Efficiency

Reigning champion Cory will be looking not just to retain their title won with a display of almost ruthless efficiency last year, but to do so in manner that reaffirms their position as the best band in the world.
The contest will be the swan song of one of the finest players in the band's 125 year history – principal cornet Ian Williams, who takes his final bow as 'top man' after 20 years at the helm.
Cory are not a band that indulges in misplaced emotion too often, but there would be a tear in a few eyes if this fine player could round off two decades of leadership with yet another victory to celebrate. No band will be better prepared for sure despite the recent outbreak of Welsh Swine Flu in the ranks.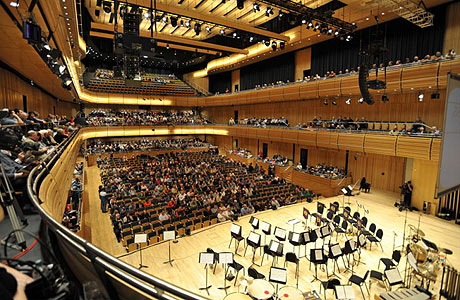 Not empty for long: The Sage will be full once again
Picture: Ian Clowes

Chasing hard

Two bands with something of a point to prove will be chasing Cory hard.
Grimethorpe appears to have found its equilibrium after a year in which the meniscus in the Yorkshire pint glass of optimism has been pointing to half empty rather than half full. Last year's failure to impress won't want to be repeated for sure.
What the pint glass at Brighouse is telling us though is anyone's guess. More comings and goings than Newcastle United, the lads at West Riding seem to be experiencing a Rafa Benitez 'wobbly patch' at present – as wobbly as a blancmange on a spin dryer.
With 'Tricky Dicky' at the helm though anything is possible, and if they have been able to tap into their bag of musical tricks they could well spring the best rise from the dead since Lazarus made a surprise reincarnation as Chris Houghton over the road at St James Park.
Real shout

If either of these two bands fail to hit top form, then Foden's will surely be in with a real shout of claiming its first Brass in Concert title since 2000.
It hasn't quite turned into the year Foden's would have hoped for on the contest stage – so far that is. The band hasn't really hit top form here in the past couple of seasons either and they won't want to make the same mistake as last year when claims for occupational deafness went through the roof after they almost blew a fuse on the amplifiers in the hall with their opening item.
At their best, Foden's could be unbeatable, but they will know that they will have to be just that if they are to leave with Gateshead with the £4,000 top prize in their grasp.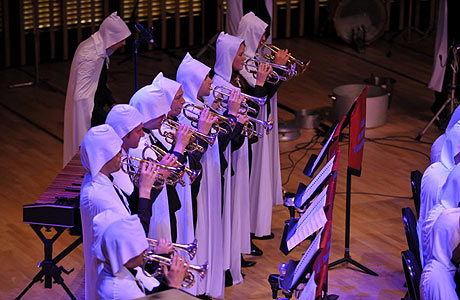 Hoodies? Fairey try to wake the dead last year
Picture: Ian Clowes

Anyone's guess

What Fairey will bring to the contest this year could be anyone's guess.
Last year's deathly theatrics were certainly innovative and highly entertaining (all that was missing was Derek Ancora) but was as popular with some of the conservative traditionalists in the audience as Jimmy Carr at a Poppy Day parade.
They are a much stronger playing outfit this year though so if they can match the aural and the visual together then look out.
Reunited

Some of the contenders this year will also be keen to make the right impression if they are to be confident of being seen here next year.
Reg Vardy will be one – although they will come to the contest full of confidence following their fine 5th place at London and perhaps finding a new sponsor in 'Friends Reunited' now they are back in harness with Ray Farr.
Rumours have suggested that they may need a good result if they are to retain their proud record of being an ever present at the contest, and they will know they will have to bring something more to the proceedings than the rather tired set of 12 months ago.
London and Ray Farr have come just at the right moment then – and it could just inspire them again.
Substitute

The same goes for Flowers – a late replacement for 2008 Norwegian SIDDIS Champion, Manger Musikklag.
There is an argument to suggest that 12 bands is at least 2 too many for this contest (it is a very long day for even the most committed listener), and Flowers recent record hasn't been the greatest.
They too come buoyed by a decent return at London, but without Philip Harper's direction (and substantial musical input), they could be up against it.
Extended stay

One band that will certainly be looking for an extended stay will be Rothwell Temperance, who many supporters feel have been due an appearance here for quite some time (and have made their opinion heard direct to the organisers too).
The Yorkshire champion comes with a reputation for traditional values, so it will be interesting to see just how good David Roberts and his band are away from the test piece format.
Leyland meanwhile come to the contest freely admitting that they are bringing something new, young and exciting to the musical proceedings, advertising the fact that they are pinning their hopes on a phalanx of talented young composers to try and tickle the fancy of the judges.
Bands have tried all sorts of different approaches over the years to try and be innovative, but this approach is both welcome and overdue. How it goes down with the audience and the judges though will be intriguing.

Star quality: Which band will have the star quality to take the title this year?
Picture: Ian Clowes

Zip

For Desford, you just hope they have been inspired to do the same thing, after last year's rather flat effort didn't show a fine band off at all. On their day Desford can mix it with the very best, but will that day be here on Sunday?
Under Stephen Roberts you never know, but you suspect we could be in for something with a bit more zip and freshness than 12 months ago.
That just leaves Carlton Main, who kick off the contest this year from the number 1 draw on their return to the contest fro the first time since 2004.
It hasn't been a great season for them in 2009, but they are no strangers to trying something new and inventive. Russell Gray will know though that it may take a bit more than dropping your trousers and indulging in a bit of thigh slapping (as he did with Mount Charles a few years back) if they are to force their way into the prizes this time around.
As for a winner?
Usual suspects

Hard to see past the usual suspects, especially given the short period of time some of the bands have had in preparation for the contest.
Cory, Fodens, Brighouse & Rastrick and Grimethorpe seem to be the bands that have the required 'know how' and the requisite musical resources to mine to come well prepared and with something new to reveal.
Fountain City could be the band to really listen out for though – they were excellent value for their recent win in Illinois, whilst Fairey will surely be inventive once more and Leyland could be inspired.
1. Cory
2. Foden's
3. Grimethorpe
4. Brighouse & Rastrick
5. Fountain City
6. Leyland
Dark Horse: Fairey