4BR Dinner Guests - Steven Haynes gives us his ultimate dinner guest list
9-Nov-2009
Steven Haynes tells 4BR just who he would have around his dinner table for a good night out and chin wag...
---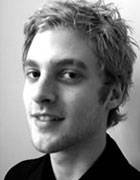 Given the opportunity, the wish list, the ability to mess about with the Space-Time Continuam like Doctor Who, and the skill to cook like Heston Blumenthal, who would you like to invite around to your place to enjoy a meal and chin wag with?

4BR started it all off a few days before Christmas 2007 with our 10 dinner guests, so we thought we had better ask a few more brass band personalities who would be on their all time dinner list too...
Nice guy

This time it's trombonist Steven Haynes, one of the brass band movement's top 'exports' to the orchestral world. Steven is based in London and makes his living playing with many of the countries leading orchestras and on some of the most well known West End shows and television programmes.

He has played with Black Dyke, Grimethorpe, Fairey and Rothwell bands and studied at the Guildhall as well as in Vienna. He also reached the final of the BBC Radio 2 Young Brass Soloist Competition and is a former member of the European Union Youth Orchestra. He is currently a member of the Barbican Brass Quintet, with fellow brass band 'export', Philip Cobb.

He told 4BR: "Like everyone else, it has been hard to try and include just about everyone I would want to come along and enjoy the meal - so apologies to those I have been forced to say no too! It should be a great night though - plenty of strong opinions about music, football and anything else that takes the fancy!"
---
1. Elgar Howarth

I was fortunate enough to be in NYBB when Mr Howarth was Artistic Director and later played under him at Grimethorpe. He is without doubt one of the most gifted musicians I have ever met and I believe many of us owe him a great deal of gratitude. His work with Philip Jones has enabled brass groups such as Barbican Brass to be taken seriously as chamber music ensembles.

Also, his work with Grimethorpe has resulted in some very fine creations from Birtwistle's 'Grimethorpe Aria' to the 'History of Brass Band Music' recordings. Having being involved in several of these recordings, I was introduced to Mr Howarth's real attention to detail in honouring original performance; with the trombones on small bore instruments and Frosty on a G trombone.

I find him a fascinating man to listen to and I recall an exhibition of his wonderful humour when he once conducted an entire Grimethorpe rehearsal with a pink toothbrush commenting "life on the road"!
2. My brother John Haynes

My brother emigrated to Brisbane over three years ago with his wife and son and I have only seen him twice since he moved.

I have met fewer people who are as at home in social situations so having him at a dinner party would be a great opportunity for a good catch up!
3. John Maines

Again, I met Mr Maines when I was in NYBB. I don't think I have ever met a finer raconteur of anecdotes! Whatever the situation he would have a story that would leave listeners in hysterics. Aside from this though, I have much respect for him as a musician and as a leader.

He is very much the Peter Gane of the brass band world and had the wonderful ability of getting a section full of competition to play as a cohesive unit. I was in NYBB alongside Andy King, Chris Gommersall, Andy Foden and Phil Dias and anyone who could get us lot to play together deserves some kind of special mention!
4. Sir Alex Ferguson

I'm actually a massive Leeds fan but even I have to acknowledge that what Sir Alex has achieved at Manchester United is simply astonishing! I love the apprenticeship method he employs and you cannot deny that they are extremely exciting to watch.

I also love the fact that after he crashed out of 'Celebrity Who Wants to be a Millionaire' he phoned over 100 people to find out if anyone knew the answer that he'd gotten wrong!
5. Ian Bousfield

...but not for the reason you might think!

Ian has the most phenomenal knowledge of wine; surely an essential component to any dinner party! I was fortunate to study with Ian in Vienna for a year and during this time I was introduced to what is now my biggest hobby; wine!

It's a fascinating subject and you never stop learning! I love the way it incorporates science, art, opinion, technology, history, geography and even the weather! I was honoured the other day to learn that my toils in the subject had not gone unnoticed when I was asked to taste potential wines for a friend's upcoming corporate event.

I could happily spend an evening talking to Ian and the trombone would not even crop up in the conversation (although cricket and the demise of Leeds might!).
6. Frank Sinatra

I've still heard very few musicians who can craft a phrase like Sinatra could (two of the others being Maurice Murphy and cellist Pablo Casals). The way Sinatra could tell a story was spellbinding and I find much of the music of this era so rewarding to play.

I'm also an avid poker player and the whole Vegas scene excites me immensely; I've just booked a three week holiday there for next September!
7. Flavia from Strictly Come Dancing

Need I say more?!

I love this programme and aside from the beautiful women the band is amazing!
8. Mark Frost

I met Mark when I first played at Grimethorpe when I was 15. He took me under his wing and has been one of my best friends ever since (in fact that's how I got my nickname!).

Frosty is without any doubt in my mind the best bass trombonist on the planet; simply no-one can do what he does in terms of technical ability and his ease of changing style. I am always learning from him and he has given me some wonderful opportunities.

We speak every day on the phone and has been a great support to me since my father has been ill. A wonderful chap!
9. Brian Clough

I've just read 'The Damned United' and whilst I can appreciate that the book has inaccuracies it still had me hooked on the character of 'Cloughie'. For me, it's not just what he achieved but the way that he did it; one of life's true characters.

I have just bought the film and the chance of having Brian Cough and Sir Alex at the same dinner party would surely be a real spectacle!
10. My Granddad; 'Clarry'
Maybe a little cliché but my Granddad was a big inspiration on my music. He was a miner and played a big part in my involvement in brass bands.

He also had a wonderful love of all kinds of music from opera to Ted Heath. He is probably the reason why I have ended up doing the variety of work that I do today. Thanks Granddad!
---
Previous dinner guest lists:
Previous guests have included the 4BR selection; Chris Wormald; David Read; Pete Meechan; Alan Jenkins; Derek Broadbent; Philip Harper; Peter Roberts; Frank Renton; James Shepherd; Dr Roy Newsome; Paul Lovatt-Cooper; Bramwell Tovey; Kevin Crockford; Morvern Gilchrist and Lesley Howie; Richard Evans; Simone Rebello; Ian Porthouse; David Daws; Alan Morrison; Alan Wycherley and Mark Bousie.