2009 British Open Solo & Quartet Championship - Senior Solo retrospective
3-Nov-2009
Belgium provides yet another winner of the top solo prize in the UK - and he deserved every accolade too...
---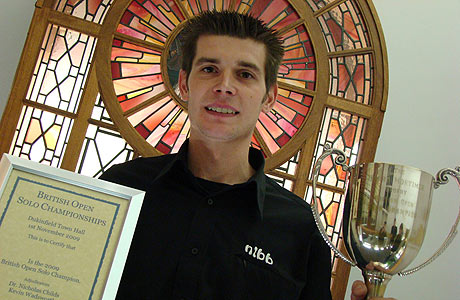 Top man: Jef Vermeiren takes home the Senior title

The battle to be crowned British Open Solo Champion started with 22 contenders looking to join defending champion, Glen Van Looy in the final later in the day.
Long haul trip

Although there were representatives from some of the top contesting bands in the UK (Desford, Leyland, Fairey, Reg Vardy and Rothwell) the eventual winner came from Belgium, with Jef Vermeiren taking the £350 top prize and the long haul trip to compete at the Ern Keller Contest in Australia in 2010.
First of all though, the field had to be whittled down to the 9 finalists – a hard job for judges Kevin Wadsworth and Thomas Wyss who had the task of separating out a series of very competent solo performances.
Both judges have plenty of experience of this format – Kevin giving a hint to his age perhaps by recalling the occasion when as a young tyro horn player from Black Dyke he made the trip to Morris Motors bandroom only to find that he had been drawn number 1 out of a field of 58!
Thomas Wyss has also had plenty of experience of large fields too – playing a central role in the amazing growth of the Swiss Solo Championships, which regularly attracts over 500 competitors from all over the country take part each year.
No terrors

22 performances held no terrors then, and the duo would have enjoyed a series of eclectic choices from the competitors.
In the end they plumbed for a line up that included four cornet players, two Eb tubas, a bass trombone and a baritone – all high class performers and all more than capable of pushing defending champion Glen Van Looy all the way.
Although one or two players may have been a little disappointed they didn't get through, the eight that did certainly had that extra sheen about their solo delivery, both technically and musically.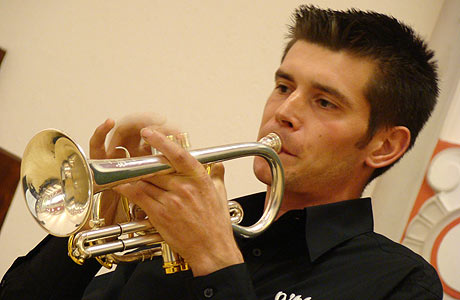 The winner in action: Jef Vermerien in full flow

Excellent final

The final itself was excellent – even if the question of a time limit on performances was certainly one to be asked at times.
Playing a full 'Concerto' is a bit of an ask at the best of times, but at a contest such as this?
Perhaps the rules need a little more clarity, as at least two competitors were under the impression that a time limit was in place and chose their repertoire accordingly.
Full Monty

Jef Vermeiren certainly picked the 'Full Monty' with Vladimir Peskin's 'Concerto No. 1' to take the title in commanding style with a performance of razor sharp technique and subtle musical nuance.
The audience actually thought he had finished after a first movement that was quite startlingly well played, but despite the pre-emptive applause, Jef went onto to follow up with two equally impressive movements to tick the right boxes for the judges Dr Nicholas Childs and Kevin Wadsworth.
The Black Dyke MD was bang on the money when told the audience; "The winner deserves all the accolades. There was a very high standard of performance today from some fantastic players, and I hope the winner can use this victory as a platform for what I am sure will be a exciting musical career."
If this is what he can do, you can bet your bottom Euro, Jef Vermeiren will be able to do just that.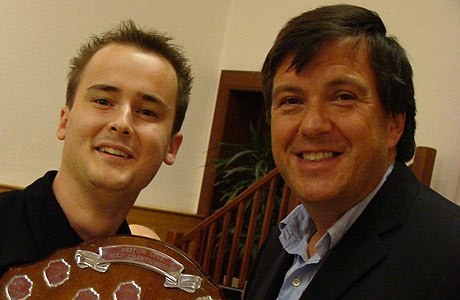 Close second: Harmen Van Hoorne with Black Dyke's MD

Close second

A close second came compatriot, Harmen Van Hoorne, who was one of the competitors who opted not to play the whole of his 'Concerto' choice – the immensly difficult one by Ernest Tomlinson no less.
That you suspected he couldn't play the other two movements was never in question after a superbly delivered single movement that coupled remarkable technique to lyrical musicality.
Bravura

In third place came the first of the Brits – well almost, as Australian Kristy Rowe, the former Ern Keller winner and current solo baritone at Leyland, producing a richly characterful performance of 'Anna Karenina'.
The piece may be a bit of an 'old pot boiler' (unlike the lady of the title by all accounts), but Kristy delivered it with a bravura freshness, as well as one of the best circular breathing techniques you are ever likely to to hear.

Rich Rowe: Kristy Rowe of Leyland and Australia took third place

Spirited defence

For champion Glen Van Looy, a spirited defence of his title (all without music on Ponchielli's 'Concerto') just fell a yard or two short. His startling technique at times just threatened to submerge the musicality of the delivery, and whilst it was breathtaking playing you yearned to hear a little more of his lyrical abilities too.
For former BBC Young Brass Musician double champion, tuba player Ben Thomson, an opportunity lost. He was one competitor who was under the impression that there was a time limit and so he picked Rodney Newton's 'Cappriccio' rather than a more substantial 'Concerto'.
The result was a fantastic performance of a work that never really stretched him. The experienced judges would have known that too.
The same rather applied to John Truscott – the Desford tuba star delivering a wonderfully facile performance of 'Three Minaitures' that was just that – minaiture compared to other more substantial offerings on the day. Here was a top class performer though – no doubt about that.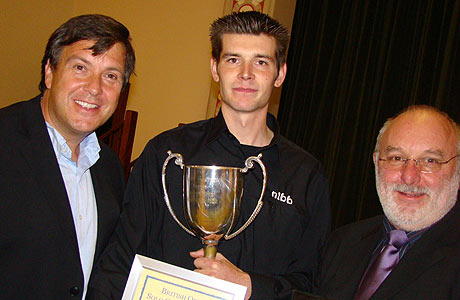 Winning judgement: Kevin Wadsworth and Nicholas Childs congratulate the victor

Stretched

One performer who was stretched however was Desford bass trombonist Stephen Lomas, who played the whole of the Emmerson 'Bass Trombone Concerto' – and that is some length (just ask anyone who listened).
Despite his fine efforts and rich plumby tone, the piece meandered to its conclusion. A very fine player, but not a great piece for an occasion such as this.
Qualities

Rothwell Temperance principal cornet James McCabe showed his qualities on 'Rustiques', an ambitious choice of repertoire that was delivered with confidence and control. It just faltered as stamina waned a touch to end, but this was a performance from a player who has really blossomed in maturity in the last couple of years.
Finally, Stan Nieuwenhuis of Brass Band Buzingen with an old tub thumper of a performance of the Brandt 'Concerto' that just varied a little in execution to have really done justice to the performer. It was a 'nearly' one on a day when such was the quality of the opposition that the merest of errors was going to be fatal.
For Jef Vermeiren though, the only problem he will now have is booking a direct flight from Belgium to Australia. He is a very worthy British Open Champion.
Iwan Fox