2009 British Open Solo & Quartet Championship - Senior Quartet retrospective
3-Nov-2009
Is quartet playing in danger of becoming extinct? Not if Hammonds Saltaire keep playing as well as this...
---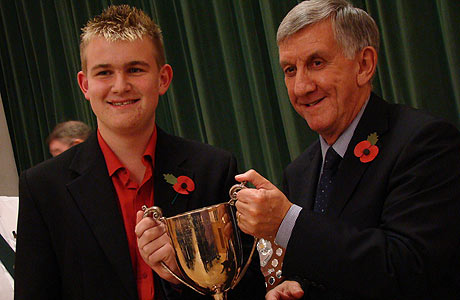 1 out of 4: Hammonds take the Senior Quartet title

There was a sense of real disappointment that only four ensembles had entered the Senior Quartet Contest.
Disappointment, because with a first prize of £300, it was well worth four players from any band getting together to mount a challenge: £75 each for 10 minutes work isn't that bad a return in anyone's book.
Great ensembles

Over the years, some great ensembles have had their names engraved on the Quartet Trophy – from Hanwell in 1944 through the likes of Foden's, Black Dyke (A & B quartets) and of course, the most famous foursome of all – the great GUS (Footwear) lads that made it a hat-trick of wins in the late 1960s.
Quality

This year another famous banding name will be engraved on the trophy – that of Hammonds Saltaire (formerly YBS of course). The foursome of JJ Lees and Jamie Smith (cornets), Helen Varley (horn) and Matthew Allsop (euph) may not yet be household banding names, but if they carry on with performances of this quality you never know.
Conducted by Morgan Griffiths, their performance of Gilbert Vinter's 'Elegy & Rondo' (written for the famous GUS quartet) was compact, balanced and almost error free. Neat individual touches from all four players and an admirable sense of control (the piece is a hard one on the lip) gave them the title by what would have been a clear cut margin from adjudicators Malcolm Brownbilll and Thomas Wyss.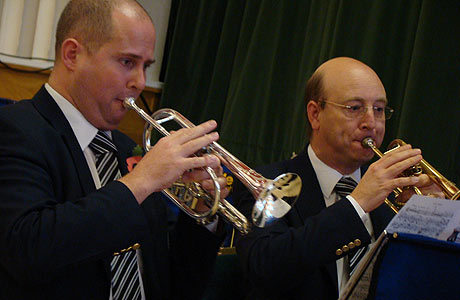 Blackburn & Darwen take a Swiss route to second place

Deserved

Malcolm felt the winners richly deserved their reward. "One ensemble had a bit of an edge today," he remarked. "The other three performances were very good, but they didn't quite have that fine detail of the winners. We were looking for quality both in the delivery and the ensemble balance, and they certainly had that."
Malcolm's encouraging remarks were balanced by his own disappointment at the lack of entrants though. "Quartets should be fun," he added. "Perhaps players in bands haven't got the time these days, but quartet playing can be so beneficial."
He was certainly right on both counts.
Spirited

Second place eventually went to the spirited quartet from the newly crowned First Section Pontins champion, Blackburn & Darwen (so they certainly found time to have a bit of fun then).
Their performance of Goff Richards 'Little Swiss Suite' had plenty to commend, even if on one or two occasions the ensemble detail became a little blurred.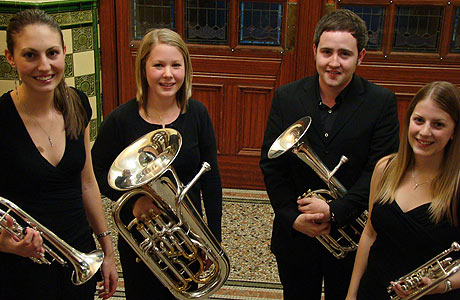 3rd for Scherzo 4

Not quite right

For third placed Scherzo Brass though, a performance where nothing went quite as it could have.
Here was a talented foursome, well versed in quartet playing (just have a listen to their debut CD Release – available through 4BR), but having one of those renditions when little clips and some scrappy phrasing took the gloss off the ambitious choice of Thomas Ruedi's 'Brass Quartet No.1'.
At its best it was great ensemble playing, but just when you sat back to enjoy, those nasty moments jolted you out of the musical comfort zone.
Encouraging

Encouragingly though the final competitor, Oldham (Lees) was full of young players who will only benefit greatly from playing in a quartet environment.
Although their performance of Vinter's 'Fancy's Knell' never quite sounded at total ease, there was enough quality playing to suggest that here was a foursome that will grow impressively if they continue to apply themselves to the format.
For the winners, after a year in which Hammonds Saltaire has endured a tough time of it, this result will give encouragement to a young band full of talented performers.

Let's hope that plenty of others can now follow their lead.
Iwan Fox