2009 British Open Solo & Quartet Championship - Junior Slow Melody retrospective
3-Nov-2009
It was all about potential in the Junior Slow Melody contest - and all nine performers showed that in full - especially the winner...
---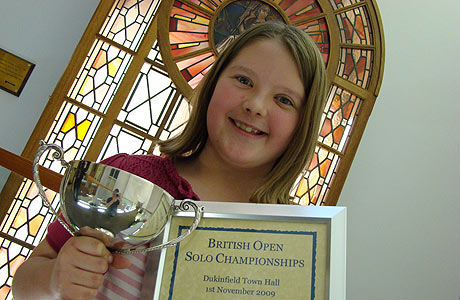 The winning smile: Gemma Riley enjoys the limelight!
There may have only been nine competitors in the Junior Slow Melody competition, but those involved served up a contest that was a real delight to listen to regardless of who was going to be chosen the eventual winner.
Praise

Praise was heaped on the participants by the adjudicators Jason Katsikaris and Kevin Wadsworth, and the audience was left with the feeling that the player's adjudication sheets would have contained encouraging remarks for them to build on for the future.
Bright future

The eventual winner was trombonist Gemma Riley, from Trinity Girls Band who gave an excellent performance of 'Where're you Walk' with her mature phrasing, dynamic control and overall musicality making just the right impression on the men in the box.
Here is a young performer who has a very bright future indeed – it was a real pleasure to hear playing of such authority.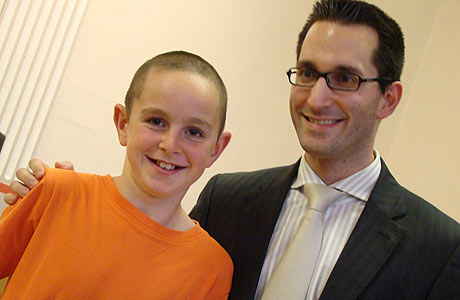 The future is orange: Vincent Gils takes second place

Joy

Runner up, euphonium player Vincent Gils from Brass Band Hageland was an absolute joy to listen to.
Vincent wasn't the only player to choose 'The Last Chord' – and play it very well, but he really brought the music to life, producing a fabulous tone and measured dynamic contrasts – all without the aid of music too.
He also looked like he loved every minute of being in the spotlight (and his smile afterwards seemed to confirm it). We could well be listening to the next Glen Van Looy.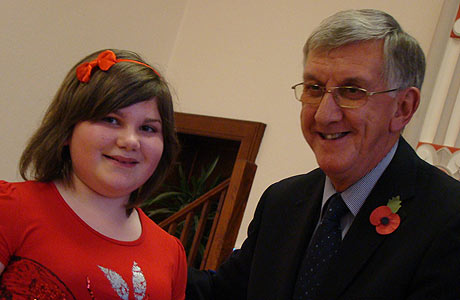 Happy smiles: Bethany Moor takes third place

Fine style

In third place came Bethany Moore, a cornet player with Uppermill and Rochdale Youth Bands. She overcame some pre-contest nerves in fine style, with a lovely performance of 'Rusalka's Song to the Moon', which despite the odd clip and blob was delivered with a warm tone and a real degree of musical understanding.
These three performers were just a little way ahead of the rest of the field – although each of the remaining performers did play very well.
Warmth

Tenor horn player Emily Collins from Oldham (Lees) and cornet player James John Vernon from Audley also chose 'The Lost Chord' . Both showed a little nervousness to start, but as soon as they got into their stride delivered renditions that had warmth and tonality.
The remaining players consisted of two tenor horns a Bb cornet and a trombonist. James Howard from the local Adamson Military Band, had the odd uncomfortable moment but recovered his poise to deliver a neatly structured performance, whilst Charlie Bilje from Malvern Chase was a confident flugel voice on his bit of the Bach Mass.
Both showed that they had all the basics in place to be able to go on and develop into fine young players in the future.
Bags of promise

Finally, Bernice Coulson West Lancashire Youth and Nathaniel Martin from Knaresborough showed that the future of the often neglected solo instrument of the tenor horn is in safe hands after two neatly put together performances of 'O Holy Night' and 'Ave Maria' respectively. There was a big bag of promise in both performances.
Overhaul

There was so much to admire in the playing of the 9 contenders on the day that it may seem a touch harsh to suggest that the contest needs a radical overhaul.
However, the lack of piano accompaniment is a real handicap to the young players, although getting a piano in the room used for the preliminary contest would be a tight squeeze. With such expert accompanists on hand, it seems wrong not to give the young performers an extra blanket of security (and sympathetic help).
Hearing just a solo line interspersed with bar upon bar of rests serves no purpose at all, and the piano accompaniment will not add any extra time to the performance either.
Playing a solo in front of an audience for a young performer need not be made into such an ordeal, even for such talented players as these.
Malcolm Wood