2009 Pontins Championship - Second Section retrospective
28-Oct-2009
There is no stopping Oldham (Lees) Band as they picked up yet another Pontins title.
---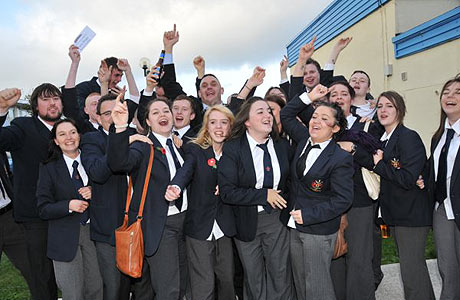 Celebrating the relentless march: Oldham (Lees) give it large
Picture: John Stirzaker

The relentless march towards contesting glory continues for the Oldham (Lees) Band as they took the honours in an enjoyable Second Section contest, courtesy of an excellent performance of the set work, 'Danceries' by Kenneth Hesketh
Attention

This was a contest that kept your attention from start to finish with all 15 bands producing performances of merit – admittedly, some more meritorious than others.
'Danceries' is a cracking work for bands at this level – full of challenges of musicality and technique all dressed up in a veneer of subtle historical good taste.
Iron Maiden

At times it's a bit like listening to Iron Maiden playing 'Greensleeves' or Eminen quoting Shakespeare – very odd. It is however thoroughly enjoyable, especially when a whole host of bands try and capture more than just bland execution of the notes on the score.
There was some fine solo playing from nearly every band too, with the solo cornets of the prize winners in particular of a quality that wouldn't have been out of place in a higher section.
Flugel horn players were not too far behind either and a great deal of credit must go to the MD's who quickly worked out that there was no need for their bands to try and blast away to impress Stan Lippeatt and Peter Roberts in the box – it was only six yards away.
Those who did came nowhere, whilst those who tried to make real differences at both ends of the dynamic spectrum, were rewarded. As in the First Section on the Saturday, bands would have been left in no doubt about the reasons why they came where they did – Stan and Pete were comprehensive in their excellent post contest analysis.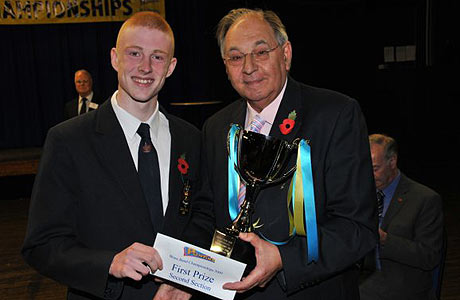 Prize winners: Oldham take another Pontins title
Picture: John Stirzaker

Real quality

The winning performance from Oldham (Lees) was one of real quality and although it had moments of unease there was a persuasive musicality throughout, and a sense that the band had been engaged in detailed preparation of the work before they took to the stage.
MD John Collins drew some lovely moments from the score – little details that brought a sheen to the bigger picture, none more so than in the tender 'Pavanne'. By its close there was little doubt that it would feature high in the prizes, and their win was fully justified.
Risks

In second place came Rainford, who it has to be said took risks with some of the tempos in creating a very exciting musical portrait. MD, Neil Samuel deserves credit for sticking his musical neck on the line as at times it was a little edgy, but the sound of the ensemble work was always warm and the soloists in particular played with authority.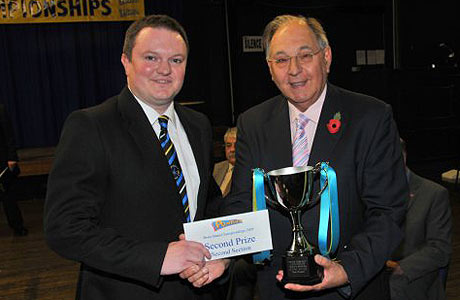 Rainford smiles: The North West outfit comes runner up
Picture: John Stirzaker

For Oddfellows Brass and Hoover Bolton, very well managed performances deservedly secured 3rd and 4th place. There was in fact very little to choose between the two bands – they were almost like peas in a pod in terms of style and execution as they played after each other.
Perhaps the MDs were related in some way, as the intelligent management of playing resources, the appreciation of style and dynamics were almost identical. The result was two performances of real merit.
Plenty to enjoy

Although these four bands did stand out somewhat, there was plenty to enjoy right down the final results table.
Kippax may feel unlucky not to have got in the top six after their detailed approach just lost focus in the final movement – it was going so well until over enthusiasm seemed to take rein. David Lancaster did a fine job from the middle, and the band will know that in future they will just have to curb the adrenaline with the finishing line in sight.
Meanwhile, Barnsley Building Society and Tylorstown will have known that they were close to producing accounts that could have challenged for the prizes if only they could have rid themselves of the accumulated little errors just took the gloss of well directed performances.
Both Rob Straw and Gary Davies directed with an appreciation to dynamic and tempo, but the errors that consigned them to 5th and 6th were those that were out of their hands.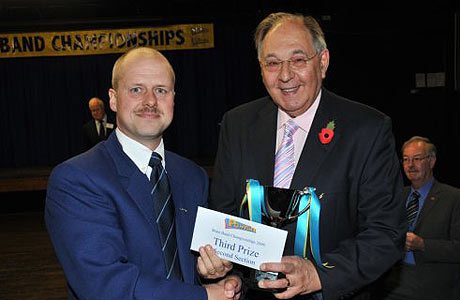 Nothing odd about this prize: Oddfellows take the final podium spot
Picture: John Stirzaker

Musical boat

The MDs of Rogerstone, Tintwistle and Flixton found themselves in the same musical boat too.
Each band provided two of the four movements with a stamp of quality and detail, and two that had sloppy little errors and a loss of either individual or collective concentration (although not all the same movements).
Each though tried to find the music in the score and the three MDs will be encouraged by their bands efforts – they were not too far away from producing solid performances of consistency
Bottom five

The bottom five were something of a mish mash, although ones that were clearly defined in terms of overall quality. No complaints then from United Co-op 2000 Brass, Littleport, Silk Brass, Haslingden & Helmshore and Deiniolen.
Again, it was consistency that killed off their chances of coming any higher than they eventually did, invariably shown by the production of one good movement followed by one average one, one poor one and then one good one again (although again, not necessarily in the same order for each band).
It was the quieter dynamics to be found especially in the 'Pavanne' that highlighted troubles in ensemble tuning and security of lead lines, but as with the bands above them, the MD's all sought the music, even if the execution was variable.
For Deiniolen though the result itself didn't matter at all. Less than 24 hours before the contest one of the band's bass players had to pull out of the contest due to a close family death and the immensely difficult and emotional decision to take to the stage to play in the contest was taken.
It put all other banding problems very much into perspective.
Dave Tinker