2009 Pontins Championship - Third Section retrospective
28-Oct-2009
A stern and honest challenge - and a great contest won by a smashing performance from Uppermill and Alan Widdop.
---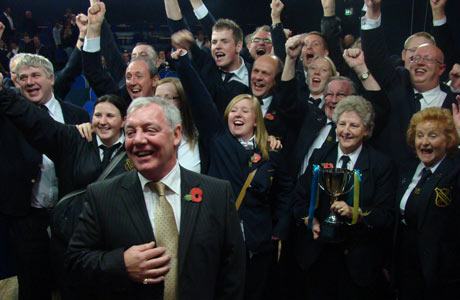 Hat trick celebrations for Uppermill

Philip Harper's 'A Gallimaufry Suite' proved to be a stern but honest challenge to the bands in the Third Section in Lunars Bar on Saturday.
It made for a highly enjoyable contest to listen to (although it was biting cold in the hall for much of the time – nobody had put an extra shilling in the gas meter it seemed) and the final result was still open to question very nearly to the last note of the last band on stage.
Proud

Mark Wilkinson and Glyn Williams served the contest organizers proud both in their deliberations and reflections on the contest at the end of proceedings; both men clearly articulating just what they were looking for from the performances they heard.
Without being controversial or unnecessarily critical they gave a clear and precise understanding of their judgments; from the need to allow flow to the all important lyrical playing in the difficult 'Hymn', through the execution of the opening fanfares, the style of the childlike 'Song' and the need to maintain clarity at speed in the facile 'Toccata'.
Musical purpose

Uppermill took the £1,800 first prize with a sense of musical purpose – their third consecutive Pontins title after claiming a double in the Fourth Section in the past two years.
Alan Widdop knows just what is required from a band at this level and the clean opening with an almost cinematic approach was highlighted by a confident flugel solo which carried the music into the second movement 'Song'.

This was played with a sense of playful control, before the band showed that extra touch of quality with a warmly phrased 'Hymn' and a 'Toccata & Finale' that was full of vim and verve.
There were the odd moments when not everything quite came off, but overall it was playing of quality and consistency and worthy of yet another title.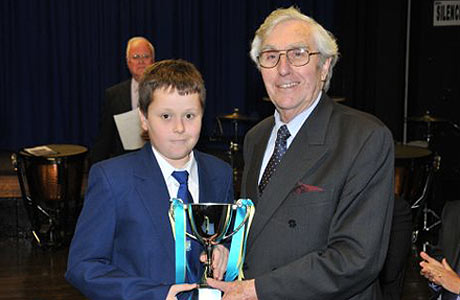 Goodwick talent: The Welsh band takes second place
Picture: John Stirzaker

Pushed all the way

Pushing them all the way was second placed Goodwick Brass. This young band may well have been small in stature and tender in years (although they did have a few 'oldies' in the ranks) but they produced one of nicest band ensemble sounds we have heard for yonks.
There were blips and clips and the odd nasty little error, but Matthew Jenkins' insistence on his players producing balanced warmth to the ensemble tonality was a joy – the 'Hymn' was exquisite.
The first movement wasn't overcooked either and had very good echo effects in the cornet responses, whilst the other movements were played with style too. If they could just have rid themselves of those little annoying blips it would have been a winner.
Confidence

If it was a question of confidence then Boarshurst Silver may well have taken first prize. The was solid playing full of good old fashioned basic virtues and everyone playing their part – including the third percussionist beating out the rhythm for her fellows players to ensure they kept in time.
It didn't quite have that sheen of the top two bands, but as Glyn Williams said, the top three prizewinners produced performances of quality and musical merit – and this was certainly one of them.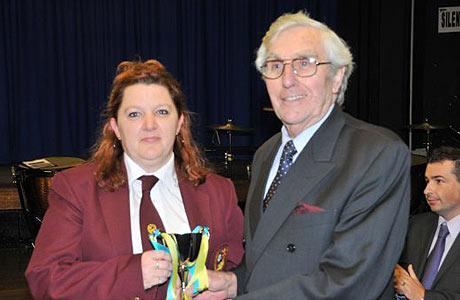 Confidence rewarded: Boarshurst take third place
Picture: John Stirzaker

Plenty to enjoy

That said, there was much to enjoy in the playing from the rest of the 12 band field.
A purposeful opening set the pace for a generally solid account from Chalgrove and this led to a rhythmic 'Song'. One of the two bands that moved the quartet together for the start of the 'Hymn', it resulted in a well structured balance. The final 'Toccata' proved a challenge at times but the strong early work ensured they held onto fourth spot.
Hawk Green (Marple) was perhaps undone by tuning difficulties in the 'Song' movement. This was a shame because the dislocated lilt of the music (very reminiscent of Derek Bourgeois' 'Serenade') was almost perfect. Some further technical challenges in the last two movements just interrupted the musical picture but it had enough presence to win favour with the judges and come fifth.
Triangle

Pemberton Old took the final top six place with a performance of confidence (even when an errant triangle clanged to the floor between movements). Some solid and stylish moments were perhaps offset by some phrasing and ensemble mishaps in the 'Hymn' – a critical movement in the deliberations of the judges.
Porthywaen so nearly found the upper levels of consistency in a performance that held a great deal of promise from start to finish. Perhaps the solo lines in the 'Song' and 'bells-up' in the last movement detracted in the balance but on this showing there was evidence of a solid and competitive band in the making.
So too Skelmersdale Prize, who opened their account cleanly but whose intonation issues were to prove their Achilles heel. The musical approach was admirable, but that wayward tuning undermined their fine efforts.
Robust

Greenalls robust approach suffered with balance and tuning problems throughout their performance. A difficult opening to the 'Hymn' didn't help their efforts and whilst there was plenty to admire in the approach, they just needed a touch more control to have made more of an overall impression.
Whitworth Vale & Healey were in many ways found out by the same problems: the robust approach at times at odds with the musical style that was really needed to make the music come to life. There was enough good playing to suggest the band could play the piece, but on this occasion a little too much contesting adrenaline got the better of them.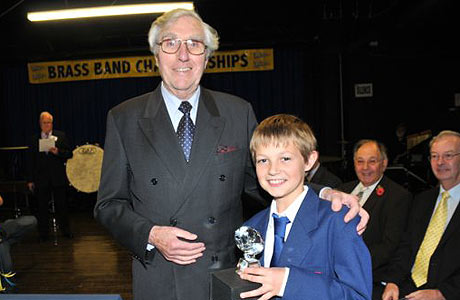 Young star: Geraint Harries of Goodwick
Picture: John Stirzaker

Stride

Crosskeys Silver drew first and unfortunately took a while to get into their musical stride. When they did there was plenty to enjoy, but it was a little too late for them to make any impression. Nerves and an ineffectual decision to get players to stand in quartet for the 'Hymn' were never quite overcome.
Last but not least came BMP Europe Ltd Goodshaw under John Dickinson, who delivered a brave and bold effort that just had a few too many rough edges. The stylistic approach was once again nearly spot on, but the basics errors mounted up and they could have little cause for complaint with their final position.
No complaints either from Uppermill, who once again showed that under Alan Widdop they are a band to fear at this level.

Watch out next year too, as on this form they could very well make it four wins in a row.
John James