2009 Pontins Championship - Fourth Section retrospective
28-Oct-2009
Just the ten bands in the Fourth Section and a difficult test piece - but some great efforts, especially from the winners.
---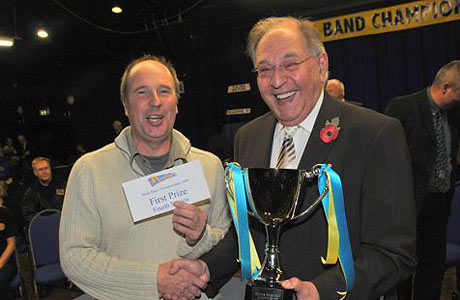 Champions: Hazel Grove take the Fourth Section honours
Picture: John Stirzaker

The only really disappointing aspect of the Fourth Section on Saturday was that there were only the ten bands taking part in the contest.
Brave efforts

Benjamin Tubb's test piece was difficult though – right from the opening, and especially a demanding solo for horn, which not one brave effort from each of the ten performers could quite overcome with ease.

Perhaps in retrospect the piece was better suited to the Third Section, as its mix of neat rhythms and lyrical solo and ensemble lines was at times a little too exposed for comfort.
Ben himself sat through all ten performances and was delighted at the efforts of each of the competing bands, but must have been a little surprised that his work caused as many problems as it did.
Best shot

All ten contenders gave it their best shots however, and both adjudicators, Alan Morrison and David Horsfield were generous but realistic about what they had heard in their remarks.
There were words of encouragement and of realism too and each of the competing bands will have left knowing exactly what was wanted from them and what areas they will have to work on to improve in time for next year.
Fine performance

The winners, Hazel Grove produced a fine performance that was clean, neat and musically shaped by MD, Nigel Beasely. With the basics in place they were able to explore the style of each of the three movements safe in the knowledge that they could play their technical aspects of the piece well. The second 'Pier' movement in particular was especially effective. The result was a performance of quality and merit and one that fully deserved to take the £1,800 first prize.
There was a clear cut margin between the winners and the two bands who eventually pushed them closest for that first prize.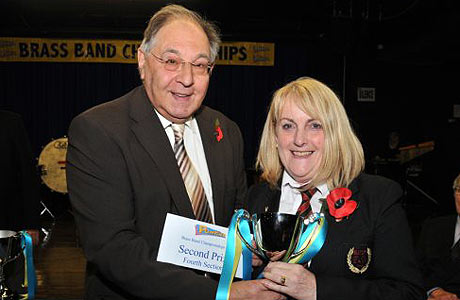 Fine effort rewarded: Farnworth & Walkden take second place
Picture: John Stirzaker

Musical picture

Farnworth & Walkden produced a fine effort under Peter Ashley, which at times really did bring the musical picture to life. However, just a few too many little errors in each of the movements and some poor intonation in exposed lines cost them. It was still a fine effort though and well deserving of its second place.
So too Eccles in third who perhaps just paid the price of trying too hard in places to show that they had the broadest dynamic range of the field.
They did benefit from some lovely individual moments, especially in the euphonium line, but a touch less robustness in the ensemble may have brought more pastel shades of colour to a boldly painted rendition.
Bravura

The same applied to Brackley in fourth – a performance rich in bravura playing, but in need of a little more control and appreciation of the balances between sections in the quieter dynamics. It was though very exciting at times full of life – Bournemouth isn't as lively as this is it now?
For the rest of the field from Nelson Brass down, it was the age old problem of consistency that found them out to varying degrees.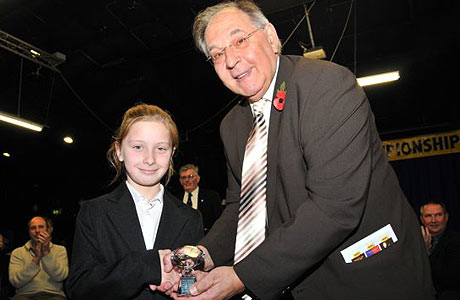 Youngest Player: Congrats from Pontins
Picture: John Stirzaker

Inherent problems

Each of the conductors tried to bring the music to life, but inherent problems with the basics meant that it was two steps forward, one step back at times.
Dave Holland and Nelson produced a colourful account that just faded away as stamina waned, whilst Besses Boys produced a performance of highs and lows – the highs being very good indeed (especially some of the ensemble work) but the lows a little too often self induced by trying to play too loud.
Denton meanwhile produced an enjoyable performance that never quite overcame the technical difficulties of the score but in which MD Graham Smith encouraged his band to play with a neat touch of musicality.
So too Croft, who started well enough but couldn't quite up their form in the following sections to make any more of an impression than they did.
Disappointed

Golborne meanwhile may be a little disappointed that their colourful performance didn't quite come higher than it did. There were times when the playing was as good as any on the day, but just when things were looking good, some sloppy playing and loss of concentration cost them dearly. It was a nearly performance.
That just left Greenfield and a brave old effort under the baton of Stuart Black that had plenty of brio and verve, but just needed a touch more control over the basics.
No problem with the basics for the winners though. Hazel Grove may have started off their season by coming 19th at the Areas in Blackpool, but they have ended the year in fine style by picking up the Pontins title. That takes some doing and a great deal of character.

We may have not heard the last of Nigel Beasley and his band.
Dave Tinker