2009 Pontins Championship - Introduction & Preview
22-Oct-2009
4BR looks forward to the weekend where 69 bands head for the North Wales coast to enjoy the October delights of Prestatyn.
---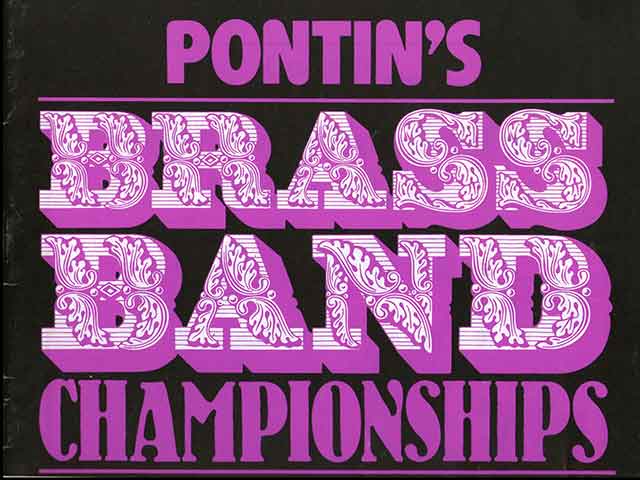 Pontins reaches it's 36th anniversary this year and is starting to feel its age.
It has been a generous and enlightened supporter of the banding movement, and has pumped a great deal of money in the direction of many bands (especially in the lower sections) ever since it first started in 1974.
Popular

It remains a popular late season event; the seriousness of the contesting offset by the fun and games so beloved of thirsty bandsmen and women on a cold late October weekend in North Wales.
For the last couple of years a bit of complacent middle age spread has meant that Pontins as a venue has lost ground to rivals such as Butlins, but with the news that the Prestatyn site is to benefit from a major facelift over the next few years (£50 million in fact), the contest could well approach it's 40th birthday in rude health.
Complacent

Attracting bands here (especially in the Championship Section – there are just 3 Grand Shield bands here) has been getting more difficult, but the hard working team of organisers that put on the contest continue to cajole a healthy line up of contenders in all the sections.
Perhaps the brass band movement has got a bit complacent of Pontins too (especially those Championship bands) – there are only so many times you can enjoy the delights of the Bavarian Stompers, but the choice of test pieces is invariably interesting (and challenging) and the prize money is very handy too.
Perhaps it's time for bands with a more realistic understanding between perceived reputation and actual banding reality to return here once again – the top section winners pick up a monkey more than they would if they won in London.
Proactive

Pontins has been proactive in trying to make things easier for competing bands too, introducing the pre draw and the generous 'borrowed player' rule. Both have been abused rather over the years – there are more banding celebs 'helping a charitable cause' (ie, being paid a wodge of cash to do a job for a hard up band) than can be found in a copy of Brass Band Hello! Magazine, whilst an early draw number does tend to be followed by the word 'withdrawn' in the programme.
Time for both ideas to change then – make the pre draw the night before, whilst a bit like Gordon Brown, try to reduce the expensive borrowing requirements too.
Still it should make for a fascinating weekend.
Stiff test

The Championship Section rounds the entertainment off on the Sunday with the stiffest of musical hurdles to overcome for the 16 contenders in the form of Peter Graham's 'Montage' – which is certainly not a pastiche of Eric Ball's greatest hits.
Whoever emerges the least unscathed from this one will deservedly walk away with the £2,500 top prize.
The First Section on the Saturday sees another Vinter retrospective – this time with 'Symphony of Marches', which should at least ensure that a whole new generation of players know full well just how difficult his music remains half a century after it was written.
Scott's plums

Music Advisor James Scott has also picked out a couple of musical plums in Kenneth Hesketh's 'Danceries' and 'Philip Harper's 'Gallimaufry Suite' for Sections Two and Three, whilst Pontins policy of encouraging young composer's sees the talented Benjamin Tubb give the Fourth Section contenders plenty to enjoy with his breezy 'A Bournemouth Suite'.
Lots to enjoy then both on and off the contesting stages, and with the thought that in a few years time all of this will be brand bobby spankers shiny and new should encourage everyone to grin and bear it if the weather turns nasty.