2009 Pontins Championship - Harry & Margaret Mortimer Championship - Preview & Prediction
22-Oct-2009
There is one heck of a stiff test to overcome on Montage for the competing bands here this weekend. Whoever wins will have the bruises to prove it.
---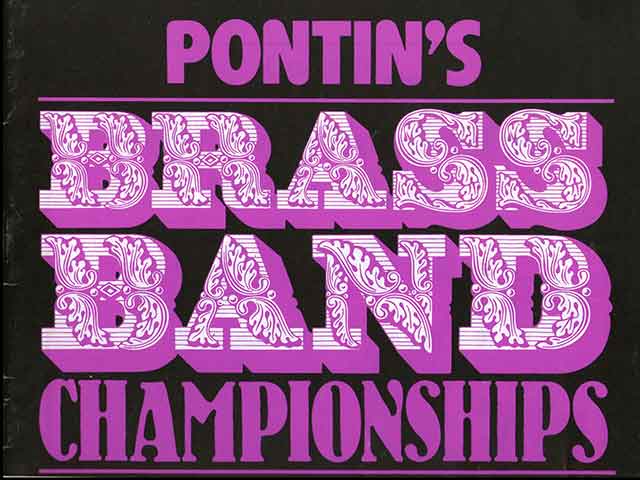 Harry and Margaret Mortimer Championship
Sunday 25th October
Test piece: Montage – Peter Graham
Adjudicators: David Horsfield & Alan Morrison
First Prize: £2,500
Second Prize: £1,300
Third Prize: £700
Fourth Prize: £450
Special Award to Youngest Player
Arthur Bedwall Memorial Trophy to Best Soloist
---
From Kensington to Prestatyn. The location may well be different, but the test that awaits competing bands from the pen of Peter Graham is just as hard.
Harder in fact.
Back catalogue

After 'The Torchbearer', something from the authentic Graham (below right) back catalogue – 'Montage'. It's a work that really will test the 16 competing bands here to the full.
And to gauge just how hard you only have to go back to the 2004 British Open, where not one top ranked outfit could master it enough to claim the title (although Black Dyke fans will argue long into the night about that one).
It made quite a mess of some bands chances that day, and given the strength of this field on paper, there could be quite a bit of mopping up to do on Sunday too.
Numerous baritone, cornet, euphonium, soprano and Eb tuba players will not enjoy the extra hour of sleepless torment that will endure on Saturday night as they go over in their minds the potential pitfalls and disasters that may await them on stage in each of the three fiendishly difficult movements of the work.
A band that gets through 'Montage' (virtually) unscathed could well be clutching the winner's trophy by 6pm on Sunday evening.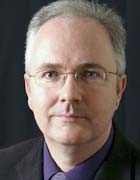 Up for grabs

With £2,500 up for grabs as first prize and with the economic climate as it is, its not the sort of prize money you turn your nose up at easily – despite the thought of what you may have to go through to win it.
With that in mind, it does seem a touch strange that bands that didn't qualify for London such as Leyland, Wingates and Whitburn didn't opt for a bit of 'easy' cash here. All would have been very serious challengers, but perhaps even they knew that 'Montage' had the ability to dump them on their high ranked backsides too.
Winning the Harry & Margaret Mortimer title may not have the cache of old, but it still has the bucks – the winning band at London only picked up £2,000 remember. Cache does always pay the electric bills.

Sixteen contenders

That said, there are some eye catching bands amongst the sixteen who'll take to the Fun Factory Ballroom and hope to get away unscathed and with a fine performance to catch the ears of adjudicators David Horsfield and Alan Morrison.
The defending champion, Sovereign Brass will be looking to make it two in a row and whilst they haven't quite hit top form this year with some inconsistent results, they should fancy their chances of featuring again.
They should however expect a strong challenge from Yorkshire, with Senior Cup champion Marsden Silver not to be underestimated. They have had a decent season picking up trophies all year and were many people's tip for a victory here twelve months ago.
Skelmanthorpe has also had a solid year too, pushing Marsden all the way at Blackpool to gain promotion to the Grand Shield for 2010. John Roberts has a fine record to maintain here so they too could be a band to watch out for.
The final Yorkshire contender is Stannington, and although its not been the easiest of years for them a win at the Dronfield contest should have given them a timely confidence boost.
National Champion

Wales sends up two strong challengers in the form of National First Section champion, Tongwynlais and Burry Port.
Both have done well on their travels this year – although Burry Port's trip to Libya was a bit of a new banding experience for sure. Tongwynlais will be full to the brim with confidence after a fine year as a heavyweight First Section competitor, whilst Burry Port are making progress back to consistent form under Craig Roberts' baton.
Midlands

In addition to Sovereign, the Midlands contenders are Derwent Brass, Jackfield (Elcock Reisen) and Staffordshire.
Both Jackfield and Staffordshire haven't had the best of years, with Jackfield posting a disappointing result at the Area and never quite bouncing back, whilst Staffordshire also failed to impress at Bedworth and put in a midfield finish at the Senior Cup. Both will be looking for something better this weekend then.
Derwent meanwhile hit form in the Senior Trophy after their travails at Bedworth and also posted a decent return at Bolsover too, so they may well look to gain a few scalps.
Londoners

Kidlington and Wantage represent the London SC region with both bands having mixed years so far. Wantage produced a solid show at the Senior Trophy to come 8th whilst Kidlington has been pretty quiet after recovering from poorish showings at the Area and Yeovil to come runner up at the Weston Contest.
Watching out

There will be quite a few interested people watching out for Woodfalls, after they announced that they had lost their sponsors earlier this year. No Nicholas Childs then at the helm, but the experienced Melvin White has enough about him to draw out their undoubted qualities.
North East

It is always nice to see bands make the trip down from the North East, and both Felling and NUSUWT Riverside are bands that have shown pretty decent form this year. Riverside will fancy their chances after just missing out on a trip to London and gaining promotion to the Senior Cup, whilst Felling will be looking to up the form that saw them come 5th at the Area at Darlington.
North West

That just leaves the two bands from the North West, and both Ashton and Wire have enjoyed decent seasons so far.
Wire came runner up last year and will want to go one better for sure. They have posted decent returns since and seem on the cusp of making a real breakthrough at this level under Paul Andrews. Ashton too are quickly gaining a reputation as a force to be reckoned with too and after winning the First Section here last year they have also tasted success at Tameside and narrowly missed out on a trip to Harrogate.
4BR Prediction:
There may be a few reservations about just how good the overall standard is likely to be on 'Montage', but if the bands can maintain stamina as well as overcome the fearsome technical hurdles of the piece, there are one or two that do stand out.
Of those, Marsden, Skelmanthorpe and Tongwynlais look handily placed, with Wire, Woodfalls and Riverside close behind. Our dark horse is Sovereign
1. Marsden
2. Skelmanthorpe
3. Tongwynlais
4. Wire Brass
5. Woodfalls
6. Riverside
Dark Horses: Sovereign