2009 Pontins Championship - Second Section: Preview & Prediction
22-Oct-2009
There is a fine line up of well matched bands in the Second Section - all they have to do is get in touch with their 17th century musical roots if they are to win.
---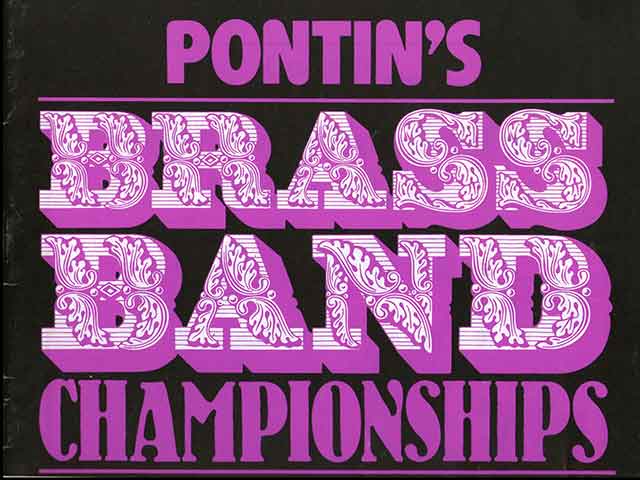 Second Section
Sunday 25th October
Test Piece: Danceries (Kenneth Hesketh)
Adjudicators: Stan Lippeatt and Peter Roberts
First Prize: £1,800
Second Prize: £1,000
Third Prize: £700
Fourth Prize: £450
Special Award to youngest player
---
Sixteen bands will battle it out on Sunday on Kenneth Hesketh's intriguing and enjoyable, 'Danceries'.
Hesketh (below right) is a fine composer and 'Danceries' is a delightful mix of old and new, which has been adapted in mood and style to have a real contemporary feel about it.
Exhuberant

The work is in three movements: The first, 'Lull Me Beyond Thee', is gentle and lilting, whilst the second, 'Catching of Quails', is a colourful, buoyant scherzo on an original melody. The third movement, 'Quodling's Delight' is a clever combination of the 17th century melody, 'Goddesses', with an original contrasting melody, creating a rousing and exuberant finale.
It certainly promises to be a fascinating work to listen too and with a strong looking line up of bands, it could be close run battle for the title. Stan Lippeatt and Peter Roberts will have plenty to enjoy as well as ponder over.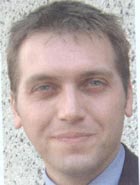 Shoulder to shoulder

As with the First Section, four bands will stand shoulder to shoulder once again just a month after their bid for National glory at Harrogate.
Oldham (Lees), Silk Brass (Macclesfield), Verwood Concert Brass and Deiniolen are all fine contenders, and all four will fancy their chances of the title, or at worse, a pay cheque come results time.
Oldham and Silk Brass have been on fine form all year and Oldham has notched up victories at Tameside, the Area and Hebden Bridge, as well as taking the Third Section title here last year. They were a gnat's breath away from the National title at Harrogate too.
Silk Brass has pushed them all the way, coming runner up at Blackpool and Morley as well as winning at Derby, and recently picked up a 4th place at Bolsover to go with a decent 8th place at Harrogate.
Verwood came 9th at the National Finals after posting a well deserved runner up spot at Torquay to get there, whilst Deiniolen didn't do themselves justice at the International Conference Centre after they had posted a fine victory at the Welsh National Eisteddfod.
Fine batch

Joining Oldham from the North West is a fine batch of bands, all of who may fancy their chances.
Flixton can never be discounted, and has posted a solid set of contesting results on its travels this year (although they came 8th at Fleetwood not so long ago), whilst reigning champion Haslingden & Helmshore will be looking to return to the type of early season form that saw them win at Brass at the Guild Hall. They have fallen away a little since then, so they have something to prove.
Hoover (Bolton) are fronted by the experienced Trevor Halliwell and with a win at Buxton and second place at Fleetwood not so long ago, confidence should be high.
Rainford under Neil Samuel came runner up here last year and has had a real roller coaster season so far – with a tremendous second place in the top section at Tameside and a win at the Marsden Contest offset against a disappointing 7th place at the Area.
The final North West contender is United Co-op 2000, who are never too far away when the results tend to get announced, and with a podium finish at Wychavon recently, they could well be looking to improve on last year's 7th place.
Welsh triple challenge

Wales has a triple challenge on home soil, and joining Deiniolen will be Rogerstone and Tylorstown, both of whom come to the contest on the back of encouraging results.
Tylorstown came 3rd in the top section at the Burry Port Contest, whilst Rogerstone posted a victory there in the First Section. Confidence should be high in both camps then.
Two each

The Midlands and Yorkshire both send two bands.
Oddfellows Brass and Tintwistle make up the Midland challenge. Both are solid outfits, with Oddfellows coming 6th here last year and just missing out on a trip to the National Finals at Bedworth, whilst Tintwistle also produced a fine performance there in coming 4th.
Yorkshire provides challengers from South and West of the county, with Barnsley Building Society and Kippax intent on making a mark.
Kippax in particular are no mugs and in the hands of ex Harrogate MD, David Lancaster, they should be in or around the top end of the results table if they play to form. Barnsley meanwhile has been in decent form all year with runner up spots at Silkstone and Derby, so they too come with high hopes of doing well.
London trip

That just leaves the one band making the trip up form the London region. Littleport didn't do too well at the Regionals this year in Stevenage, coming 9th, but they have posted some fine returns over the last couple of years and shouldn't be discounted.
4BR Prediction:
It's hard not to look beyond the Lancastrians of Oldham (Lees) and Silk Brass for the title, but if they do have an off day, they will be pushed very hard, by the likes of. Haslingden & Helmshore, Kippax, Rainford, and Verwood Concert Brass. Our dark horse is Tylorstown.
1. Oldham (Lees)
2. Silk Brass
3. Verwood Concert Brass
4. Haslingden & Helmshore
5. Rainford
6. Kippax

Dark Horse: Tylorstown