2009 Pontins Championship - Third Section: Preview & Prediction
22-Oct-2009
Only a small field but plenty to enjoy for two young judges on a great test piece for the bands.
---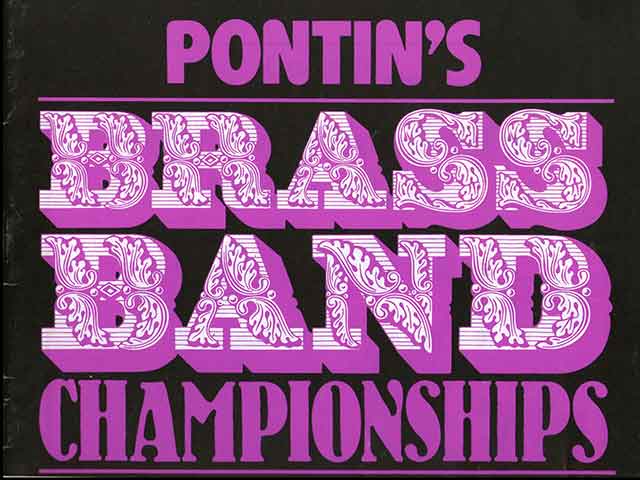 Third Section
Saturday 24th October
Test Piece: Gallimaufry Suite (Philip Harper)
Adjudicators: Mark Wilkinson and Glyn Williams
First Prize: £1,800
Second Prize: £1,000
Third Prize: £700
Fourth Prize: £450
Special Award to youngest player
---
Philip Harper (right) is the Freddie Flintoff of banding – the indispensable all rounder.
Conductor, adjudicator, composer, publisher and rumour has it, a possible journalist too, and whilst he has excelled in all areas in recent years, he will be focused this weekend on Tongwynlais winning the Harry & Margaret Mortimer Championship Section on Sunday.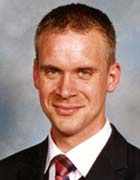 Enjoy

If he does have a bit of spare time though he will certainly enjoy the bands tackling his delightful 'Gallimaufry Suite' on Saturday in the Third Section.

The work was used to critical acclaim as the Third Section National Finals test in Harrogate in 2005, where performers and listeners alike enjoyed the heady mix of technical obstacles, high tempo rhythms and lyrical lead lines.
The opening is a 'Fanfare and Theme' followed by a scherzo, and a gem of a hymn that makes you feel Welsh even if you're not! To close, a 'Toccata and Finale' that gives the bands full rein to show off their technical expertise.
Cornet and euphonium players will have plenty of fun and so will conductors who have to contend with a very long 'Stringendo' just before the end. Too much and you'll get a premature halt, too little and the effect will be lost. If that's not enough, the percussion keeps driving away under-pinning everything from start to finish.
Good band

It will take a good band to do it justice, but there appears to plenty of them in the 12 band field for two young judges in Mark Wilkinson and Glyn Williams to enjoy (a real plus mark in the Pontins book for asking two talented players to turn adjudicator gamekeepers).
North West

Of that twelve, there isn't a single Harrogate finalist amongst them, but eight are from the very strong North West area.
These are bands that compete against each other on a regular basis, so they will all know their rivals strengths and weaknesses. Four of those bands played here last year, with Uppermill taking the Fourth Section title.
BMP Europe Ltd, Goodshaw, Boarshurst, Greenall's, Hawk Green (Marple), Pemberton Old Wigan DW 'B', Skelmersdale Prize, Uppermill and Whitworth Vale & Healey all know just what they are up against from their rivals then.
Uppermill has had a fine year with victory at Buxton and Holme to go with podium finishes at Marsden, Hebden Bridge and a near miss at the Area, whilst Boarshurst can also boast a victory at Tameside and a podium finish at Buxton, although they finished a lowly 13th at the Area.
Form guide

BMP Goodhsaw disappointed at the Area where they came 19th, but returned to some form at Brass at the Guild where they came 10th. Greenalls meanwhile has had a bit of an up and down year with fine results at Buxton (2nd) mixed with a poor return at the Area and 8th place in the Second Section at Brass at the Guild Hall. They recently came 6th at the Fleetwood Contest.
Hawk Green can only boast the one appearance this year at the Area where they came 8th, so they should be well prepared, whilst Pemberton Old Wigan has been much busier, picking up decent returns at Brass at the Guild (4th in the Second Section) to go with their 7th place at Butlins. A veil is drawn over their 16th place at the Area and their disappointing 10th at Fleetwood.
Skelmersdale has been solid all year, coming 6th at the Area and Buxton as well as 7th at St Helens and 3rd in the Second Section at Tameside and 4th at Fleetwood, whilst Whitworth Vale & Healey has been the quietest of the lot, with just their 9th place at the Area to shout about so far this season.
Welsh duo

The Welsh contingent this year is headed by Cross Keys, who just missed out on a trip to Harrogate, but recently came 8th at Wychavon to add to their early season win at Weston, whilst a dark horse could be Goodwick who impressed many after their disappointment at Swansea when winning the Fourth Section at Ebbw Vale.
Consistent

That just leaves the usually consistent Porthywaen, who hasn't quite had the season they would have hoped for in coming 13th at Brass at the Guild Hall and 10th at Wychavon recently, and Chalgrove up from London, who posted an encouraging 7th place at Wychavon to give them a boost of confidence before they head up to North Wales.
4BR Prediction:
If all the fancied bands play to form her, then this could be a very tight old battle for the title.
Of those bands in with a real chance though, we think Alan Widdop and Uppermill should just have enough about then to pip the strong challenge from the likes of Skelmersdale, Cross Keys, Greenalls, Pemberton Old and Boarshurst. Our dark horse is Goodwick
1. Uppermill
2. Skelmersdale
3. Crosskeys
4. Greenalls
5. Pemberton Old DW 'B'
6. Boarshurst
Dark Horses: Goodwick