2009 Pontins Championship - Fourth Section: Preview & Prediction
22-Oct-2009
Just the ten bands, but ten good ones, and a cracking test piece to get to grips with too from a talented young composer.
---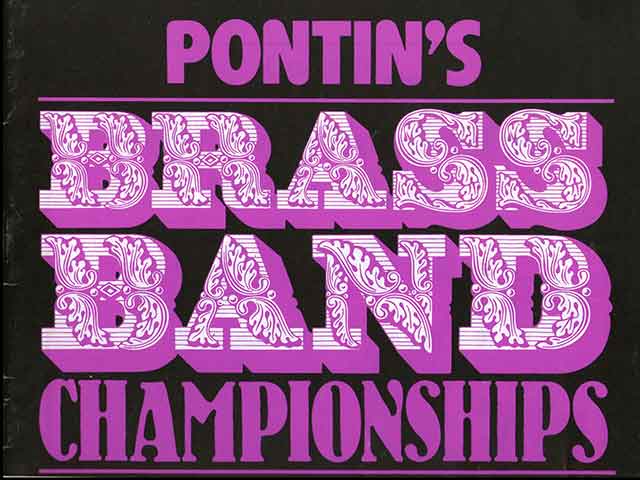 Fourth Section
Saturday 24th October
Test Piece: A Bournemouth Suite (Benjamin Tubb)
Adjudicators: David Horsfield and Alan Morrison
First Prize: £1,800
Second Prize: £1,000
Third Prize: £700
Fourth Prize: £450
Special Award to youngest player
---
At just 21, Ben Tubb is a talent that could well make a significant composing mark on the banding movement for years to come.
He's studying at the RNCM so it shouldn't be a surprise that he's found himself playing in one of Yorkshire's Championship Section outfits – Hepworth (Cookson Homes) and was part of the band that performed in London last weekend.
Inspiration

Ben takes inspiration for his test piece, 'A Bournemouth Suite' from the Dorset coastal town of thesame name in South West England.
This what he says about it: "Since my Grandparent's relocation to this wonderful town, I have spent many weeks of my holidays there - taking in many of the sites.
In this test piece, I have attempted to describe (in music) a few of the activities available, some of which I have partaken in.
The 1st movement - Balloon Ride - describes the journey I took on the 'The Bournemouth Eye'. This tethered balloon takes you up 500ft in the middle of the town centre, enabling you to see surrounding countryside for up to 20 miles!
During the summer, there are several large firework displays in the town centre and the 2nd movement - The Pier at Night - describes an evening spent on the beach in deckchairs watching the montage of colours in the nighttime sky.
The Bournemouth International Centre - The BIC - is one of Bournemouth's most utilised attractions. Inside is a world of entertainment and the centre itself is just a stone's throw from both 'The Bournemouth Eye' and The Pier.
The 3rd movement has been written to describe the buzz of activity surrounding The BIC."
On hand

Ben intends to be present on Saturday to listen to the performances of his composition, so the bands will have to impress both the composer and the adjudicators David Horsfield and Alan Morrison then.
The Fourth Section here is always an enjoyable listen with an eclectic mix of pieces chosen over the years – twelve months ago it was the delightful 'An Elgar Portrait' by Dan Price.
North West domination

It's a shame its only ten bands that will tackle this work on Saturday morning, but a fine bunch they are though with the North West region once again dominating the line up.
The stand out band in this section is the reigning Butlins and North West area winner, Eccles Borough. Les Webb has made the Manchester outfit a force to be reckoned with although they were a touch off the pace in Harrogate. If they play to form though they should be in and around the podium places once again.
Besses Boys under James Holt have become a strong band of late too and took the runners up spot in Fleetwood recently, to go with their runner spot at Tameside earlier in the season. They should be confident of doing well come the results.

Adrian Smith's Blackley are another outfit that should fancy their chances to shine and have posted some decent results of late, including a solid run out at Fleetwood recently in the Third Section, and 4th place at Tameside to go with their early season win at Brass at the Guild Hall.
Midland

Croft are the sole Midland outfit on show, but although they missed out at the Area at Bedworth where they came 7th they posted a solid 6th place at Buxton.
Denton has also been busy on the contesting stage this year, with solid returns at Buxton and Fleetwood (4th at both) showing an improved bit of form from their lowly 11th place at Tameside.
Farnworth & Walkden has been plying it's contesting trade in the Third Section locally of late and has two encouraging 6th places to its name at Tameside and Fleetwood, whilst Greenfield has also done well in the Fourth Section with a podium finish at Buxton and a solid 5th place at Fleetwood.
Look out

Goldborne on the other hand has been fairly quiet with just the appearance at the Area to come 15th, although they did post 11th place at the St Helen's Contest.
A band to look out for though could well be Hazel Grove who rather unexpectedly came 19th at the Area but showed their true form in winning at Buxton and posting a podium finish at Tameside.
That just leaves Nelson with a sole appearance that we could find at the Area where they came 6th. They should be well prepared then.
4BR Prediction:

It is hard to see past Eccles Borough on form for us, but we liked the sound of Hazel Grove when we have heard them, and the likes of Besses Boys, Blackley, Denton and Greenfield should do well. Our dark horse is Nelson Brass.
1. Eccles Borough
2. Hazel Grove
3. Besses Boys
4. Blackley
5. Denton
6. Greenfield
Dark Horses: Nelson Brass