2009 Pontins Championship - The Adjudicators
22-Oct-2009
These are the men in the box this weekend in Prestatyn.
---
Championship Section/Fourth Section: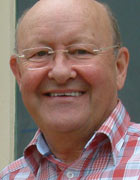 David Horsfield
David has figured in every facet of the brass band movement for fifty-five years; player, band trainer, adjudicator and music publisher.

A cornetist, his first band was Clifton & Lightclife, but he soon joined the Brighouse & Rastrick Band where he stayed for nine years before moving "up the road" to the Black Dyke Mills Band, where he stayed for seven years. Three National Championships, one World Championship and two British Open titles were awarded to Dyke in this period.
When James Shepherd formed his Versatile Brass in 1972 David was among the original personnel, staying with this talented combination for twelve years, where he was the featured Flugel Horn soloist.

Having been a member of such talented bands it is not surprising that David has toured many countries of the world, these including Australia, USA, Canada, Germany, Holland, Belgium, France, Norway and Switzerland.
His move to the other side of the brass band scene came in 1984 when he retired from playing in order to concentrate on his music publishing business Kirklees Music and since that time the family business has expanded to such an extent that today music and recordings from their catalogue find there way to all parts of the world.

Over the years the Company has produced many high profile works from top composers Philip Wilby, Michael Ball and John Pickard and this has given David invaluable experience at the very top level of publishing.
He is a member of ABBA, working in a number of European countries as adjudicator including Belgium, France, Holland, Norway and Switzerland, together with numerous engagements for him to "sort out the bands" throughout the United Kingdom.

In 1995 he was a founder member of the famous "Kings of Brass" and played in all its concerts and recordings including the final concert in the Isle of Man in 2001. July 2008 saw him once more playing in the memorable re-union concert by the James Shepherd Versatile Brass at the Brighouse Festival.
The year 2000 saw the birth of the Brighouse March & Hymn Tune charity contest which David created. He is a member of the Worshipful Company of Musicians and also a Freeman of the City of London.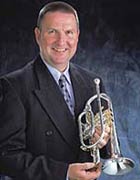 Alan Morrison
After a long association as Principal Cornet player with the Grimethorpe Colliery Band, Alan now holds a similar position with the world famous Brighouse & Rastrick Band.
He continues to be in great demand as a soloist having traveled the world appearing in Australia several times, extensively in Europe and to the USA as well as the length and breadth of Great Britain featuring in many festivals and gala concerts including the Henry Wood Promenade Concerts at the Royal Albert Hall.
He is a frequent tutor on Summer Schools and regularly acts as Cornet Tutor to the National Youth Bands of Great Britain and Switzerland and has lectured on the brass band courses of several colleges and musical institutions.

An experienced music examiner for the Associated Board of RSM he also visits educational establishments giving recitals, masterclasses and external examining, and has adjudicated brass band contests at all levels at home and abroad.
His conducting career has been very successful since his first appointment at the age of 17, with several bands rising through the sections under his guidance and frequent appearances as Guest Conductor with famous bands such as Grimethorpe.
Alan has recorded six solo albums and pioneered a teaching video that has proven very successful. He also regularly features on light music recordings for the BBC with various ensembles including big bands and orchestras.
There are several compositions and arrangements published for brass band by Alan that have also proven very popular and all are still available, some of the titles becoming best sellers, such as Buster Strikes Back and Sugar Blues.
You can find out much more detail on Alan and his recordings by visiting his website at: www.justbrass.co.uk/alanmorrison where you can also purchase his CD`s and video on-line.
---
Third Section:


Mark Wilkinson
Mark started playing the cornet aged 6 with the Ellenbrook and Boothstown band before progressing to the Walkden band.

When Mark was 13 he was appointed principal cornet with the Besses Boys Band and also Principal Cornet with the National Youth Brass Band of Great Britain.
In 1992 following an offer from Howard Snell, Mark joined the then Britannia Building Society Band (now Fodens) on Principal Cornet a position he still holds to date.

Mark is in demand in this country and abroad as a teacher, soloist, clinician and adjudicator and has appeared in Australia, America, Norway, Switzerland, Holland and Belgium.
Mark is an entrance examiner for the National Youth Brass Band of Great Britain as well as being one of their cornet tutors. He is also cornet tutor to the National Children's Brass Band of Great Britain and has appeared as Cornet tutor with the National Youth Brass Band of Wales and also conducted and tutored on the Northern Ireland Armagh Summer School of which he is a founder member.
As well as regular appearing on radio as a soloist Mark also has a number of solo recordings to his name.

In 2005 Mark founded his own Promotions Company 'Harlequin Concerts Ltd' who have promoted a number of high profile concerts by Fodens and other leading Brass Bands as well as promoting events for the world famous 'Opera Babes'.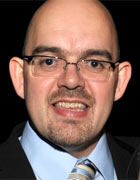 Glyn Williams
Glyn Williams is highly regarded within the Brass Band Movement as both a superstar Euphonium player and as an up and coming young Musical Director.

Glyn was born in Aberystwyth where he was introduced to music by his Uncle and enjoyed playing euphonium with Towyn Silver Royal Oakley and Menai Bridge, all local bands.

He has held the position of Professional Conductor at the Marsden Silver Prize Band (Ossett Brewery) since 2004 with great contest success including becoming Excellence Division Champions and overall March Champions at the 2005 French Open Championships, an unequalled run of first prizes at several March contests in the Summers of 2005, 2006 and 2007 (competing much of the time against higher graded bands) and becoming the Pontins First Section Champions for 2005.

In September 2006, Marsden Band represented Yorkshire at the National Brass Band Finals which in turn resulted in the band gaining promotion to the Championship Section. Glyn was a nominee for Conductor of the Year on the internet Brass Band magazine 4barsrest at the end of 2005.
Under his baton, the Marsden Band recorded a highly successful CD, "Riverhead" in the Summer of 2007 and were delighted to be invited to appear at the prestigious Great Northern Brass Arts Festival in September of the same year at the Bridgewater Hall in Manchester.

Continuing their contest success, Glyn and the Band were awarded 2nd prize at their first attempt in the Pontins Championship Section in November 2007 and more recently achieving 6th place at the Yorkshire Area Regional Contest and 3rd place at the Senior Trophy gaining qualification for the Senior Cup in 2008.

Glyn is also recognised as an outstanding soloist in his own right and as a popular musician with the Fodens Band. His appointment as solo euphonium in the Band in 1995 has contributed to many contest victories including the Swiss Open in 1995, All England Masters 1995/2002, French Open 1998, Brass in Concert 1998/2002, North West Area Finals 98/99/00/02/03/06/07, the titles of National & British Open Brass Band Champions of Great Britain, and most recently the title of English National Champions in 2006 and All England International Champions in 2007 and 2009.
---
First Section/Second Section: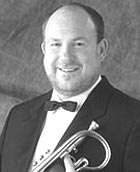 Peter Roberts
Peter Roberts needs no introduction to brass band audiences all over the World. He has long been regarded as the finest exponent of the soprano cornet in the history of the brass band movement and his talents have seen him perform on all the major contesting and concert stages in the UK, Europe and abroad.
He was born in Grimethorpe in 1950 and his early musical career was linked that famous band, where he played soprano cornet for many years. A miner by trade, he lost his job following the end of the pit closures, but immediately retrained himself in music to gain professional qualifications and an honours degree from Barnsley College under Major Peter Parkes.
His roll of honour of contesting wins reads like no other – 7 British Open victories, 1 National Championship, 7 European titles, 2 All England Masters titles, 2 British Open Solo Championships, 6 Granada Band of the Year titles, 4 British Open Eb/Bb solo titles, 1 Granada Band of the Year Soloist Award, 1 Swiss Open Soloist award, 2 Brass in Concert Soloist awards, 3 Mineworkers Senior Solo Champion titles and 1 New Zealand Champion of Champion s title.
Recently he released his eagerly awaited solo CD, entitled appropriately "Legend" which has become a phenomenal best seller by brass band standards. The book of the same name has also been bought by his legion of many fans.
Since 1997 he has been part of the amazingly successful Yorkshire Building Society Band and was a member of the famous Virtuosi Brass Band of Great Britain and the Kings of Brass, whilst in the USA he has been a member of the famous Brass Band of Battle Creek. In 2005 he joined the Black Dyke Band, retiring from playing at the end of 2007.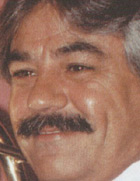 Stan Lippeatt
Born in Hemsworth, South Yorkshire, Stan was for many years the popular and virtuoso flugel soloist with the Grimethorpe Colliery Band – a band he joined as a youngster in the early 1960's.

Stan became one of the most popular players and soloists, featured in many of the famous comic routines of the band at events such as Granada Band of the Year, although he had already built himself an enviable reputation as both a serious ensemble performer and soloist.

His playing career brought many successes as well as a great number of specially commissioned works – one such being the John Golland Flugel Horn Concerto which Stan gave the world premiere of in front of the composer himself.

His wealth of experience has seen him conduct numerous top section bands throughout the country, including a long association with the Thoresby Colliery Band, and he has adjudicated at Pontins, Regional and innumerable brass band contests. Over the last few years he has been an active member of the Association of Brass Band Adjudicators.

His love for the movement was shown in 2003 when he was asked by the Butlins Organisation to help revive the Mineworkers Brass Band Championships, and such has been his involvement that the famous CISWO Mineworkers Contest has become a huge brass band festival held in Skegness and featuring the largest single cash prize to the winners in the history of the banding movement.

He remains one of the most popular brass band personalities in the movement and brings a wealth of experience to his task as an adjudicator today.