2009 National Championships of Great Britain - Championship retrospective
20-Oct-2009
Dr Nicholas Childs and Black Dyke played a winning hand at the Albert Hall. You wouldn't want to play poker against them that's for sure.
---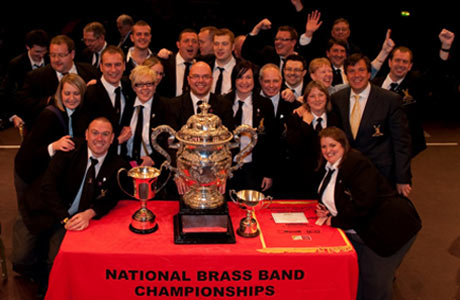 Poker millions: Black Dyke play their winning hand
Picture: Ian Clowes

More National pictures can be found at:
http://www.pbase.com/troonly/09_london_finals

Like a poker player with a strategy to risk everything on a great hand that can still be beaten, Black Dyke retained it's title as the Champion Band of Great Britain at the Royal Albert Hall.
Brave

Dr Nicholas Childs must have known before his band's performance that he was prepared to take a very calculated and brave risk – especially as he had no control over the subsequent hands dealt to rival bands.

His was strong all right – but the decision to opt for clear moments of muted dynamic texture in two of the most transparent parts of the piece (with the second soprano cornet entry and the ensemble section at 241 in Variation 4) was like a poker player with an Ace/King in his hand opting to put all his chips into the pot and finding at least two other rivals willing to chance their luck on the turn of the cards. It doesn't always pay off.
Purists

This decision did though – and whilst the purists may have queried the need for Dyke to opt for the strategy in the first place (both entries were clearly marked to be played open in solo and ensemble), the MD knew only too well it's all about winning in this business – and Dyke ended up as National winners for a 22nd time. And to do that you have to have the cahoonas to put your own cards on the table.
Relief

There was a palpable sense of relief however in the celebrations.
As players milled around the old silver pot, there was an acceptance that perhaps a touch of contesting serendipity has played its part too.
Heady delight was mixed with gimlet-eyed reality – and the MD and a number of players were gracious and generous victors - paying tribute to the performances from Cory and Foden's in particular.
Tough

Nicholas Childs has been on the receiving end of a tough decision or two in the past so his genuine praise for his rivals was delivered with an appreciation of what he knew both of them would be feeling in the immediate aftermath of Dyke's win: Cory's date with destiny had ended bravely, Foden's date with popular acclaim snuffed out before Peter Bates could finish the sentence that condemned them to their third consecutive runner up spot.
He had taken the risk knowing full well those consequences if it didn't come off. And that takes some doing by a contesting conductor let alone a poker player.
The day unfolded with its usual sub plots – from a draw that neatly fell into two halves, to a test piece that pleased the encouraging numbers of listeners who stayed in the hall to listen to the performances from 10.00am onwards.
Crowd pleaser

'The Torchbearer' was a crowd pleaser, an adroit piece of pastiche that contained treacherous moments of individual and ensemble writing that perhaps seemed at odds with Eric Ball's gentle musical disposition.
It was a test piece all right – especially for euphoniums (nearly all of whom covered themselves in glory), sopranos (much the same) and solo cornet (a bit more hit and miss). It did its job.
The judges (Messer's Broadbent, Read and King) had plenty to ponder, enjoy and digest, and whilst there couldn't have been too many people who didn't agree with their top four bands in their own personal predictions, the make up of the rest of the results raised more than the odd eyebrow or two.
Solid

With the audience settled into its seats the contest started with a solid performance from Co-operative Funeralcare.
The first four bands were an aperitif however, as the draw delivered the main course early – Dyke at 5, Cory and Desford to follow, Fodens at 9 and Hepworth to round things off before the break at 10.
The Scots will have been pleased with 9th place, after a confident performance of solid virtues that wasn't blighted, as so many were on the day, by an intrusive error count.
Struggles

Northop meanwhile will know that their struggles deserved their 18th place, (despite some fine euphonium playing from Aled Williams, which ran his illustrious brother Glyn very close). They weren't alone though.
Reg Vardy will be delighted coming 5th. Their rendition seemed to be one of many that was a collection of inconsistencies and missed opportunities, but Stephen Robert's stylish intent and some fine individual contributions (especially Tina Mortimer on solo cornet) caught the ear of the men in the box.
It was the band's best result at a major for some years now and will give them a huge fillip in time for Brass in Concert.
Classy

In contrast Redbridge will be left wondering what they did so wrong in ending up in 15th.
Although the performance did fall away after a classy opening, there was so much to enjoy in the musical reserve of the approach. Jeremy Wise understood his Ball from his Graham and whilst the lack of robustness in the tonal quality may have been a factor in the box, it perhaps deserved much better than a finish amongst the also rans.
Intentions

The eventual champion, Black Dyke, revealed their intentions from the start – a superb opening with that initial muted question mark.
What followed was playing of the highest class – not entirely error or tension free, but luscious and lyrical, detailed and sharply focused. There were real moments to savour ('Golden moments' as the judges called them) with Richard Marshall in particular, quite stunning.
That risk in Variation 4, where the tutti sound in the cornets was of a muted texture, gave a very distinctive tonality to the stunning control. Was it the right or wrong decision? The purists thought not, the all important men in the box gave it the benefit of the doubt – and that was crucial, as elsewhere the playing glowed with beauty.
The commanding ending confirmed Dyke's marker, but it was a marker that even they knew could be beaten. In the end though, nobody could play their musical hand in quite the same way.

Four of a kind: Dykes euph and bari boys
Picture: Ian Clowes

Destiny

Cory's date with destiny never materialised.
There were times when it seemed they had their hands grasped on the National Trophy sat behind them on stage, but moments of noticeable fragility disturbed the usually flawless execution.
David Childs' contribution (including a 10 second top Eb) was immense, but they couldn't quite build another edifice of contesting winning stature of the type that has served them so well in 2009. By it's end it was a performance that would take some beating, but even they knew as they left the stage, that it was just that – and so it proved.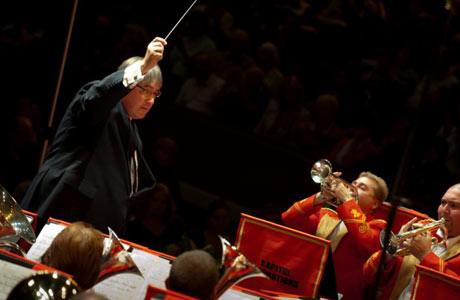 Not quite a winner: Cory miss out on destiny
Picture: Ian Clowes

Inconsistency

Two contrasting performances of inconsistency followed.
Desford's lyrical beauty and Kirkintilloch's robust bravura were poles apart in interpretation, but still ended up just one place apart down with the dead men come the results.
Both had high error counts, but James Gourlay's elegant reading of the score was a delight – so subtlety shaped and moulded.
On the other hand Selmer Simonsen's more overwrought approach never allowed his band to play with lyrical ease, so the Scot's final position was perhaps understandable. Desford's though was a bit of a puzzle – a performance that just didn't resonate in the box as it did in the hall.
Acute disappointment

For Foden's their immensely satisfying performance only brought acute disappointment – despite coming runner up.
Something separated them from victory on the day. That something for the three men in the box was clear enough (given that the performance of Black Dyke was still fresh in the recall cells of their memory banks).
That something was surely preference of interpretation (and that is always to be appreciated at the very top level), as this was the most coherently structured and delivered performance of the contest.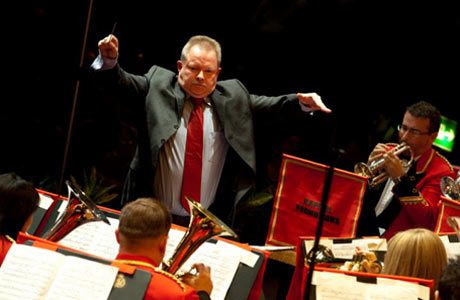 Force of destiny: Fodens miss out again
Picture: Ian Clowes

The classy individual contributions were at times stunning (especially Mark Wilkinson on cornet and Glyn Williams on awarding winning form on euphonium) but it was the cohesive ensemble playing and the stylish picture created by the MD that stood out. It was so warm and cultured – and the risks, if any, came with an authentic adherence to the dynamic and textural demands of the score.
It wasn't to be though, but it took the most one eyed of Yorkshiremen not to have felt for them on Saturday night – some of the players looked broken by the disappointment.
Idiosyncratic

With the audience lapping up the music, the first half of the contest was rounded off with a very idiosyncratic reading from Frank Renton and Hepworth.
In poker terms this was a man with a 7/2 off suited hand playing a bluff (and those who play will know just how risky that can be). It was either going to come off big style or be found out and thrown out of town.
That neither outcome occurred was a puzzle though, as Frank Renton certainly played his hand to the full – 15 and half minutes to the full in fact (most bands finished around the 14 minute mark). There was plenty of good playing and not many errors to blight the execution, but at times it was like stirring a bucket of coal with a knitting needle – not a lot moved.
Such bravery deserves some sort of recognition – good or bad; but a non descript 13th?
Moments for debate

After the break the contest never touched the heights again – with the exception of Rothwell's late bid for glory. There were still a few moments of debate though, such as Carlton Main and Camborne.
Carlton Main certainly found form in a performance of highs and lows and unfulfilled potential, whilst Camborne started as if they were going to win the title itself.
Carlton's eventual 6th place was perhaps due to the highs being very high, the lows not quite scratching the bottom of the barrel, and the men in the box appreciating the untapped potential. Camborne's superb opening couldn't be maintained despite Richard Evans' sensitive direction – the overall picture compromised by the errors (one or two quite startling in the solo lines). 8th was a very pleasant surprise.
Nearly a cracker

Fairey could have been in with a shout if only they could have rid themselves of the accumulated errors that in the end robbed any chance of putting a persuasive musical account any higher than 11th. It was very nearly a cracker.
As for Flowers? They too left London delighted with their result, which rather unexpectedly came after a performance of real strengths (the playing improved dramatically after a poor opening) and transparent weaknesses, which didn't quite amount to the sum of its well intentioned parts. It certainly amounted to something in the box though to come 7th.
Roller coaster

For EYMS, disappointment.
Their roller coaster performance never registered with the judges, but it was one that certainly had the listeners in the hall enjoying the musical intent.
Perhaps the error count did detract, but to the extent that it ended up in last place? Jason Katsikaris and his band can count themselves a little unlucky to say the least, especially as there appeared to be more than a handful of rivals who really struggled on the piece.
Pemberton Old were another that left the Albert Hall genuinely disappointed after Mark Bentham's deliberate musical approach found no favour to come 19th.
Despite the rather prosaic tempos the ensemble playing was generally secure and the cornet and euph leads were amongst the best of the day.
No complaints

For Tredegar, no complaints with 14th for a performance of warm musicality blighted by perhaps the highest error count of the contest. All the good work, especially in the second half of the piece was undermined by a litany of unforced clips and cracks that never allowed the musical picture to settle.
In contrast Zone One, produced one of the cleanest accounts under Richard Ward. The obvious flaw was perhaps the lack of warmth in the ensemble tone, but the security of delivery (led by David Geogehan on cornet) was admirable and 12th place was well deserved.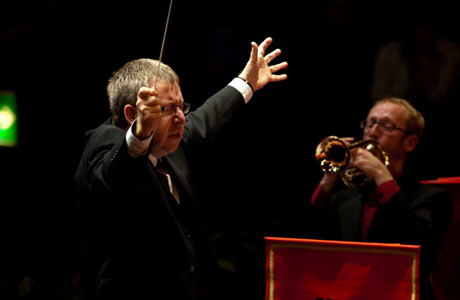 Eyes wide shut: David Roberts dreams the dream
Picture: Ian Clowes

Contest shudder

With the contest rather limping towards its conclusion, Rothwell Temperance sent a shudder through the seats with a performance that was at times startlingly good.
The solid virtues of detailed preparation and confident execution were delivered almost without flaw, and whilst it did get a tad ripe in places, the polished finish (especially the euph playing of Mark Bousie) and intelligent direction from David Roberts ensured that it was always heading for a deserved top four qualification spot. Rothwell is a real contender for the biggest prizes now.
Generosity

That just left Newstead who benefited from an act of charitable generosity from the box that seemed wholly out of proportion to the performance they delivered.
That it came 10th was simply baffling – that it deserved to beat more than handful, despite the brave efforts of conductor and players alike, would have been deemed a decent return in most quarters – but half the field?
With the contest over by 5.00pm, all was left was a short concert by Cory (although getting the invite to do this is a bit of a gypsy's curse when it comes to the result).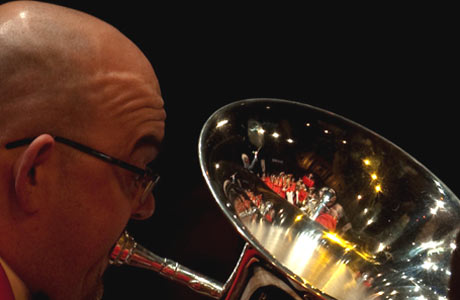 Wonder Williams: Glyn Williams retains his Best Instrumentalist Award
Picture: Ian Clowes

Honours

Peter Bates did the honours, and with the odd melodramatic response from the audience as Carlton Main and Reg Vardy got their mention off stage, there was a throaty cheer of joy for Rothwell, a shrug of resignation for Cory and a rather depressed aura of collective disappointment for Fodens.
Then the fanfare and the news that Black Dyke had won – and generous applause from the hall – although it was noticeable that there was not the usual tidal wave of collective murmured approval.
Black Dyke and Nicholas Childs had taken a very calculated risk in playing the musical hand they did on the weekend – and it paid off for them better than any winning cards held by their rivals.
You wouldn't want to play poker against them at the moment.
Iwan Fox