2009 National Championships of Great Britain - Torchbearing gifts and problems
20-Oct-2009
There was plenty to keep the audience, conductors and players happy and tested on the weekend with Peter Graham's test piece.
---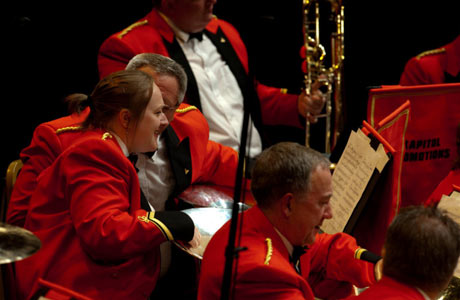 Having a Ball: Reg Vardy enjoy their performance
Picture: Ian Clowes

More National pictures can be found at:
http://www.pbase.com/troonly/09_london_finals

People love Eric Ball's music, even when someone else is writing it, as Peter Graham's, 'The Torchbearer – Symphonic Variations on a Theme by Eric Ball' proved on the day.
This was a very intelligent composer for brass paying affectionate and sincere homage to a musical hero.
Delighted

If Eric Ball was listening from high above he would have been delighted by what he heard, although perhaps puzzled by the extraordinary number of bands who found his lyrical musicality so difficult to play without a litany of unforced errors.
What he would have made of the test of nerve Peter Graham imposed on euphoniums, soprano and solo cornets in particular though we will never know, but he would surely have recognised the need to have tested their mettle – there cannot be a more difficult opening to a test piece than the first eight bars of 'A Kensington Concerto'.
Whitham

Although the piece was written in memory of Eric Ball, there was also a lovely little acknowledgment in the preface to the score to Geoffrey Whitham – a man who became a legend at the Albert Hall half a century ago.
What he would have made of the euphonium cadenza is anyone's guess too (a few ripe words to start with one would suspect) but he would have been pleased with the efforts of all the members of the euphonium players union on the day.
Some struggled more than others, and whilst David Childs displayed startling virtuosity in his contribution, the prize as 'Best Instrumentalist' once again went to Glyn Williams of Foden's – perhaps the one player who performs with the same ability to make the instrument sing like Whitham himself.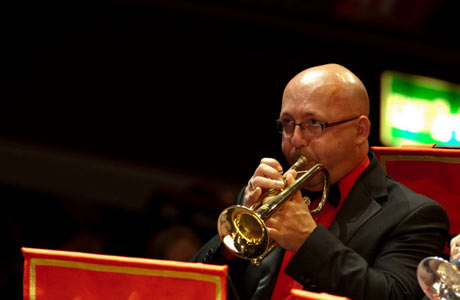 Flower power: Chris Howley of Flowers leads his band to 7th place
Picture: Ian Clowes

Glory

There were however plenty of others who covered themselves in glory on behalf of their bands.
Soprano players are used to the odd sleepless night or two, but there can't have been too many who would have really enjoyed the prospect of opening their band's challenge with a top G# with only the rep and triangle for company.
Some conductors even stood the triangle player behind the ear of the sop player to get them to play together – an exercise in pointless choreography if ever there was one.
Strike breaker

The soprano union would have been pleased too with its members – the odd muted strike breaker notwithstanding, whilst the top principal cornet club led by the peerless Mark Wilkinson saw quite a few of its members enhance their reputations too.
Peter Graham ensured that there was something for everyone in the piece (and not just the listeners with their 'Eric Ball's Greatest Hits' checklist to fill in). Baritone players had a few tricky moments, the xylophonists had the chance to show off their prowess, whilst horn players and even the bass trom had plenty to keep them on their toes too.
The only leading performer who seemed to have a quiet day was the solo trombone – although you suspect they were happy with that.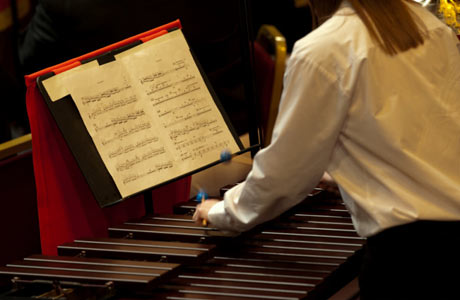 Xylo beater: Hepworth's xylo player does her bit
Picture: Ian Clowes

Not overlong

The piece itself wasn't overlong (there was no extended sections of meaningless technical pyrotechnics), and whilst it would have taken a pretty up tempo whip through to have played the piece in the stated 12.30 minutes duration that it said on the score, most bands didn't hang about (with the exception of Frank Renton's 15 and half minute opus with Hepworth)
The overall result was an enjoyable, rather than memorable test piece that did its job and did it well. There was also enough to keep the vast of majority of listeners happy too – and there haven't been too many test piece of late that have managed to do that.
For hard core Eric Ball aficionados though, the question why one of his originals couldn't have been used instead seemed relevant. There was enough 'High Peak' in this one to have kept Sir Edmund Hilary happy.
Perhaps next year?
Iwan Fox