4BR Scouting Report - Brendan Caddy - St Pinnock Band
14-Oct-2009
4BR casts its eye on another talented young performer who is making a name for themselves in the banding world - Brendan Caddy of St Pinnock.
---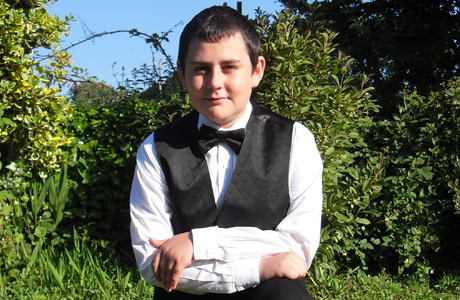 Little pearler: 14 year old Brendan Caddy

Brendan Caddy
Age: 14
Instrument: Soprano
Bands: St. Pinnock, Mount Charles Youth, Cornwall Youth Band, National Children's Band of Great Britain
When you are 14 the world is your oyster. When you are 14 and making a name for yourself as one of the brightest young soprano cornet talents in the country, the world is the size of biggest and best Cornish oyster master chef Rick Stein can serve up at one of his local restaurants.
Bright pearl

And in Brendan Caddy, Cornwall has one of the brightest playing pearls you would be lucky to find in any banding oyster too.

The delightful young man from the small village of St Blazey at the edge of the breathtaking Eden Project is a performer who knows just what he wants from his banding world as well.
Brendan has just successfully auditioned for the next National Youth Band of Great Britain course, a super achievement for a player who has chosen to master the demands of the most difficult of brass band instruments.
Playing the soprano at the highest level requires an essential touch of the free spirit (there cannot be too many soprano playing accountants) as well a hint of self-confidence and the nerves of a high wire artist. Just a pinch of almost cocky assuredness is essential.
Ingredients

Even after speaking to Brendan for a short period of time, you sense he has every one of those ingredients in place – all mixed with an engaging personality, eager enthusiasm and willingness to learn. This lad will go far.
Brendan doesn't come from a brass band family – mum and dad have no musical background, and his brother no longer plays percussion. He was first attracted to playing a brass instrument by Steve Osborne, the local peripatetic teacher and euphonium player with the St Austell Band who came to his school and channelled his infectious enthusiasm into playing the cornet at the age of 7.
He has never looked back.
"I just wanted to play a brass instrument as soon as I heard one," he told 4BR. "I started on cornet, but after a while the chance came to play soprano and I really fancied it."
Early set back

As with all young players, there were early set backs and after a short period on the instrument with St Austell Youth Band he moved back to cornet. "I struggled to get to grips with it," he said. "But I was determined to give it a go if I had the chance again – and luckily I did."
For the last two years he has been back on soprano, and playing with the St Pinnock Band who is in the Second Section in the West of England Area. Brendan also plays with Mount Charles Youth and the Cornish Youth Band too, so he hasn't got a lot of spare time!
"I love banding, the friends I've made and the stuff we are able to do together. I'm even going up to London this weekend to listen to the National Finals at the Albert Hall."
Enthusiasm

That enthusiasm then is the key, and he has benefited from it being channelled in the right direction under the expert eye of Brian Minnear who now teaches him. "I've learnt so much from Brian in the last two years," Brendan says gratefully.
That has meant working hard at his playing and his studies at school. Brendan has passed his Grade 3 and 5 and is currently starting work on his GCSE's, which of course includes music.
He has his sights set on a musical career too – although he knows he must first get to Music College, and that means passing his exams. "I've got to work hard at my playing over the next few years and with my studies. My mum will be pleased I said that!" he chuckled.
Leaps and bounds

His playing has come on in leaps and bounds and he is now working on advanced solos as well as more difficult band pieces.
"I'm working on 'Demelza', 'Silver Threads' and 'O' Lovely Night' at the moment – I like them all, but they are quite hard on the lip." Meanwhile, he is finding plenty to enjoy in some of the band pieces, including 'The Aeronauts' and 'Solar Eclipse'.
Like most young players he is a great fan of Paul Lovatt-Cooper. "His pieces are so exciting and there is always something interesting to play in them," he says.
He is also looking forward to getting to grips with the Second Section Regional test piece, 'Kingdom of Dragons' too – "Someone told me the soprano part is hard, so I'm looking forward to playing it," all said with just the right hint of enthusiasm and confidence.
Realistic

Brendan is realistic about the need to keep improving as a player. "My strengths are my tone and range I think, but I know I have to work on my technique and my stamina."
Would he like to be playing at the Albert Hall with a top band some day then? Quick as a flash: "Yeh! I'd love to play for Black Dyke. Nick Childs is a great conductor and gives you lots of encouragement."
Hero

For someone so young his soprano hero is the legend that is Peter Roberts – "He's just brilliant!", although he also likes the current Black Dyke incumbent too, Paul Duffy. "I heard him at Bridgewater Hall a few months ago when I was playing with the Children's Band – he's a great player and really nice to talk to."
When you have this amount of talent, just the right pinch of self confidence and enthusiasm, the support of a tight knit family and the desire to reach for the top, then you can be sure that in a few years, there will be plenty of people making the trip to the Albert Hall to hear a very talented soprano cornet player in one of the country's top bands – a young man from Cornwall by the name of Brendan Caddy.
Iwan Fox