4BR Dinner Guests - Mark Bousie gives us his ultimate dinner guest list
13-Oct-2009
Mark Bousie tells 4BR just who he would have around his dinner table for a good night out and chin wag...
---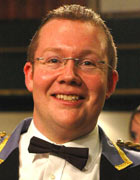 Given the opportunity, the wish list, the ability to mess about with the Space-Time Continuam like Doctor Who, and the skill to cook like Heston Blumenthal, who would you like to invite around to your place to enjoy a meal and chin wag with?

4BR started it all off a few days before Christmas 2007 with our 10 dinner guests, so we thought we had better ask a few more brass band personalities who would be on their all time dinner list too...
Nice guy

This time it's Mark Bousie, one of the brass band movement's real nice guys - a superb euphonium player, conductor, teacher and part time journalist!
Mark wasn't daunted by having to pick just ten guests, or for that matter, the cooking arrangements.
He told 4BR: "To select just 10 people from the many people who've made an impression on me, one way or another, is almost impossible!
"Nonetheless, with a certain important date not too far around the corner (Jayne and I get married next August) making difficult decisions over guest lists is good practice!"

He concluded: "The invited guests are quite an eclectic mix really, with a little artistic license needed for some. My passion for music is shared by that for sport (mainly of the armchair variety!) so it was tempting to add a number of my sporting heroes. However, rules are rules, but please forgive me one notable exception! "
---
1. Jayne Sadler

My long suffering fiancé. I'm so lucky to have someone so supportive, understanding and patient. We met whilst we were both playing in Sellers International Band.

Jayne hails from the North East and is blessed with the sharp wit of many who originate from that neck of the woods. She would have no problem in holding her own with the predominantly male company!

2. Pete Meechan

One of the finest composers for brass band of his generation, Pete is knowledgeable, or likes to think he is (sorry Pete!) about most things!

With Pete around the dinner table the conversation would never run dry! Significantly, Pete is also my best man for our wedding. Hopefully he'd be able to get at least some of his (probably wholly inappropriate!) stories and jokes out of the way in front of 10 people before addressing the rather bigger crowd next year!

3. Julie Meechan

Pete's wife, a good friend to me and Jayne and the first horn player of Black Dyke. I'm sure Jayne would appreciate a fellow member of the fairer sex to keep her company and even things up slightly.

We have attended many parties (the term 'dinner' is maybe not suitable here!) at the Meechan's so it probably is our turn to entertain!

4. Dave Thornton

A good friend of many years, who, of course, just happens to be a rather stunning euphonium player too. Dave has given me much advice (most of it about euphonium playing) over the years and I'd like to think I've given my fair share in return.

Dave and I actually were actually housemates whilst students at the Royal Northern College of Music so it would just be like old times with the exception, one hopes, being the improvement in the standard of cuisine (unless of course everyone is partial to boil in the pan hot dog sausages!).
5. Neil Hewson

Another long standing friend and ex college house mate. Neil is one of the nicest people you could ever wish to meet and, of course, one of the finest flugel horn players around. Neil is in temporary banding retirement at the moment, but it's to be hoped he can be coaxed back into action sometime soon.

A long suffering Sunderland supporter, Neil may, for once, be able to tell us with some confidence that his team may stop in the Premier league for more than one season!

6. Steven Mead

Steve was my euphonium teacher and mentor for 10 years, both at school and at the RNCM. The biggest influence on my career and I have a lot to thank him for. We do keep in touch and on the rare occasions we do bump into each other we inevitably end up sharing memories that go back a fair way.

Steve has never been one to shy away from the big topics and speak his mind. Would the conversation stray on to adjudication?!
7. Philip Jones

Another big influence on my career at a vital stage. I can't claim to have known Philip very well, but he did offer me some of the soundest advice and support as a student.

One of the wisest people I have ever met and of course a brass playing legend with many a story to tell.
8. Wynton Marsalis

A real musical hero of mine. What Wynton doesn't know about brass playing (in any style) is probably not worth knowing. Whilst Wynton can't be classed as a brass band performer (he's far too busy), I'm sure he's been accompanied by a few in his time.

The most amazing trumpeter and with such vast experience and knowledge, he would probably be the centre of attention for at least some of the evening!

9. Geoff Whitham

A (perhaps) predictable, but essential inclusion. Yet another big influence on my career. As anyone who knew him would testify, when you were in his company, Geoff was never less than warm, encouraging, but also brutally honest!

His legendary story telling and quick fire wit would be an asset to any dinner party!
10. Sir Bobby Robson

My all time sporting hero, Sir Bobby, as we all know, sadly passed away in July after a long and courageous fight against cancer. I never had the fortune to meet him (I don't think you can count 'high fiving' him as I ran past him when he started the Great North Run as such!), but on all occasions he came across as the most inspirational, knowledgeable, loyal and passionate man who always had a sense of humility and humour.

I'm just in the middle of reading his enthralling autobiography. Well known as someone who took an interest in all around him, Sir Bobby would have made engaging company at any dinner party and I'm sure would have been fascinated with the (sometimes) curious ways of the brass band world.

Can you imagine him and Geoff in the same room?!
---
Previous dinner guest lists:
Previous guests have included the 4BR selection; Chris Wormald; David Read; Pete Meechan; Alan Jenkins; Derek Broadbent; Philip Harper; Peter Roberts; Frank Renton; James Shepherd; Dr Roy Newsome; Paul Lovatt-Cooper; Bramwell Tovey; Kevin Crockford; Morvern Gilchrist and Lesley Howie; Richard Evans; Simone Rebello; Ian Porthouse; David Daws, Alan Morrison and Alan Wycherley.