2009 Lower Section National Finals - First Section: retrospective
30-Sep-2009
If you are going to win off number 1 then you had better do it in undoubted triumph - just like Tongwynlais Temperance.
---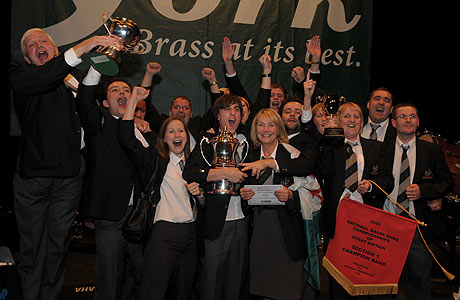 Doing it in style: Tongwynlais celebrate being number 1
Picture: Rob Fletcher

If you are to win off the number 1 draw, then you had better do it in some style.
Authority

Tongwynlais Temperance did just that on Sunday, taking the First Section National title with something to spare after delivering a truly triumphant rendition of Gilbert Vinter's test piece that hours after their final chord rung out, never diminished in it's authority as a victor in the minds of the two judges or the vast majority of the audience.
This was a win by a margin and a half.
It was also a victory that was helped in no small measure by the disappointing overall standard of the 15 bands that followed Tongwynlais onto the International Conference Centre stage.
There was certainly nothing triumphant or rhapsodic about some desperate efforts.
Hubris

A combination of hubristic conducting and sub standard playing blighted a contest that although not quite there for the taking, wasn't set an impossible target to match from the number 1 draw.
'Triumphant Rhapsody' didn't have to be pickled in musical aspic, but it didn't need the full Damien Hirst formaldehyde treatment either. Why so many MDs thought that the only way to play it was to batter the subtle wit and reserved emotional lyricism senseless with a sledgehammer was mind boggling. There were brainless efforts on show at times.
The majority of these bands will be playing in the Championship Section next year – they haven't a hope in hell.
Crass dynamics and overt aggression were served up from the word go – literally from the first note of the piece, which, with just a couple of exceptions was splashed across the auditorium to gruesome effect.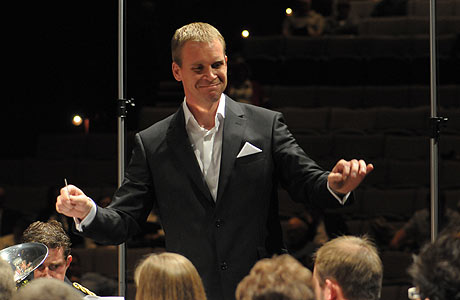 Looking pleased: Phil Harper leads Tong to the title
Picture: Rob Fletcher

Cut off at the legs

Those MDs with a bit of Vinter coursing through their veins brought out the wit of the music by appreciation of tonality and balance, and found themselves in the prizes – those who opted for volume and speed were thankfully cut off at the legs.
David Horsfield and Roy Roe both knew what they wanted to hear and were consistent in their approach.
Those who played with restraint and let the music flow with natural cadence were the ones that got a mention off the stage. Those who delivered artifice (however precise and exciting) found themselves further down the prize list.
Rambling

It was a pity that Roy Roe's rather rambling post contest analysis didn't really illuminate the subsequent result further, but the two points he made about volume (some bands he said tried to strip the paint off the walls) and the resultant lack of quality in tonality were well made.
Coherent

Tongwynlais certainly didn't fall into those particular traps.
A coherent reading from Philip Harper overcame a nasty opening chord, before balanced ensemble and first-rate soloists delivered a performance of sparkle and pathos in equal measure.
The euphonium lead given by Martyn Patterson deservedly won the 'Best Instrumentalist' Award on a day when the famous cornet cadenza was never satisfactorily overcome.
There were occasional moments of unease, but the MDs insistence on relevant contrasts in dynamics and tempi made the music come alive with subtleties of wit and lyricism. Theirs was also one of the few renditions where the discordant major and minor 2nds were 'caressed' or not 'unduly emphasised' unless requested – just as Vinter wanted in his flyleaf note to the score – a requirement that was bypassed with depressing regularity by others.
By its conclusion there was little doubt that we had heard a marker that was going to be hard to dislodge. So it proved.
Unfit for purpose

What followed (although not with the winners) was a clear sign that the First Section continues to be unfit for the purpose it was intended, even 17 year after its inception: It is now just a bridge that leads to notional Championship status and even the bands that filled the remaining top six placings showed this all too clearly.
The readings from Richard Evans, David Stowell, Norman Law, Nigel Boddice and Phil Randell all sought authenticity from the score, but were increasingly blighted by fragilities that cost them the opportunity to have come within touching distance of Tongwynlais.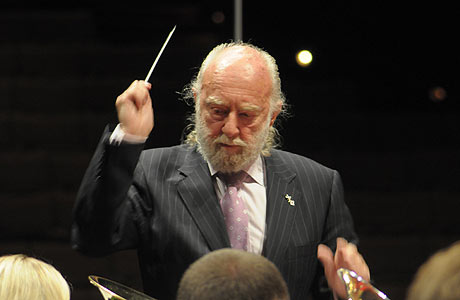 Rolling back the years: Richard Evans leads Barton into second place
Picture: Rob Fletcher

Rolled back the years

Richard Evans rolled the years back with Barton, bringing compactness to the dynamics and tempi that were almost, but not quite, pickled in historic 1960s aspic. The error count though was on the high side, just taking the patina off a reading of clarity and understanding from the middle.
So too Norfolk Brass, with David Stowell managing to subdue the aggressive approach to the opening by keeping a tight rein on the dynamics and rhythmic pulse of the quicker sections and blending them with the lyrical flow he captured elsewhere.
Norman Law meanwhile produced perhaps the best reading of the score all day (and we had to wait all day for it as they played last band on), but Wakefield Metropolitan's performance was blighted by an increasing error count that just tarnished a performance of promise.
Fellow Scot Nigel Boddice also showed his understanding of the Vinter milieu with an interpretation with Newtongrange that had breadth and space. It just got bogged down in places but the desire to allow the music to speak was a joy when others merely opted for crass effect.
It was the same for Poole Borough under the intelligent direction of Phil Randell – the search for the style and appreciation of the lyrical phrasing and rhythmic pulse just off set by a mounting pile of unforced errors that eventually tarnished the sense of Vinteresque purpose.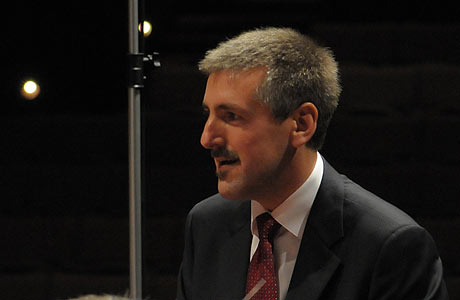 Looking the right way: David Stowell leads Norfolk Brass into third spot
Picture: Rob Fletcher

Question

These five bands gave David Horsfield and Roe Roy just what they wanted – even if they were at times very scratchy in execution. It was questionable however if any of them were performances from Championship bands in waiting. They were though decent First Section renditions of a test piece that shouldn't have been overtly impossible to master at this level.
Mixture

Behind the top six came a mixture of bands that failed to either impress in terms of execution or interpretation.
Two of the latter were Wardle Anderson Brass and Point of Ayr, whilst a quintet of the former was Blackburn & Darwen, Sherborne, Sandhurst, GT Group Peterlee and Kikintilloch Kelvin.
Wardle was full of youthful enthusiasm, brio and verve, but lacked the ability to be able to explore the subtleties of Vinter's writing, whilst Point of Ayr's more mature sound was built on the same foundations, with polished and at times harsh execution.
Both just needed more warmth and appreciation of tonal colour, so despite the precision in the delivery, the two men in the box found the hard edged contents not as much to their liking as others in the hall.
Pragmatic

Conversely, the pragmatic approach of Blackburn & Darwen and Kirkintilloch Kelvin were a touch too neutral from the MDs Nick Sheppard and Charles Keenen.
On a day when misplaced hubris ran amok, a touch of elasticity and a little more risk taking could, and possibly should, have seen the duo come higher than they did.
Idiosyncratic

Sandhurst and Sherborne had their moments but rather idiosyncratic approaches never seemed to settle consistently either in terms of interpretation or execution, although Paul Cosh's ability to keep the listener engaged throughout Sherborne's performance made sure that the judges kept them in and around the top six.
Inconsistent

GT Group Peterlee meanwhile produced the most inconsistent performance of the contest – a real liquorice allsorts bag that had just about everything and more; from a finely shaped reading from the middle to errors that at times didn't matter to those that made you really wince in abject discomfort.
That just left the bottom three – and a trio of performances that left you baffled and bemused.
Bottom three

All three bands were led by experienced and talented musicians, but all three performances were of such startling mediocrity that you were left wondering what on earth the MDs were playing at.
Stephen Cooper's risk aversion strategy with City of Coventry so lacked colour and warmth that it sounded as if the performance came under the aegis of the Health & Safety at Work Act, whilst Phoenix West Midlands and David Maplestone produced a performance that had the same welcoming warmth as the paint work in a DSS Jobcentre.
Vinter free zone

As for Hade Edge?

Simon Wood is one heck of a talented musician, but it is hard to think of another performance led by him that was so far off the mark – so aggressive it needed anger management counselling. All three were Vinter free zones and were deservedly clobbered by the men in the box.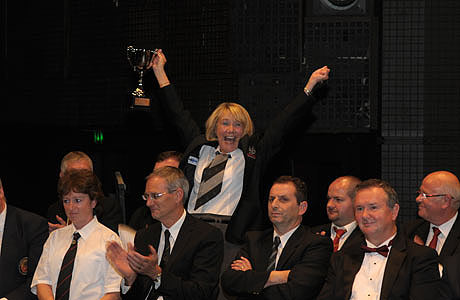 The moment of truth: Tong take the title!
Picture: Rob Fletcher

Clear winners

Before the results the small cabal of media hacks and scribes put their heads together and were in broad agreement that Tongwynlais were clear winners – and there were few in the hall that disagreed.
Theirs was a true performance of substantive merit from an authentic Championship band in waiting that fully deserved to take the title.
It was just a pity no one else could show the same potential to have pushed them harder in winning it.
Iwan Fox (with thanks to Mark Bousie)