2009 Lower Section National Finals - Second Section: retrospective
30-Sep-2009
A contest full of good performances produced an early winner from Wales.
---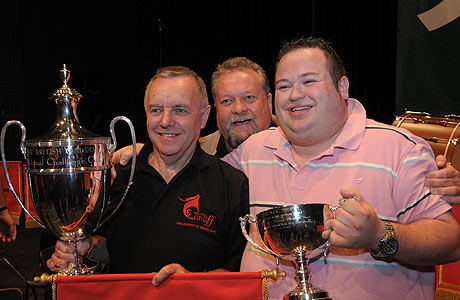 In the pink: MD Gareth Ritter gets ready to lead the celebrations for Cardiff
Picture: Rob Fletcher

Whereas the First Section continues to fail in producing bands capable of making a lasting impression at Championship level, the Second seems to be producing plenty that could comfortably make the step up a level without batting an eyelid.
Enjoyable

Whether or not they will be thinking the same come 'A Downland Suite' next March remains to be seen, but on the evidence of an enjoyable contest, a number of these bands will fancy their chances of further success and perhaps even a return trip to the Harrogate next September.
This was a contest full of good performances – from the winners City of Cardiff (Melingriffith) right the way down to the bands that found themselves in the bottom quarter of the prize list.
Excellent

The top eight or nine bands were excellent, and the battle between the likes of City of Cardiff, Oldham (Lees), Camborne B, Frickley/South Elmsall, East London Brass, Holme, Verwood, Flookburgh and Silk Brass could have seen the destination of the title end up in one of six different regions.
In the end it returned to Wales for a third successive year as Gareth Ritter led City of Cardiff (Melingriffith) to victory.
It was a close run thing though, with Oldham (Lees) breathing down their necks all the way to the finishing tape.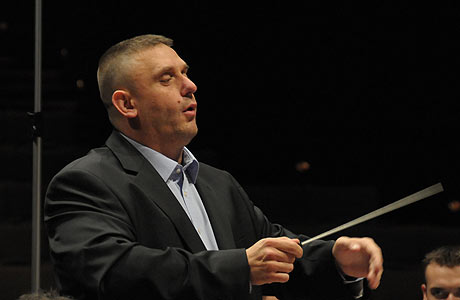 Just pipped to the post: John Collins leads Oldham (Lees)
Picture: Rob Fletcher

Super work

Appropriately, the contest opened with a Scottish band performing the Scottish inspired test piece, 'A Scot's Miscellany'; a super work from the pen of Alan Fernie, who took the opportunity to listen to as many bands as possible on the day.
The piece was full of cleverly drawn musical characterisation, from the grim Calvinists of the opening section to the portrait of respectful emotion in the middle section and the whip and snap of the final rollercoaster Reel, which contained some splendidly difficult trombone features, that would have tested some of the performers in the best championship bands.
Decent marker

Although Annan didn't quite overcome all the problems they faced from the word go, it was a decent marker and one that held its own come the announcement of the results – ending up in 11th place.
Shirland Welfare followed with a solid no nonsense portrait under Andrew Dennis to come 13th, but the contest really burst into life with the next four contenders, led by the eventual winners from Wales.
Serious intent

City of Cardiff (Melingriffith) produced a performance that was bold and confident, played with a serious intent that managed to bring out the different musical elements without ever over egging the haggis (if that can be done).
In the end it proved to be a marker that wasn't to be beaten, although a number of contenders who followed certainly gave it their best shot.
Camborne B was first to follow and whilst Alan Pope perhaps tried too hard to capture the defined characteristics of the Scot's persona in all its glory (some of the emphasis in solo lines were leaned upon too much at times) it was nevertheless a high quality show that fully deserved its end result.
Holme too produced a performance of merit – Duncan Beckley bringing his usual mix of good sense to the proceedings, although there was inconsistency in the execution that killed off its chances of coming higher than it did in 6th place.
High class

With the contest proving to be a high class affair, there was more to enjoy with Oldham (Lees) with perhaps the most complete performance of the day.
So well drilled was this that it may just have lacked that little bit of Scottish whimsy to the characterisation, but it was super playing from a young band (with their principal cornet player picking up the Best Instrumentalist Award) that has made remarkable progress under the baton of John Collins. They missed out on the title by the narrowest of margins.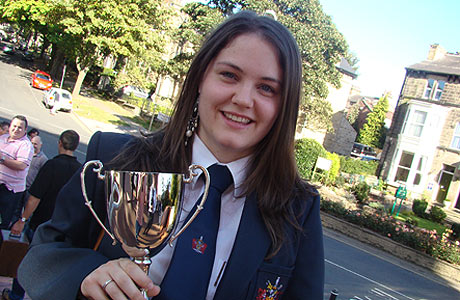 Best Instrumentalist: Michelle Lane of Oldham (Lees) Band
Picture: Rob Fletcher

Best shots

It was perhaps asking a bit too much to expect such a high standard to continue, but both Arbroath Instrumental and Wellington (Telford) gave it their best shots – although both will have known that perhaps they didn't play to the best of their form.
Arbroath had the quality but too many costly slips, whilst Telford will have gained a great deal of experience from their outing here after their National success last year. Both will return better bands after coming 10th and 17th.
Second half

Fairlop and Yiewsley opened up the second half of the contest for Robert Childs and Ray Farr in the box.
However, the two experienced judges were presented with a pair of inconsistent performances from the London & Southern Counties representatives that never quite managed to make a truly coherent picture from their constituent parts, and they ended up in 16th and 12th positions respectively.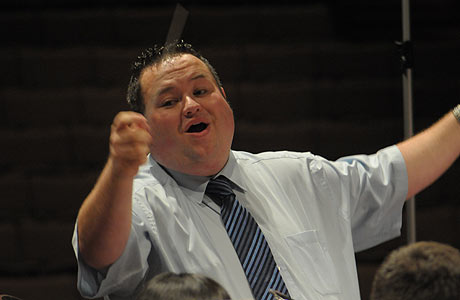 The winning MD in action: Gareth Ritter leads City of Cardiff
Picture: Rob Fletcher

Unlucky

Verwood Concert can perhaps count themselves a tad unlucky after a performance that really got into the full sporran swinging character of the music (led by the MD in a kilt of Cornish tartan).
It did have it moments good and bad, but it always held your attention – 9th was a few places too low for us.
Nort East duo

The two bands from the North East were next to try their luck, with Houghton's well delivered musical approach offset by inconsistencies in execution to end up in 15th place, and Flookburgh's presentation of neat Scottish style and characterisation under John Iveson bringing them an unlucky 7th place – most people had them a touch higher.
Lively

Deiniolen produced a lively account under the baton of Gavin Saynor that just lacked consistency to have come any higher than 14th, but it was East London Brass who followed that made a very classy impression under the baton of Jayne Murrill.
This was a performance that had all the basic ingredients in place, with a controlled balance and warm tonality from start to finish. It had the odd blip or two and perhaps needed just a bit more bite in places, but by its end we had them as our winner, the judges not quite liking it as much and placing the Butlins champions in 5th place. It was a performance to be proud of though.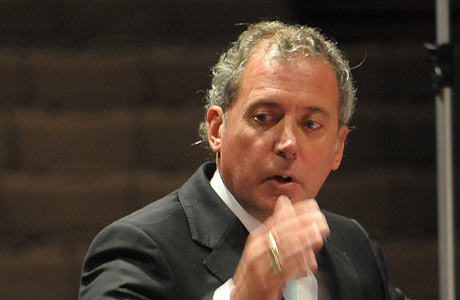 Keeping an eye on things: Alan Pope leads Camborne into third place
Picture: Rob Fletcher

Controlled

For many the contest seemed over but not before Frickley/South Elmsall produced a controlled account under the baton of David Nichols that was full of well placed sensibility.
It may have been a touch bland in places, but on a day when those virtues were sometimes outweighed by the desire to showcase musical character, it appealed in the box and the Yorkshire band found themselves in 4th place.
Hard edges

That just left Silk Brass and although Jim Cant and his band delivered an authentic Scottish portrait it was one that had a few too many hard edges that just robbed the lyrical feel required, especially in the second movement. 8th place was a fair return for their efforts.
With plenty of interesting performances, there was quite a cross section of opinions to who would be in the mix come the results.
Welsh dominance

In the end, there was a touch of disappointment from the likes of East London and Oldham (Lees) – although on another day both could have taken the honours, whilst there was a delight for the others – especially the players of City of Cardiff (Melingriffith) who maintained Welsh dominance at this level for the third year in a row and put a famous old banding name back on the prize winning map once again.
Iwan Fox