2009 Lower Section National Finals - First Section - Introduction and prediction
22-Sep-2009
Who will be leaving triumphant from Harrogate we wonder? It's all about seconds on this one, but not for the runner up for sure...
---
First Section:
Sunday 27th September
Commences after completion of Third Section
Test Piece: Triumphant Rhapsody (Gilbert Vinter)
Adjudicators: Roy Roe & David Horsfield
Section Controller: John Slater
What a difference it makes getting to Harrogate.
In March the First Section contenders up and down the country were trying to get to grips with the technical fives of 'Pentacle' - now they face all the tricky seconds of 'Triumphant Rhapsody'.
The difference is not a handful of tones either.
Yellow edged

Those bands and conductors that did manage to battle their way through Graham Cole's difficult work will have been delighted with the choice made for Harrogate – you can't beat a bit of yellow edged Vinter can you now?
Those thinking they may be in for a bit of an easier ride will have been rudely awakened though – the piece may well be close to 50 years of age, but it still polishes up with a sheen that will slap the backsides of disrespectful players and conductor's alike.
Vinter of course wanted the piece named 'A Matter of Seconds' – a typically witty sobriquet that belied the seriousness of the writing. Other's were less willing to indulge his dark edged wit, and so it became the rather more pompous 'Triumphant Rhapsody' – although you get the feeling that Vinter was still allowing himself a little bit of sardonic humour.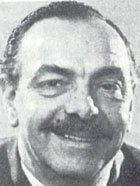 Discord

It has become a 'classic' ever since it was used at the National Finals in 1965, when Vinter himself wrote of it; "In modern composition, discord is the rule rather than the exception," adding, with tongue perhaps still tongue firmly in cheek; "Undoubtedly there is a triumphant ring in the clash of 2nds, and this Rhapsody is built upon this effect."
Conductors will do themselves a great deal of good to check out the programme from the 1965 Finals and digest Vinter's thoughts (we have done it for you so don't worry) as it gives a crucial insight into the work's inspiration and structure.
Well matched

16 well matched bands will battle it out on Sunday afternoon to try and capture both the essence of the composition, and the ears of the two adjudicators, who will have grown up playing Vinter on a regular basis.
Both Roy Roe and David Horsfield were playing at the top level when this piece was used at the National Finals, and both will appreciate its idiosyncrasies.
Looking at the list of bands and their conductors, there are quite a few who will have done the same too – from Dicky Evans with Barton Town to Norman Law directing Wakefield.
Even the younger baton twirlers will surely have come across this score on more than one occasion, so they should have no excuses for coming nowhere if they try and reinvent the Vinter wheel, even if misplaced hubris will mean some will adhere to the belief of the London Symphony Orchestra's conductor Valery Gergieve: "Democracy is not a good thing when it comes to music. You cannot vote for the right dynamics or the right tempo."
Vinter ain't Bourgeois, but having some knowledge of what the piece and the composer is about, will be a help.
Rocket science

Find the wit, play with lyrical intent matched to ensemble precision and don't try and blow the roof off - and leave the rest to good old Gilbert. It ain't rocket science.
Solo cornet players will experience 'squeaky bum syndrome' of course given that the great old cadenza before the finale is a corker if it comes off, a catastrophe if it doesn't, whilst the trombone players who start the last section will have to be reined in to stop a rush of misplaced adrenaline leaving the tempo nowhere to go come the breakneck coda that closes the work.
Contenders

That said, all 16 contenders are in with a real chance of success.
The North West started the ball rolling back in March, and the region will yet again send a pair of strong contenders across the Pennines.
Wardle Anderson Brass took the honours at Blackpool and have made remarkable progress under the baton of Sean Conway (this will be their third successive trip to Harrogate).
Last year they pushed Point of Ayr all the way in the Second Section Finals and will be keen to go one better at the higher level this time around.
Butlins champion Blackburn & Darwen also return, and they too have upped their contesting ante after coming 5th here last year. Welshman Nick Sheppard has also moulded a competitive band under his command (they were 9th in the Senior Trophy and are in the top section next year), so you may get decent odds at the bookies on the title returning to the region for the first time since 2004.
Pride

Yorkshire pride comes in the shape of champions Wakefield Metropolitan and Hade Edge. Both bands have been up and down from the Championship Section (Wakefield make their second appearance at Harrogate in three seasons) in recent years and have plenty of experience in the ranks and at the helm.
Both have been busy out and about too picking up prizes on the local contesting circuit, although not always with consistency. Both MDs tend to work without a score too – so watch out for both Norman Law and Simon Wood as they try and mould a triumphant winning performance from their charges.
Assault

The Welsh assault comes from two strongly fancied bands – last year's Second Section champion, Point of Ayr and Tongwynlais Temperance.
Both know that they have plenty to live up to given Beaumaris's victory last year, but these two bands were a class apart in Swansea and have realistic ambitions to make a mark in the Championship Section too.
Both bands have been playing against championship rivals most of the year (Tongwynlais came 3rd at the Welsh Open, 16th at the Grand Shield and 4th at Wychavon last weekend), whilst Point found out how much progress they had made (they won in confident style in Swansea), and still had to make to return to the top level of banding when they came 18th at the Senior Trophy.
The odds on another Welsh victory in the heartland of England are pretty short.
West

Given the amount of success enjoyed by bands from the West of England at Harrogate over the years, it comes as a surprise that the First Section has yet to be conquered by the region.
That may be about to change if champions Poole Borough or Sherborne hit top form on the weekend, as both showed in Torquay that they have the ammunition in their arsenal to do very well indeed under two experienced and capable MDs.
Poole didn't really hit form at Weston after their win (coming 4th) so it may be asking a bit much for victory on the weekend for either.
Returnee

The Midlands sends another returnee in the shape of Phoenix West Midlands Brass under David Maplestone (who came 11th last year) and City of Coventry (6th in Second Section Final) directed by Stephen Cooper.
The region has a fine record of achievement since 1992 (4 winners) and will be keen to add more. Phoenix took the honours at Bedworth (and came 3rd at Buxton), and City of Coventry has built on last year's qualification to return once more.
Both bands could pose a threat to the top end of the results table if they hit top form.
Make a mark

Norfolk Brass and Sandhurst Silver came out on top at Stevenage and both bands will be keen to make a mark – no London & Southern Counties band has taken home with them the First Section laurels as yet though.
No recent form to speak of, (Sandhurst came 4th in pre qualification for the play off final at Butlins) but two bands not to be under estimated for sure.
Single victory

The North East can boast the single victory (although perhaps a touch pyhrric given what happened to BHK Horden soon after) at the finals, but will be confident of building on the success of Kirbymoorside Town who claimed a well earned podium finish last year.
The region may be small in numbers, but as was shown at Darlington earlier in the year, standards are on the up.
GT Group (Peterlee) came 6th at Butlins in pre-qualification for the play off and won the Picnic in the Park title, whilst Barton Town (who were 10th at Bultins and who continue to rise up through the sections – coming 3rd in the Second Section here last year) will fancy their chances of at least causing a few bloody noses.
Scots

That just leaves the Scots and the two contenders that qualified from Dundee – Kirkintilloch Kelvin Brass and Newtongrange Silver.
Kirky took the Scottish title by a massive five point margin back in March and have been returning to the type of impressive form under Charles Keenan that saw them more than hold their own at Championship level a couple of years back.
It's great to see Newtongrange continue to rebuild strongly too (they came 6th at the recent Land O' Burns contest), and in Nigel Boddice MBE, they certainly have a man who will know his Vinter onions.
No Scottish band has claimed the title so far, but these two could be worth a bet (if the Harrogate bookies accept Scottish five pound notes of course), as they both featured in the Northern Counties Contest this year taking the top two prizes.
As to a winner?
Plenty of bands to choose from, but it would seem it could be a battle between the best of the Celts and the rose tinted challengers of the North West and Yorkshire.
Tongwynlais Temperance could well forget their heritage and be celebrating with something stronger than lemonade if they hit their bootstraps under Philip Harper, whilst they could be pushed all the way be the likes of Kirkintilloch Kelvin, Point of Ayr, Wardle & District and Wakefield Metropolitan.
Look out for Phoenix Brass though and our dark horse of Blackburn & Darwen.
Prediction:
1. Tongwynlais Temperance
2. Kirkintilloch Kelvin
3. Point of Ayr
4. Wardle & District
5. Wakefield Metropolitan
6. Phoenix West Midlands Brass
Dark Horse: Blackburn & Darwen