2009 Lower Section National Finals - The Adjudicators
22-Sep-2009
There are four very experienced adjudicators in the box this weekend in Harrogate.
---
Sections 2 & 3: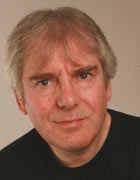 Ray Farr

Ray Farr was educated at the Birmingham School of Music and at the Royal Academy of Music, after which he spent 10 years as a professional musician with the BBC Radio Orchestra before starting his career as a conductor.

Ray has gained an international reputation as a stylish conductor and a planner of interesting concert programmes ranging from light music to "avant-garde" and is equally adept in classical and modern music as well as opera, ballet and oratorio.
In 1988 Ray won a special Arts Council Award to study contemporary music with Edward Gregson and Jorma Panula, Professor of Orchestral Conducting at Helsinki's Sibelius Academy and has since conducted at the Leeds Music Festival, Harrogate Contemporary Music Festival, Aldeburgh Festival, Adelaide Festival and the Bergen Festival and has made several recordings and television appearances

He has appeared with many leading European orchestras and as an adjudicator has judged many major competitions around the world.

In 2003 Ray accepted a position as Conductor in Residence at Durham University and in the same year was voted 'Conductor of the Year' by the influential brass website, 4barsrest.

Currently Ray is working on a PhD and has written a book on conducting. Future projects include concerts with the Northern Sinfonia and Raymond Gubbay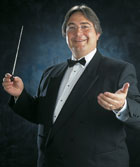 Dr Robert Childs

Dr. Childs' status as a professional musician encompasses many fields of music making.

He is Director of Brass Band Studies at the Royal Welsh College of Music & Drama; Musical Director of both the National Youth Brass Band of Wales and the famous Cory Band; a founder and Director of Doyen Recordings Ltd, Performing Arts Education Ltd. and Prima Vista Musikk Ltd.; a Trustee and advisor to the Harry Mortimer Trust; a tutor and council member to the National Youth Brass Band of Great Britain; and a world renowned euphonium soloist.

Robert has won the Nationals, British Open and European Championships as a player and conductor, a unique testament to his knowledge of the brass band movement.

He conducted and performed with the Yorkshire-based Black Dyke Band for almost ten years and before that he played under Elgar Howarth with the Grimethorpe Colliery Band.

During this time he also gave numerous solo recitals and made guest appearances as a euphonium soloist with leading orchestras, wind orchestras and brass bands throughout the world. He has performed in the Carnegie Hall, Royal Albert Hall, Grieg Hall; and has given concerto performances in the Royal Festival Hall and Sydney Opera House. In1985 Robert was awarded the coveted title 'International Euphonium Player of the Year' and together with his brother Nicholas is regarded as one of the finest euphonium players of his generation.

In May 2000, Robert was delighted to accept an invitation to become the Professional Musical Director of the Cory Band from the Rhondda in South Wales, thus re-uniting him with Wales and associating him with the band he has held in such high esteem since he was a boy.

In a short space of time Robert revitalised brass banding in Wales by steering his new band to win the British Open Championship, the National Championship and runner-up at the European Championship in a single season.

In December, 2002, Robert was awarded a Doctorate in Musical Arts from the University of Salford. Robert is also an Associate of the Royal College of Music, a Fellow of the London College of Music and gained a distinction in a Masters Degree from the University of Leeds.

He holds a Post Graduate Certificate in Education from the Open University and as an education specialist Robert frequently delivers master classes at Universities and music institutions at home and abroad.

In 2007 Robert was awarded the Iles Medal from the Worshipful Company of Musicians for his work in the Brass Band Movement.
---
Sections 1 & 4: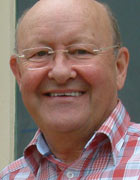 David Horsfield

David has figured in every facet of the brass band movement for over fifty years; player, band trainer, adjudicator and music publisher.

He is the youngest principal cornetist ever to wear the purple and gold uniform of the Brighouse and Rastrick Band at the age of sixteen, having been invited to join the famous band after playing cornet for three years with his first band, Clifton and Lightcliffe.

Eric Ball was professional conductor of B & R and David recalls some memorable contests and concerts under the baton of the great man. When he made his debut on Principal Cornet at the British Open Championship in 1960, Alex Mortimer directed the band.

David won many solo competitions and was also a member of the B & R Quartet which won the title of National Champions in 1962. His experience by this time in the musical world was not just with brass bands, but with orchestras and dance bands.

After nine years he moved "up the road" to Black Dyke Mills Band, where he stayed for seven years on repiano cornet. Three National Championships, one World Championship and two British Open titles were awarded to Dyke in this period. When James Shepherd formed his Versatile Brass in 1972, David was among the original personnel, staying with this talented combination for twelve years, where he was the featured Flugel Horn soloist.

Having been a member of such talented bands it is not surprising that David has toured many countries of the world, these including Australia, USA, Canada, Germany, Holland, Belgium, France, Norway and Switzerland.

His move to the other side of the brass band scene came in 1984 when he retired from playing in order to concentrate on his music publishing business Kirklees Music and since that time the family business has expanded to such an extent that today music and recordings from their catalogue find there way to all parts of the world.

Over the years the Company has produced many high profile works from top composers Philip Wilby, Michael Ball and John Pickard and this has given David invaluable experience at the very top level of publishing. He is a member of ABBA, working in a number of European countries as adjudicator including Belgium, France, Holland, Norway and Switzerland, together with numerous engagements for him to "sort out the bands" throughout the United Kingdom.

To crown his musical career, he was a member of the famous "Kings of Brass" which was formed in 1995 and played its last memorable concert in 2001.

The year 2000 saw the birth of the Brighouse March & Hymn Tune charity contest which David created and recently he was proud to be admitted to the Worshipful Company of Musicians and with it the Freedom of the City of London.
Roy Roe

Roy commenced his playing career at the age of 7 years on B flat Cornet, at the local Salvation Army, in the village where he was born, Dinnington, near Sheffield.

He then moved on to the local village band, at about the age of 13 years, to Dinnington Main Colliery as it was at the time, and it was whilst he was with the band a vacancy on soprano occurred, with no takers, so Roy decided to 'have a go', although his father was not to happy at this decision. However, Roy stuck to his 'guns' and the rest as we all know is history.

It was while he was with the band he became a member of the National Youth Brass Band of Great Britain, 4th position on his first course, guess where he sat on the 2nd one? Yes, Principal, a position he retained for a further 4 years. Also he met a young lady, Patricia, who was a member of the cornet section, who later became his wife.

Today Roy & Patricia, together with their sons, Darren & Andrew, are all very popular within the brass band fraternity.

From Dinnington, after applying for an audition with Fodens Motor Works Band for the Soprano position, (following the Great Charlie Cook) he auditioned in the conductors' dressing room at Huddersfield Town Hall with the great Harry Mortimer.

Listening to him play "Intermezzo" from Cavaleria Rusticana, Mr. Mortimer said "Well done - I have heard sufficient, the job is yours". 3 weeks later Roy met the band in Manchester to record a BBC Listen to the Band programme (no previous rehearsal) 'talk about having eggs' - it was a real baptism of fire into the realms of premier banding.

Roy spent five happy years with Fodens, made some great friends and attended many prestigious events with the band, one of them being a member of the 'Men of Brass' together with the Fairey Band & Morris Motors Band.

After Fodens Roy spent a short time with Grimethorpe Colliery Band, and made some very good friends whilst with the band, especially Bass Trombonist Richard Ogley, although not now with us, he still keeps in touch with his wife Clarice.

Roy's next move was to the Fairey Band, where in 1965 they won the British Open & National Championships. Again many prestigious engagements, one with royalty. This was the time the bands did week long engagements at

Folkstone, Eastbourne, the London Parks, and Edinburgh. And so to Yorkshire Imperial Metals Band and more contest titles achieved, but here Roy blossomed into a fine stand up soloist, especially with his encore of 'Post Horn Gallop'. 10 years with this band and then his final move to Brighouse & Rastrick Band, again with some contest successes together with many solo opportunities.

Throughout Roy's playing career he has also assisted many of the top band's in concerts, but also had the experience and help from some of the finest conductors of that time, Harry Mortimer, Leonard Davis, Denis Wright, Thomas Powell, Geoffry Brand, Walter Hargreaves, and James Scott to mention just a few.

Roy still practice's for his own pleasure regularly but admits the spirit is willing but stamina is weak.