4BR Scouting Report - Zoe Hancock - St Dennis Band
10-Sep-2009
4BR casts its eye on another talented young performer who is making a name for herself in the banding world - Zoe Hancock of St Dennis and the NYBBGB.
---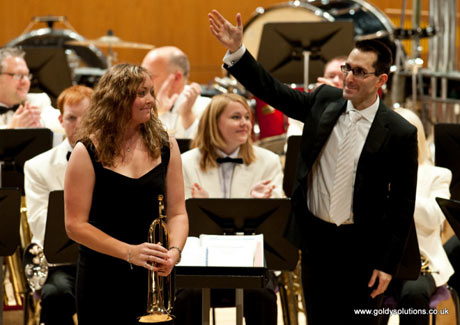 Star performer: Jason Katsikaris leads the applause for Zoe Hancock
Picture: Ian Clowes

Further Zoe Hancock pictures at: http://www.pbase.com/troonly/09bridge_leyland

Zoe Hancock
Age: 18
Instrument: Flugel horn
Band: St Dennis; National Youth Brass Band of Great Britain
There is talent, and there is talent. Making the most of it is what counts.
18 year old Zoe Hancock has certainly done that.

The young flugel player from Cornwall started playing at the age of six after the struggling St Dennis Band sent out a SOS message for help to local schools to try and recruit a new generation of players.
24 carat

What they found were nuggets of musical gold – and the 24 carat star of the show has undoubtedly been Zoe – although serendipity did play a major role to start with as she herself explained to 4BR.
"I had heard that the band was looking for new players and I really interested to find out more. Unfortunately I turned up a week late, so all that was left was this old flugel horn in the back of the cupboard!
A little bit of luck then?
"I think so. I just fell in love with it and the sound it made," Zoe recalled. "As soon as I started playing it just felt right for me and I never wanted to swap."
Although she doesn't come from a musical family – neither mum or dad plays, her younger sister is fast making her name for herself on tenor horn.
"Our parents are really supportive of what we want to do – they have made real sacrifices for both of us," she proudly says.
Reaping the rewards

Zoe was taught by John Brush, and as she improved further, privately by Kevin MacKenzie.
She also became an integral member of the St Dennis Band as they started to reap the rewards of their long term nurturing of talent under the baton of the inspirational Brian Minear, and has been a member of the Cornish Youth Band since 2001 and the National Youth Band since 2006 – latterly as principal flugel.
She has certainly enjoyed herself. "The atmosphere in the band's I've played in has always been great, and we are all friends. We have all improved together so that has given us all real confidence about our playing."
Decision

At the age of 16 Zoe opted to take a break from education and started work in a bank – although the long hours didn't give her the time she needed to put in the extra flugel practice. She then worked for a local family before taking the decision that music was path she wanted to take for a career – although it did mean more study.
"I wanted to go to college, but I had to gain my Grade 8 theory to be able to get into the Royal Welsh College of Music and Drama in Cardiff. It's been really hard work, but well worth it, and now I'm starting this year."
One of the attractions has been the opportunity that the course will give Zoe to improve her playing even further.
"I've worked hard on my playing in the past couple of years, and with St Dennis moving up to Championship level the pieces have been getting harder and harder to play. The solos I have chosen to work on have also become much more difficult too, so I have to put in the practice."
Horizons

Favourite pieces at the moment include the test piece 'Partita' by Philip Sparke ('stunning', as she says) and the solos 'Share My Yolk' and of course the ubiquitous 'Orange Juice'.
There are others on the horizon though. "I've heard about pieces such as 'Concerto Grosso', which I would love to play as it has such a difficult flugel part, whilst I'm looking forward to getting to grips with more championship test pieces too."
Hard work

That hard work has certainly paid off, with Zoe winning the Harry Mortimer Award at the National Youth Band Course this year and the plum prize of appearing as guest soloist with Leyland at the recent Great Northern Brass Arts Festival at Manchester's Bridgewater Hall.
Serendipity though played a little part in that too.
"I have been a bit lucky," said Zoe modestly. "I came second in the heats on the Easter Course, but as the winner of the horn section dropped out I was given the chance to play in the final on the Summer Course – and I won it!"
Impressive

That led to her impressive solo spot in front of a large audience on the Saturday – an experience that she enjoyed to the full.
"Leyland and Jason Katsikaris were great. I was nervous when I first went to rehearsal, but they treated me so professionally. When it came to playing in the concert I was just determined to enjoy it – and I did."
That was certainly apparent to the listeners who were taken aback by her subtle musicality on the Himes 'Ballad' and her verve on 'Children of Sanchez'.
Rich promise

It seems the future holds rich promise for this engaging young player, who has realistic aims and objectives for herself.
"I would like to play at the highest level – either professionally or with a top band, although I know I will have to improve on my weaknesses over the coming years. Perhaps I will go into teaching – I don't quite know yet, but as I eat, sleep and breathe brass bands, I know I want to carry on playing in them for as long as possible."
For someone who has an iPod full of brass band music and not the latest release from Oasis or Radiohead, it looks like we will be hearing a great deal more from a wonderful talent in the making.
That doesn't take luck – just pure talent, and Zoe Hancock has it by the bucketful.
Iwan Fox