2009 British Open Championships - The return of the Open King
8-Sep-2009
Conductors come and go at the British Open, but the return of David King with Brighouse has caused more than just passing interest from listeners, fans and rivals alike...
---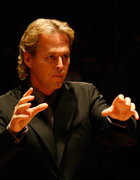 Of all the conductors taking bands at the British Open this year, one name stands out: David King.
Flintoff

Others may have been away from the Symphony Hall stage for a longer period of time, but none of them sets the blood racing through the veins quite like the prospect of the Australian's return.
In a strange reverse analogous way, its the brass band version of Freddy Flintoff having one last crack at the Ashes this Summer – a leviathan of the game stepping back centre stage to where he belongs.

When David King ended his 13-year association with the YBS Band at the end of 2006, many people thought they had perhaps seen the last of the multiple major winner on a contesting stage.
After a decade or more of almost continuous success there seemed very little more that he could actually consider doing as a contesting MD.
Emulate

The major rivals to YBS had all brokered long term associations with conductors keen to emulate the type of control he himself had enjoyed: Black Dyke and Cory came under the long term remit of Nicholas and Robert Childs, Fodens had Garry Cutt, Grimethorpe, Allan Withington.
Other bands perhaps held opportunities, but the thought of playing catch up after the latter years of decline at YBS didn't really appeal.
There were some fanciful rumours of him reviving a few famous names with the help of major sponsorship backing – Besses or the long defunct CWS (Manchester) were two that were rather romantically mentioned without substance, but the truth was a touch more prosaic – David King had perhaps had enough.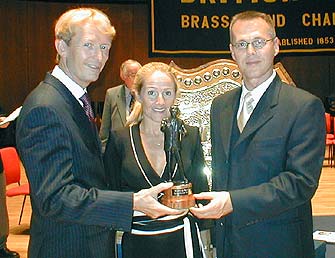 Yet another Open victory - 4 in all for the Australian

As one former player in the latter days of YBS told 4BR: "In the last year or so, getting players to come to the band long term was a real problem. He really did try – and I think he put his own money in too – but it just seemed that the YBS era was coming to an end, and he knew it."
That end came in December 2006 with the announcement that after 4 Opens, 8 Europeans, 3 Masters, a Grand Shield and Yorkshire Area titles amongst others, the final line had been drawn on his contesting CV.
New direction?

So what next?
With his growing academic reputation the possibilities seemed endless, and there was also the fact that being freed from the week to week commitment to a single band meant the chance to develop his growing influence in the wind band world as well as increase his adjudication portfolio.
Those interests in wind band conducting have since grown, as has his adjudication commitments, both of which now played a major part in his musical life. In addition he gained a satisfying balance between work and relaxation – including many flights back to enjoy longer term stays in Australia.
Comeback

So what has persuaded him back to brass band contesting?
Hard to pinpoint really.
At the recent Great Northern Brass Arts Festival at Bridgewater Hall, Brighouse President Paul Beaumont wore the smile of a man who had just dropped a pound coin and picked up a £50 note.
"It's just fantastic for the band," he told 4BR through a smile as wide as a Cheshire Cat.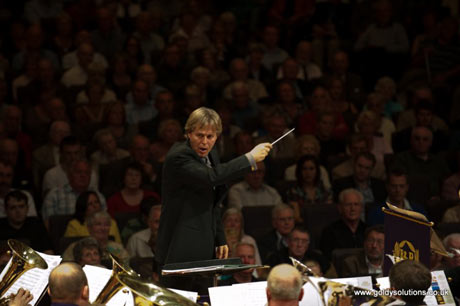 Brighouse return: David King at the Great Northern Brass Arts Festival last weekend
Picture: Ian Clowes

Further Brighouse pictures at: http://www.pbase.com/troonly/09bridge_brighouse

His delight was mirrored by the fans of the band we spoke too – and the warmth of the reception the MD received during and after the thrilling concert programme from the West Riding Band, must have seen the phone lines to the Symphony Hall box office ring red hot on Sunday morning as supporters looked to book last minute Open tickets.
What also stood out on the night was the MDs relaxed approach on stage – full of smiles of encouragement and generous sharing of the spotlight – in fact, he looked like a conductor with his appetite for banding restored.
The key to the return

Could that be the key then?

Ian Porthouse played as principal cornet under David King when the band won the 1997 British Open. "His commitment to what he wants to achieve is the thing that stands him out," he said.
"There is a single mindedness about him that can be a touch frightening if you don't understand where he is coming from, but the end result is invariably success. He will know that Brighouse has huge potential and that may be the key."
So can he emulate at the forthcoming British Open what he did at YBS?
No doubt

One man in no doubt that he will be a force to be reckoned with is Dr Robert Childs, MD of Cory.
"His record speaks for itself. He is a quite outstanding talent and someone who I respect enormously. Brighouse are a top band and he can bring that extra touch of magic to a performance that no one else can."
Could that mean a return to winning ways then?
"I hope not!" the Welshman replied. "The one thing I know is that trying to win the British Open is going to be a great deal harder for any of us with him conducting a rival band than it would be if he wasn't. It's great to have him back though – the banding world has missed him on the contest stage."
Talent

Ian Porthouse will also be a rival conductor at Symphony Hall, but is relishing the chance to lock horns with his former mentor. "Playing under him was a great experience, and I can see why so many people are getting excited about his return. Brighouse fans can't wait I'm sure. When you are up against a talent such as his though you treat it with the utmost respect – seeing him back can only be good for the banding movement."
As one American friend who sat next to the 4BR Editor at the Bridgewater Hall proclaimed after seeing him in action. "Wow! That is some guy!"
And that guy is back at the British Open on Saturday.
Don't miss him.
Iwan Fox
---
British Open record:

19th appearance in 2009
4 Wins: 1997, 1999, 2001, 2003
2 Thirds: 1995, 2005
1 Fourth: 1989
2 Sixths: 1996, 2000
9 times unplaced: 1987 (7th), 1988 (N/K), 1990 (8th), 1991 (10th), 1994 (10th), 1998 (10th), 2002 (9th), 2004 (14th), 2006 (8th)
Bands taken at the Open:
Kennedy Swinton: 1987, 1988
Black Dyke: 1989, 1990, 1991
CWS Glasgow: 1994
Yorkshire Building Society: 1995, 1996, 1997, 1998, 1999, 2000, 2001, 2002, 2003, 2004, 2005, 2006
Brighouse & Rastrick: 2009