2009 British Open Championships - The Composer
8-Sep-2009
Hermann Pallhuber is the man behind the music on the weekend.
---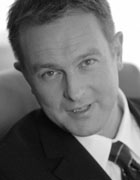 Hermann Pallhuber was born in Innsbruck, Austria in 1967. He began piano and trombone lessons when he was 10 and went on to study conducting and piano at the Vienna Conservatoire and then music education at the Mozarteum in Salzburg/Innsbruck.

He also studied Classical Philology (Latin) at the University of Innsbruck and is a graduate of the Academy of Music Nuremberg-Augsburg, where he majored in wind orchestra management and instrumentation. He has also taken composition tuition from Franco Cesarini (Music Academy in Zurich) and Richard Heller (Music Academy in Augsburg).

After several years as a lecturer at the Pedagogical University Tirol and as a secondary school teacher of music and Latin in Innsbruck and Telfs, Pallhuber's career is now focused on the Austrian wind band community, as conductor, composer and arranger, and on choral music (since 1999 he has directed the church choir Telfs).

He is a busy and award-winning conductor of wind orchestras in the Tyrol and Alto Adige, including the Tyrolean State Youth Wind Orchestra. In 2003 he founded the Symphonic Wind Orchestra Innsbruck and in 2007 was appointed the Chief Conductor of the Tyrolean band music association.

Since 2009 Hermann Pallhuber is holding an appointment to teach in Conducting, Arranging and Composing at the University of Music in Stuttgart, Germany.