2009 British Open Championships - Introduction and Predictions
8-Sep-2009
There is a fine line up of bands in Birmingham this weekend, but which one can go home with the title?
---
157th British Open Brass Band Championships
Symphony Hall
Birmingham
Saturday 12th September
Test Piece: Titan's Progress – Hermann Pallhuber
Start: 10.00am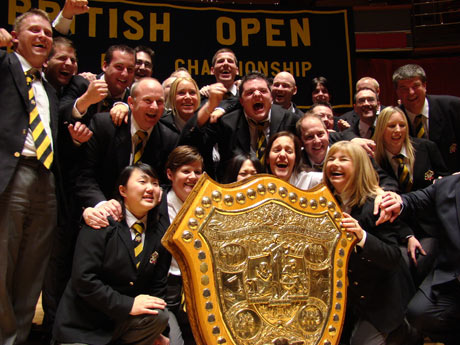 Can Foden's retain their title on Titan?
The 157th British Open will take place at Symphony Hall on Saturday, at a time when the whole of the banding movement is in need of a boost to its collective morale.
The demand for contesting, even at its highest level is going through an extended period of depression – and not just from the listening public. Bands are finding it ever more difficult to make ends meet, players are scarce, costs are rising.
Line up

Look at the line up this year in Birmingham.
How many of the 18 bands (the Australians of Brisbane included) can honestly say they are not finding financial life tough keeping things on the road? How many have been scrabbling around for a player or three in the past few weeks or asking their players to dig a bit deeper into their own pockets to pay for the band bus and accommodation for the weekend?
More to the point – how many really think they are in with a chance of leaving Symphony Hall either with the Gold Shield in their possession, or with the prospect of a handy top six cheque to cash? Odds on - not too many.
Excitement

However, even in times of austerity, there is that possibility of a shot of well timed excitement - and that could well come on Saturday.
The organisers have picked a fine test piece, on which the very best bands should be able to produce outstanding performances, if their conductors have the musical intellect to mix grandeur and subtle wit in equal measures.
Innovative work

'Titan's Progress' is an innovative, classy work, demanding both musical understanding and technical excellence. Only the best bands, with the best players and best conductors will tame it. That also tends to narrow the field of contenders down a bit too.
Given the chance to conduct the most unscientific of straw polls, the vast majority of informed listeners will come up with the small clutch of the usual suspects for the title.
Usual suspects

And of those, three bands stand out: Defending champion, Foden's, National Champion, Black Dyke, and Champion of just about everything else under the sun, Cory.
Any bookie worth his salt will know that he will have odds as skinny as Linzie Lohan in a bikini on this trio, and prices as generously proportioned as Fern Brittan in a Kaftan for the rest.
On paper, all three are a class apart (they have won the last five Opens, filling 11 out of the 15 top 3 places in the process).
Even if the draw does conspire with vicious serendipity to pit them as the first three bands to take the stage on the day, it still wouldn't be a surprise of if one or all of them filled the podium places come the results.
Cory is on a mission to bag an unprecedented Grand Slam of titles, Dyke, as usual, expects to win regardless of anyone else, and Foden's are determined to retain their title for the first time since 1927.
Can anyone stop them?
Expectation

The one name that is being spoken about with fevered expectation is that of Brighouse & Rastrick. They may not have won the title for over 30 years now, but with David King at the helm, anything is possible.
Unlucky at Preston (and very good at Manchester last weekend), if the chemistry is right (and we suspect the atmosphere in the West Riding bandroom has been bubbling like a Dr Jekyll potion) they could well be celebrating. Ones not to be missed for sure.
Kerry Katona

Likewise Grimethorpe, although a bit like Robert Louis Stephenson's literary schizo chemist, which Grimey, given the rails and tribulations of late will emerge under the influence of Allan Withington's musical alchemy will be intriguing.
If they have taken the right musical dosage then a first win since 1991 is well within their grasp, but if not, there is the possibility of a Kerry Katona appearance.
Manic

In the excitement stakes Leyland tick all the right boxes – although they too can be a touch manic in pursuit of glory.
This piece seems to be right up their street though and in Jason Katsikaris they have a conductor who will bring an authentic sense of musical style to proceedings (he did in Manchester). If they click from the world go - something they didn't do in Preston - then they may well end up right in the mix.
Devon Lock

These six bands would appear to be the realistic potential winners, and although there hasn't been a Devon Lock outsider since Marple in 1996, the punters best bet for a repeat may well be with Hepworth (Cookson Homes) under Ian Porthouse.
No band will be come more committed to the cause, and if they can improve on the impressive form they showed at the English National their name could very well be one that is announced off the stage come results time.
Consistency

If it is consistency the judges are looking for then Rothwell Temperance shouldn't be too far away either. The band has been in top form all year – from Bradford to Blackpool in fact, so another high class performance at a venue starting with a 'B' shouldn't be discounted.
On the other hand you have Desford.
Just when you thought they had overcome their split contesting personality, they seem to have forgotten to take the Ritalin and reverted to type again - a mix of the Joey Barton meets Joe Frasier – a genuine heavyweight champion with the odd hint of self induced instability.
They could well be the dark horse of the contest though, especially under James Gourlay, who certainly has the musical brain to bring this slightly subversive version of Mahler to life.
Proud record

For Fairey, a proud record of at least one Open victory per decade since the 1940s may well come to an end.
They are very much a major winning band in the making still, and Phil Chalk's long term plans have solid foundations, but a 17th victory still seems something of a long shot, and they will be acutely aware that they cannot afford to find themselves down in the relegation places either. The pressure will be on.
Squeaky bum time

So too another former multiple winner, Hammonds Saltaire. Ten years ago they lifted the title here and seemed destined for a period of dominance under David King, the like only Foden's and Dyke of yesteryear have managed.
Now they too are on the cusp of relegation to Blackpool if they cannot hit a rich vein of form. As Sir Alex Ferguson once said – 'It will be squeaky bum time' – and not just for these two bands.
The other Yorkshire contender is Carlton Main Frickley, who have been a bit hit and miss of late. Russell Gray will surely relish the chance to get his musical teeth into this piece, so another top 10 finish could well be on the cards.
The second Welsh contender BTM will also be aware that their short tenure at the British Open may well come to an end this year if they end up in the also rans.
13th last year gives a little breathing space, and they have shown glimpses of top class form this season too, but this is asking a great deal for a young band headed by the talented conductor Tom Davoren. It could be touch and go.
Scottish heavyweights

The Scots head south with their usual trio of heavyweights of Whitburn, Co-operative Funeralcare and Kirkintilloch - and all with something to prove.
Each of them will be searching for a level of performance consistency, something that has been in fluctuating supply on the contest stage this year. On their day, all three could well feature in the prizes (each has had a top six finish in the past three years), but it is a long shot that the title could be heading back north of the border for the first time.
Return

That leaves the returning Virtuosi GUS Band – former winners of course, but making their first appearance at the contest since 2003. John Berryman has moulded a solid contesting outfit under his wing, and although they will be outsiders for glory, a strong showing should be within their capabilities.
Aussie challenge

Finally, the challenge from Australia and the perennial Antipodean champions (although they didn't compete at the National contest this year), Brisbane Excelsior.
The band has had a few changes of late, and rumours suggest they may not quite be the force of a couple of years ago, but they have shown on previous trips to these shores that they are not too far off the pace of the front runners.
You have to go back to 1924 for the last Australian victory at the contest, and it would be a major surprise of that record was ended this year, but you can never underestimate a band which has a very proud record of contesting achievement under Englishman Howard Taylor.
Prediction

As for the 4BR tip for victory?
Can't really see further than the trio of Cory, Dyke and Fodens, although the likes of Leyland and Brighouse should be in the mix if they really hit their bootstraps.
The final top six placing could well be between Hepworth, Grimethorpe and Rothwell Temperance. After that, it's anyone's guess.
1. Cory
2. Black Dyke
3. Foden's
4. Brighouse & Rastrick
5. Leyland
6. Hepworth (Cookson Homes)
Dark horse: Grimethorpe
---