2009 Great Northern Brass Arts Festival - retrospective
7-Sep-2009
There was a timely shot in the arm in Manchester on the weekend. Whisper it quietly, but is there a growing demand to listen to brass bands?
---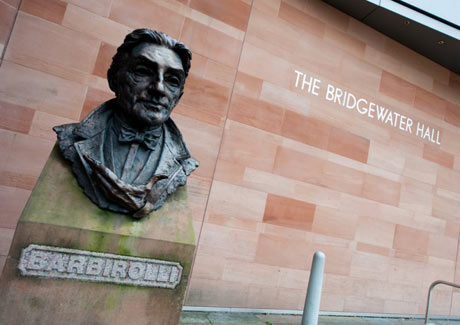 Head and shoulders above the rest? Wahat would Sir John thought of it all?
Picture: Ian Clowes

Further pictures at: http://www.pbase.com/troonly/09_sep_bridgewater

If the brass band movement needed an injection of morale boosting encouragement, then it surely came at Bridgewater Hall on Saturday.
Encouraging

The Great Northern Brass Arts Festival attracted a highly encouraging number of listeners for what was a highly encouraging and enjoyable day of brass music making in Manchester.
Much of the credit for the growing success of the event goes to organiser Philip Biggs, who has carefully nurtured the Festival over the past 12 years and who this year was rewarded with a near capacity full house to enjoy the evening Gala Concert which featured Brighouse & Rastrick, Foden's and Black Dyke.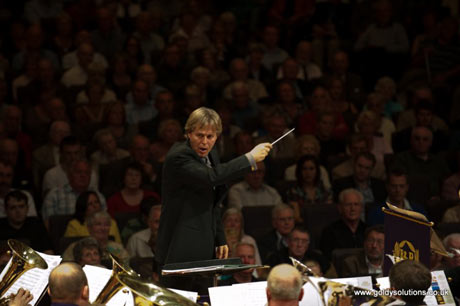 The return of the King: The crowds flocked in to see David King with Brighouse
Picture: Ian Clowes

Further Brighouse pictures at: http://www.pbase.com/troonly/09bridge_brighouse

High class demand

Earlier, there were equally encouraging signs of growing demand for high class brass entertainment with considerable audiences for the opening concert given by The Household Troops Band, followed by the National Children's Band of Great Britain and the combined talents of Wardle Junior, Healey, Littleborough & St James Junior Bands.
Meanwhile, as a substantive aperitif to the evening's climax, Leyland delivered a serious and thoughtful programme of music making that included an early airing for the forthcoming British Open test piece, 'Titan's Progress' – a bit of a musical Pearl & Dean advert for a forthcoming attraction near you.
Serious Open contenders

The day was then rounded off with an enjoyable Gala Concert triptych of serious contenders for Open glory – with all three bands producing highly satisfactory accounts of themselves to please both the impartial listener and slightly more biased fan, with well tailored programmes that didn't dull the senses, despite the sprinkling of musical lollipops.
Philip Biggs has cleverly given the day an eclectic musical feel – a touch niche in its outlook perhaps (kids in bands are guarantees to sell seats top proud parents), but still very effective.
It goes to show that with good marketing skills, quality performers and a well-constructed musical backdrop, people will come to listen to brass bands in numbers. No wonder he has already booked the hall for a Spring Festival next year.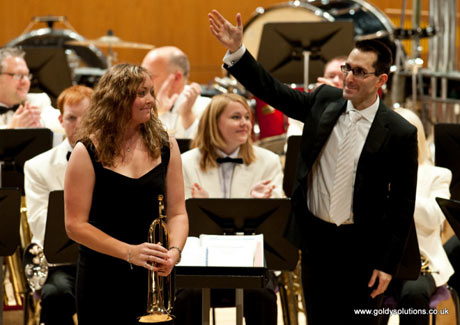 Star performer: Jason Katsikaris leads the applause for Zoe Hancock
Picture: Ian Clowes

Further Leyland pictures at: http://www.pbase.com/troonly/09bridge_leyland

Chunks

With the day broken into easily digestible chunks (with enough time between events for a quick sandwich and cuppa) there were no longeurs of boredom.
The 10.30am start gave plenty of time for people to make it into Manchester and get parked up over the road from the hall, whilst waiting for the doors of the auditorium to open, Scherzo Brass provided classy foyer music.
Protagonists

The main protagonists will have headed back to their bandrooms happy with their contributions too.
Leyland sounded like a band coming to the boil nicely in time for Symphony Hall. Although their run out of the Open test piece was a little uneven in execution there was more than enough evidence to suggest that a week of spit and polish should see them buff up nicely for Birmingham.
Their programme did wane a little in the middle, but as run outs go, it was well worth the shedding of a few beads of sweat.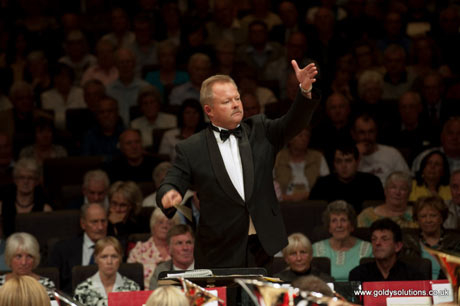 A Cutt above? Foden's MD keeps his band under his command
Picture: Ian Clowes

Further Foden's pictures at: http://www.pbase.com/troonly/09bridge_fodens

Overdrive

Meanwhile, Foden's purred along in overdrive – never really out of third gear, not a rough edge in sight. Now and again they just let go – much to the delight of the audience as the rev counter touched the red lipstick in 'Carnaval Romain', and 'Cappricio Espagnol', but for the most part they were content to play well within their substantial limits.
Black Dyke was Black Dyke – polished, slick and very professional. Although their programme was lightweight in comparison to their rivals (as asked for by the organiser we were told) there was still something very effective about the way in which it was delivered. The Australian training camp has done them a world of good it seems.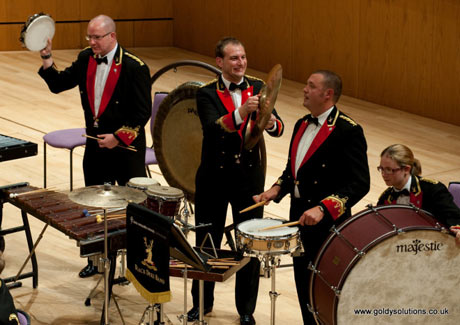 All bells, whistles, cymbals and tambourine for Dyke
Picture: Ian Clowes

Further Black Dyke pictures at: http://www.pbase.com/troonly/09bridge_dyke

Portrait

The real interest though came with Brighouse and a cracking concert set under David King – who was a portrait of happiness and bonhomie. How brass band lovers have missed him.
This was high octane stuff and an indicator, if any was really necessary, that they will be an outfit to fear come Symphony Hall. They are bursting with confidence at the moment – and on this form, not without good cause.
Solo playing

What was also a delight on the day was the standard of featured solo playing – from the stamp of quality that came from the likes of David Thornton and Katrina Marzella, Sara Burn, John Barber, Alex Kerwin, Dan Robson and Stephen Walsh, to the quite outstanding Zoe Hancock on flugel in her contributions with Leyland and Alexander Miller on tuba (aged just 11) with the Household Troops.
By the time it all came to a close at around 10.00pm, a well balanced day had delivered plenty of quality entertainment. Let's hope the same can be said at Symphony Hall on Saturday.
Iwan Fox