4BR Scouting Report - Illiam Quane - Ramsay Town Band
7-Aug-2009
4BR casts its eye on another talented young performer who is making a name for himself in the banding world - Illiam Quane of Ramsay Town Band.
---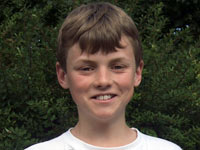 Illiam Quane
Age: 14
Instrument: Cornet
Current Band: Ramsay Town Band & National Childrens Band of Great Britain

The Isle of Man is famous for many things – from the banzai bonker bikers of the great TT motorcycle races, to the strange cats with no tails and the three-legged symbol of its historic Tynwald government.
In the future it could well be famous for producing a smashing young man called Illiam Quane too.
Remarkable progress

With a name that sounds as if he is a character in a HG Wells sci-fi novel, it may be hard in fact to miss this highly likeable tyro over the next few years, but if he keeps up his remarkable progress he could well become the next superhero cornet player in one of the top bands in Britain.
14 year old Illiam currently plays 'bumper up' with Ramsay Town Band, and recently made the trip over the Irish Sea to take the principal cornet chair of the National Children's Band of Great Britain on their Summer Course in Bromsgrove – making a very favourable impression on conductor Nicholas Childs and his experienced team of cornet tutors.
Credit

The course confirmed just how far Illiam has come as a player since he first picked up a cornet (and learnt a bit of percussion for good measure) aged 7 – with much of the credit also going to his father, Robert, and peripatetic teacher Jennifer Cooke, both of whom have overseen his careful development.
"I started playing with the Ramsay Junior Band," Illiam told 4BR.
"It's a great band and the conductors Ray Gittins and John Garfield give you lots of encouragement. When you are good enough you make the move up to the senior band. I've been a member now for five years and really enjoy it."
Musical family

In fact Illiam comes from something of a musical family: Dad wields the baton at the head of Ramsay Town Band, whilst his mum plays BBb bass. Big sister Megan, aged 16, is the principal cornet, and is currently enjoying playing with the National Youth Brass Band of Great Britain, whilst little sister, Ellen, plays horn and has just come back with Illiam from the National Children's Band course.
"I really had a great time," Illiam said excitedly. "I went on the course last year and played solo cornet, but after the auditions this time I was a bit surprised to be placed on the principal's chair."
Tutors such as Black Dyke's John Doyle and Claire Allen and Grimethorpe's Principal Cornet, Rob Westacott were not that surprised though, as Illiam went on to lead the young band with real distinction and a sense of musical style, especially on testing cornet works such as Paul Lovatt-Cooper's 'Horizons' and Peter Graham's, 'Gaelforce'.
Experience

The experience has given Illiam the appetite to improve as a player, and hopefully make the next step up and become a member of the National Youth Band itself.
"Nick Childs is a great conductor and was full of encouragement – even when I did things wrong. I would love to be able to play under him again – perhaps even for Black Dyke!"
First though, he knows he must improve all aspects of his playing, and Illiam is quite honest about his strengths and weaknesses at present.
"I'm not too bad technically – I like the 'twiddly bits', but I know I have to improve my tonguing. I've worked on my double and triple tonguing, but my single tonguing still needs to get better, so I will have to do more practice from the Arban."
Sound

As for that principal cornet sound?
"Not too bad I think. I'll have to develop it by playing more slow melody solos though. I've played 'Pastorale' and a few others, but at the moment I'm trying to get to grips with 'Virtuosity' – although it's very high in places!"
Illiam tries to put in around an hour a day's practice – schoolwork permitting of course, and hopes that his studies will lead to a possible musical career.
"I'm not too sure at the moment, but I would like to be some sort of musician – even a rock star! I've got to make my decisions about my GCSE's before too long and I'm currently practicing hard for my Grade 8, which I hope to take in November."
Singing

One thing he knows he has to improve on though is his singing, despite enjoying taking part in some of the National Children Band's great concert items this year, such as 'Stand by Me' and 'Hello Dolly'."
"I'm not very good," he said. "…although the pieces we sang in the concert were brilliant. Perhaps I need extra lessons!"
Looking forward

That though may have to wait, as Illiam looks forward to playing the cornet both in concerts and contests (Ramsay make the trip to Blackpool each year to take part at the Regional Championships).
"The band is in Section 3 at the moment and I really enjoyed the area test piece, 'The Once and Future King.' I also like Paul Lovatt-Cooper's music and we are starting to work on Gareth Wood's 'Hinemoa', which I really like too."
The future

So in a decade time could Illiam be playing in the Championship Section?
"I hope so," he said modestly. "If I go to University I would like to be able to play in a top band if I'm good enough – even Black Dyke under Nick Childs if I'm lucky."
Whatever the future holds, you heard it here first though – so don't forget the name….
Iwan Fox