4BR Dinner Guests - Alan Morrison gives us his ultimate dinner guest list
5-Aug-2009
Alan Morrison tells 4BR just who he would have around his dinner table for a good night out and chin wag...
---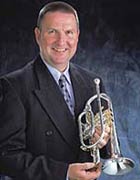 Given the opportunity, the wish list, the ability to mess about with the Space-Time Continuam like Doctor Who, and the skill to cook like Heston Blumenthal, who would you like to invite around to your place to enjoy a meal and chin wag with?

4BR started it all off a few days before Christmas 2007 with our 10 dinner guests, so we thought we had better ask a few more brass band personalities who would be on their all time dinner list too...
This time it's Alan Morrison - one of the great cornet players and brass band musicians of the last 30 years - a man who has literally seen it all.

Alan told 4BR: "The invitation to host a dinner party for 10 guests is a truly mouth-watering thought, both genuinely and metaphorically.

"To make it even more so, I would have to have my wife Anita as co-host and chef. She would also make sure I/we didn`t drink too much to spoil the enjoyment of such an evening and ensure everyone left safely and in control.
"As for my 10 guests I am disappointed not to be able to invite people who I have never been able to talk to away from brass bands.

"I love to compare the similarities and differences in contrasting walks of life to my own. How people in the public eye, whether it be through sport, politics, entertainment or achievement, handle their fame, how they achieved it and where they go from now.

"With this in mind I would love to talk to people like Brian Clough, Geoffrey Boycott, Prime Ministers and Presidents, also people who are involved in my interests, such as Steve Gibson owner/chairman of Middlesbrough Football Club, Captain James Cook on his travels from his home town of Middlesbrough, and anyone who has swung a golf club in anger and become addicted to the game, but alas, the one rule is they all have to have a tenuous link to brass bands.
"I have however noted gatecrashers at previous dinners and wouldn`t be surprised if a few rolled up at mine as well."

So here goes:
---
1. Arthur Morrison

My inspiration and mentor really, Dad was responsible for encouraging me to play the trumpet/cornet from 7 years old.

He gave me a wide range of musical experience in brass bands, wind bands orchestras and dance bands. He was a semi-pro trumpeter playing in a 7-piece dance band which was resident in a Middlesbrough hotel ballroom (The Ladle) where in the season he would play 6 nights a week (9pm until 1 or 2am) then work 9-5 in the council offices in the Finance Departments.

He encouraged me to play the piano and introduced me to football, we were season ticket holders at Middlesbrough for many years and still go when we can.

Dad and I have traveled the world together with him accompanying me on many overseas trips. He became a great companion for me and often took the pressure of socializing away from me when I wanted to concentrate more on the job in hand.

We have many stories to tell of our trips, from the time we were chased by in the car by Belgian customs for supposedly `smuggling` LP records, to the worrying time in Bangkok airport when Dad had his cigarettes confiscated. Have they never heard of Woodbines?

Here, with the indulgence of 4br, my first gatecrasher would arrive. My mother Doreen passed away last April and Dad has been a little bit lost since then as you might imagine after 59 years together. It would be great for Mam and Dad to be re-united if only for one evening, even if it risked us losing the attention of Dad and his conversation, because I know he would be very distracted.

2. Harry James

When I was a kid my father used to play me the old 78`s of all of Harry James` music.

I used to listen in awe and as he played I would follow the music from the Harry James Tutor book that my father taught me from. His main pieces were at the back and it was my ambition to play them all. What a technique and sound!!!

It was a very satisfying experience to play his pieces later in my career, most notably of course the Concerto for Trumpet and Ciribiribin.

3. Alun Prest

Not a well known personality nationally but a very popular brass band figure in and around Middlesbrough.

As I developed, my cornet playing heroes were Jim Shepherd and Derek Garside but the first cornet player to really make an impression on me was Alun Prest when he played My Old Kentucky Home at Brotton Workingmens Club and I sat in the audience.

I was Principal Cornet of Cargo Fleet Works Junior Band and Alun was Principal Cornet of the senior band. He really inspired me to want to do what he did and within a couple of years I played the same solo in the same club with him in the audience.

Other early impressions were made on me by Charlie Harrison and Bill Pearce with the same Cargo Fleet Works Band. Later on we moved on to Billingham Silver Band were a certain Vaughan Evans was Principal Cornet and he too made quite an impression.

Vaughan soon became MD of Billingham, a post he has now held for over 30 years I believe, what dedication!!!

4. George Dawson Snr

My first Championship Section band was Patchogue Plymouth AMOCO Band from Consett in Co. Durham

The band manager at the time was George Dawson who had been a fantastic horn player by all accounts and a real stalwart of the band from its original name of Crookhall Colliery.

George spotted my talent immediately and nurtured me with the band often telling me stories of my predecessors such as Maurice Murphy, Cliff Sayers and Jim Foxcroft.

He encouraged me to push myself to the limits and gave me lots of advice which helped me win the Oxford solo crown in 1976 and the title of Champion Soloist of Great Britain.

5. Elgar Howarth

After becoming Principal Cornet of Grimethorpe Colliery Band I became fascinated with Mr. Howarth who is perhaps the finest musician I have ever met.

Mr. Howarth invited me down to his home in North London several times and we would spend all day on a Saturday playing through the Artistic Soloist book which he used to love.

I would play one, then he would play it, then we would spend hours discussing what we did and the differences in our approaches. The time used to fly by and Mrs Howarth would often bring us sandwiches and tea eventually ordering Mr Howarth to `let this young man go home to his family`.

Mr Howarth`s contribution to not only Grimethorpe but to banding in general is, in my opinion, still very underestimated and I often feel some negative attitudes towards him have deprived us of his attentions and interest over the years which is a tragedy considering what he may have produced if he had felt a little more loved and respected.

6. David James

A true diamond of a man and without doubt the best one-to-one teacher I have known.

In the Miners Strike of 1984-5 David was interested in becoming resident conductor of Grimethorpe and did a lot of work with the band before actually being appointed.

With every band member on strike we were surprised to start receiving extra money in our band expenses and when asked where it came from Ken Hirst the band manager just shrugged his shoulders in his usual way.

Years later I found out that David James donated his conducting fees to the lads expenses on the condition we were not informed where it came from. Surely the most genuine type of donation so as not to gain personally or give an impression of patronization. I have never forgotten this act of generosity.

David resigned from Grimethorpe in the late eighties and left thinking he had lost my and several other members support. In actual fact the opposite was true and I fought a losing battle to keep him.

Subsequently David snubbed me for many years and despite us living in the same village would never allow me to explain what happened. To my eternal disappointment we rarely spoke again and I have always felt I lost a great friend and colleague through no fault of my own.

I would try to take the opportunity at dinner to sit him down and make him listen, after offering him a wee dram of his favourite Glen Morange so I had his full attention.

Other very important people from this Grimethorpe era who didn`t make the restrictive ten, but I am sure would arrive anyway are Stan Lippeatt, Peter Roberts and Brian Smith. These three gents were responsible for making me feel at home and looking after me when I first joined Grimethorpe. Without them I may just have returned to Middlesbrough for an early bath! They could perhaps play the background music in between courses.

7. John Hudson

Now resident in Norway and the former Principal Cornet of Fodens and Leyland.

John has been, and is still, my closest friend in banding since the day we met. When we are together we are like two naughty schoolboys and people might not believe the scrapes we have got ourselves into over the years, particularly on the Brass Band Summer School.

Based on a mutual respect and similar sense of humour we just egg each other on and wind each other up often fuelled by excessive intakes of alcohol but we also just enjoy each others company.

After dinner activities would be centred on table football when John and I would take on all-comers to preserve our unbeaten record which spans back to 1987.

8. Frank Renton

Many people have recognized Frank and I over the years as a close team and working relationship, particularly since our partnership at the all-conquering Grimethorpe Colliery Band of the early nineties.

Frank has always listened to me and respected my opinion when we have worked together. We haven`t always agreed but we were a great team and I always felt I could lead the band in my own way and Frank would appreciate that.

Rarely has a Conductor/Principal Cornet partnership worked so well.

The band also appreciated it as they realised they had a clear channel of communication with him through me and the link between band and conductor worked very well. He is also a very polished after-dinner speaker!

9. James Morrison

Through my teens I was somewhat of a multi-instrumentalist having played clarinet, saxophone and piano as well as trumpet and cornet.

My first job was tenor saxophone in a dance band. James Morrison takes this to the extreme and is a world class performer on any instrument you care to give him. We first met in Australia in 1991 when we toured together.

It was billed as Morrison versus Morrison – England versus Australia!!!!!

I played a few cornet solo`s in the first half and James did the whole of the second half! Can you imagine my astonishment when we saw his first piece – playing El Cumbenchero on trumpet, one handed, whilst riding a uni-cycle on a high-wire above the stage?

It was just unbelievable and the rest of the show was too!

The fact that the guy is also a qualified pilot and married to Miss World is secondary only to his unique, freakish musical talent.

10. Richard Evans

Wouldn`t be a show without Punch would it?

The Bearded Wonder we affectionately know as Tricky Dicky, Evanso, Dick the Stick or even `The Ponce in the Cravat` would make any dinner party go with a bang.

We have been friends for many years and he often rings and asks Anita what special offers we have on in the shop that week!

As for the final gatecrasher, Geoff Whitham has the honour because I just couldn`t find room for him in the ten, however he, Dick and Frank can fight for the after dinner speakers position.
And so we have a guest list with a few hangers on. Dinner would be heralded by the Miners Strike Fanfare Team, (Peter Roberts, Stan Lippeatt, Mark Walters and myself) which was formed for obvious reasons and often played at weddings etc.

After the table football competition Grimestein OOmpah Band (formed at the same time for the same reasons) would give a short recital before were too drunk, with Carriages just after breakfast.
I hope all my guests and gatecrashers would have a memorable time.
---
Previous dinner guest lists:
Previous guests have included the 4BR selection; Chris Wormald; David Read; Pete Meechan; Alan Jenkins; Derek Broadbent; Philip Harper; Peter Roberts; Frank Renton; James Shepherd; Dr Roy Newsome; Paul Lovatt-Cooper; Bramwell Tovey; Kevin Crockford; Morvern Gilchrist and Lesley Howie; Richard Evans; Simone Rebello; Ian Porthouse and David Daws.