Geoffrey Whitham - A fitting final bow
23-Jul-2009
The banding movement turned out in force in Yorkshire to say goodbye to one of its legendary figures...
---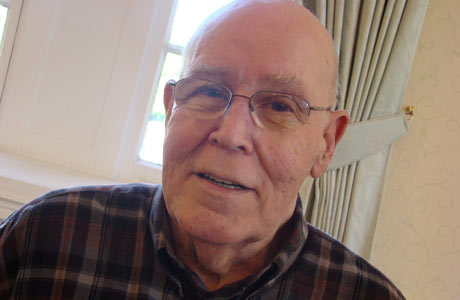 It was somehow an appropriate metaphor that as Geoffrey Whitham took his final bow in front of a brass band loving audience at Halifax Parish Church on Wednesday 22nd July, even the heavens above his beloved Yorkshire shed a tear.
For a short moment of time, brilliant sunshine was replaced by a slate grey sky, and as droplets of loving appreciation fell from the eyes of many of the packed congregation so did the heavy rain outside.
Non conformist

A 'non conformist' as the Reverend John Chalmers, who led the service had called him, had engineered a suitably lyrically inspired exit.
The funeral of Geoffrey Whitham was an occasion for memories and anecdotes, stories and urban myths – some told straight, others embellished and burnished. Above all was the love of music making, and the heartfelt respect for a man who loved it more than most.
Suitable

Halifax Parish Church was a suitable venue for his farewell appearance too: like the man, a sturdy, no nonsense edifice - a practical testament to praise and belief. It may not have seen such a packed congregation for many a year too.
Family and friends, colleagues and contemporaries, peers, players and plain old brass band lovers shoehorned their way into the cramped dark oak pews.
Goodbye

Handshakes and kisses, smiles and even the odd raised eyebrow of surprise as the banding community from all over the world it seemed had made the trip to say goodbye to a true legend of the movement.
Kings of Brass

There had to be brass band music of course, and for this very special occasion it was provided by his peers - 'Kings of Brass' – a line up of players the envy of any MD.
A front row that included Philip McCann, Jim Shepherd and Maurice Murphy ain't too bad in anyone's book, whilst the extended euphonium section started with John Clough and ended with Stephen Lord. Alan Wycherely was on sop, Les Beevers on bass, Billy Rushworth on horn.
Musical backdrop

Led by James Scott, the lads provided the musical backdrop that included 'Deep Harmony', 'Elegy' from a Downland Suite' (played with a lovely sense of lyrical flow as a few part time adjudicators in the pews noted afterwards) and 'The Day Thou Gavest' (arranged for Geoff when he was with Hammonds Sauce by Philip Wilby).
Old Comrades

Touchingly, there was also the horn solo 'Demelza', played by Billy Rushworth (a performer whom he admired greatly) played with the composer Goff Richards, bravely in attendance.

To close, the fitting march, 'Old Comrades', played robustly – just how he would have liked.
'Geoff would have enjoyed that,' someone later said, '…although he still would have had a word or two to a couple of 'em because of the poor intonation in places….' All delivered no doubt in the manner of his old conductor Arthur O Pearce, but with a twinkle in his eye, and a sense of mischief in his deep broad Yorkshire voice.
Eulogy

The lovely, humorous, yet telling eulogy came from his great friend Richard Evans.
Delivered with a sense of loving pride, as well as deep seated respect, it painted a colourful portrait of a man of music (and wrestling it seems!) – at times an unconventional one of hidden complexities.
There was more to Geoffrey Whitham than the gruff, straight talking Yorkshire exterior, and Richard Evans, amongst many others knew that all too well.
Real deal

Whitham was the real deal; Loyal and caring to his friends and wonderfully extended family, proud of his roots, forthright in his opinions. He didn't suffer fools gladly, but relished the challenge of talent – even that which he knew needed almost constant nurturing.
As Richard so poignantly said – it was the 'dash' that marked the intervening period of time between the dates of birth and death that defines a man – and Geoff Whitham's 'dash' was lived to the full.
Lyrical

Fittingly we got to hear the man in action.
Almost half a century to the day from perhaps his greatest ever performance and an audience sat spellbound as the rich, lyrical voice of his euphonium once again filled the air.
Memories, dimmed by time, were given a fresh jolt of musical electricity, as even with the added crackle of dusty recording static, the quality of an intuitive performer was unmistakable.
Not of 'Le Roi d'Y's' (that particular memory should be allowed to grow in legendary status without reprise) but of a lyrical solo and tasteful duet with his old sparring partner Maurice Murphy.

Age does not weary great playing.
Final bow

The readings from 'Revelations' and the 'Gospel of John', the prayers, personal tribute from the Reverend Chalmers - a family friend, first made on a banding trip to Scotland (as many, many were all around the world) and the Benediction preceded that final bow, as the coffin was slowly drawn through the church and onto its final resting place, with music helping it on its way.
Had a ball...

Afterwards, the stories and tales, and a celebration amongst family and friends by the score.
As Joyce, his soulmate and partner said afterwards. "He would have had a ball. He would have loved the banter and stories. It was a lovely way to be remembered."
And of course, for the rest of the day, the Yorkshire sun shined brilliantly…
Iwan Fox