Norman Ashcroft - A brass band virtuoso
16-Jul-2009
Dr Ronnie Kershaw remembers one of the great principal cornet players of his generation - the quiet brilliance of Norman Ashcroft.
---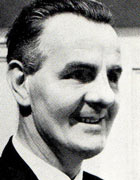 A name that will be forever linked with the Fairey Band is that of Norman Ashcroft, who died earlier this month, in his 90th year, in Llandudno, North Wales.
Great leader

Remembered by many as one of the greatest leaders of a brass band, Norman will also be remembered as the quiet, unassuming man with the sound and technique of a virtuoso brass player of the highest calibre.
During the Fairey Band's golden years of the 1950s and 60s, Norman was the anchorman around which conductors Harry Mortimer, Leonard Lamb, and in later days, Ken Dennison, built their outstanding success in both the contest and concert arenas.
Amazingly he was self-taught - having only one formal lesson from the time he started playing aged eleven.
Geordie

Norman began his playing days in his Geordie homeland of Hebburn, South Tyneside, originally on tenor horn, but then flugel, before moving to the principal cornet seat with the Harton Colliery Band.
Approached by Fairey to join as principal cornet, Norman attended an audition, but decided he preferred the familiar ground of his North East homeland to the spotlight of Manchester and said politely; "…it's very kind of you, but no".
Experience

Instead, in 1947 he joined the Carl Rosa Opera Company, having gained considerable experience playing trumpet with local orchestras and Bach Societies in the North of England in performances such as Handel's 'Messiah'.
He eventually went on to play with just about every major orchestra in the country and particularly with the Halle Orchestra under the admiring eye of Sir Malcolm Sergeant.
After one performance he thanked Norman for his outstanding playing in the principal's chair. Typically Norman replied; "…it wasn't me, it was the other lad. We swapped chairs so that I could hear him better on my left side."
Fairey

Thank goodness another friendly word by someone at Fairey turned his head away from a full time orchestral career – one that encompassed success at the highest level both as a player, tutor and conductor.
In 1950 he finally joined Fairey as principal cornet and a wonderful brass band career ensued – a career that was admired and rewarded at every level by audiences, amateur players and professionals around the world, until he stepped down in 1967.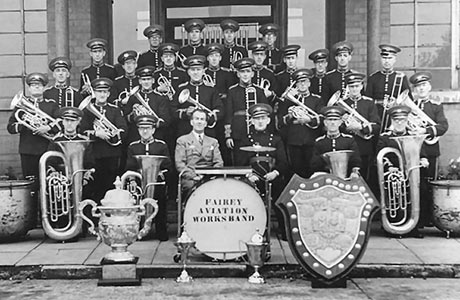 Double Champions: Fairey 1956 - with Norman Ashcroft in the ranks

Humble

A most humble and unassuming man, with the odd flash of Geordie humour, Norman was a tutor at the National Youth Brass Band (serving until 1959) and became a mentor and inspiration to generations of cornet players.
He described himself as "…an all right sort of player" - such a description could be likened to Pavarotti being "…an all right kind of singer", he became a mentor to a generation of cornet players – including Maurice Murphy, Ken Smith and Phillip McCann.
Deaf

Almost totally deaf from a young age in his right ear, Norman was perhaps destined to be a top class principal player, but whatever he lacked in the hearing department he certainly made up for what he described, with a tap of the head, as "…the M for music department as against M for marbles"

As a young man in his late 20's he often practised in front of a roaring fire to make it as uncomfortable as he could and help make the actual performance feel easier.
After one orchestral performance at Newcastle City Hall on 'The Trumpet Shall Sound' from 'Messiah', the celebrated bass soloist Owen Brannigan turned to him and said, "Well done young man." A true international star recognising the talent of a local performer playing at the very highest level.
Rated

Others rated him very highly too.
Bram Gay called him '...one of the great leaders of a band', whilst Les Beevers, a contemporary at Brighouse & Rastrick referred to him as, '…absolutely brilliant – a band leader for two decades'.
Kenneth Dennison appreciated his strengths too – "…an absolute world beater on the chair."
Conducting

Following his playing career he took up the baton with success.
In 1959 he had become the conductor of the Mirrlees Works Band, leading them from the Third Section to Championship status, a feat he repeated with the Rochdale Band, who he started conducting in 1966.
In 1972 he was awarded the Insignia of Honour at the Royal Albert Hall, where he contribution to the banding movement was acknowledged.
Final question

Finally, a question asked by band people the world over to the man who had sat and mentored all those great cornet players. Who was the best you ever heard - Harry Mortimer, Jack Macintosh et al?
Norman's reply: "Maurice Murphy - he had it all. His father asked me to take him for some lessons but he could do it quicker than I could teach him. He used to play top C's from cold! He was a smashing lad."
A smashing lad indeed, but those old enough to remember Norman know that it takes one to know one, and there wasn't much Norman Ashcroft didn't know about brass playing.
Those who played alongside him, were taught by him, or just listened to his playing, remember the unassuming man with a special gift for playing brass instruments that was Norman Ashcroft.


Dr Ronnie Kershaw