4BR Dinner Guests - David Daws gives us his ultimate dinner guest list
16-Jul-2009
David Daws tells 4BR just who he would have around his dinner table for a good night out and chin wag...
---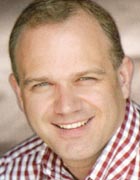 Given the opportunity, the wish list, the ability to mess about with the Space-Time Continuam like Doctor Who, and the skill to cook like Heston Blumenthal, who would you like to invite around to your place to enjoy a meal and chin wag with?

4BR started it all off a few days before Christmas 2007 with our 10 dinner guests, so we thought we had better ask a few more brass band personalities who would be on their all time dinner list too...
This time it's David Daws - regarded as one of the finest cornet players to grace the Salvation Army and the banding world.

David told 4BR: "As with everyone else that has been invited to choose 10 dinner guests, the hardest thing is deciding whom to leave out! In choosing dinner guests, the essential requirements are to be good company, to get on well with the other guests and to be a good listener.
"Everyone will have the opportunity to have the chance to speak and ideally, supply plenty of humorous stories. Stimulating conversation covering a wide range of subjects will be expected."
As for the venue?

"Any good Chinese 'All You Can Eat Buffet', followed by a 2 or 3 mile walk to work it off!"
In alphabetical order then...
---
1. David Bowes

David has been a wonderful friend for many years and is great company. We have spent a great deal of time travelling to and from band engagements and the time has always flown by.
2. Gary Fountain

Gary and I sat together in the band for a number of years and I can honestly say that I thoroughly enjoyed every moment. Gary could always be relied to provide interesting conversation.
A great player and friend with experience of playing at the highest level.
3. Derick Kane

Derick is one of the bravest brass performers I have ever known. He has been at the top for over 30 years and is great company.
I have appreciated time spent with him discussing playing issues, preparation, nerves etc and he would enthral us with his many experiences. Hearing Derick play the euphonium solo 'The Better World' is always a special experience.
4. Erik Leidzen

I never had the opportunity to meet Erik Leidzen as he died in 1962, prior to my birth. However I have been fortunate to have played much of his music.
I have spoken with many folk who have known and worked with him and been interested in hearing about him. A clever man who spoke seven languages, the other guests will be honoured to meet him and to hear the stories behind the music and his life.
A tremendous composer who also provided cornet soloists with such challenging solos such as 'Songs in the Heart', 'Tucker' and 'Wondrous Day'.
5. John Maines

I first met John at an event where he was the compere and have enjoyed many National Youth Brass Band (NYBB) courses together, finding him to be excellent company, whatever the time of day.
He has a good sense of humour (he supports Everton FC) and can be relied on to provide interesting brass band anecdotes. He is also an experienced Quiz Master and would be expected to prepare a short quiz prior to the desert.
6. Simone Rebello

Simone is a very lively interesting person who is interested in others and also a good listener.
Simone could enlighten the brass players on percussion issues (but not for too long!).
7. Robert Redhead

I first met Robert when he appointed to the ISB as Bandmaster in 1990. He gave me musical opportunities that previously I had only wished dreamt of.
It would also give me the opportunity to thank him for providing the ISB with so many marvellous experiences during his short time as conductor.
Robert is great company, an excellent compere and has written great, inspiring music such as, 'Quintessence', 'How charming is Thy Name', and 'Isaiah 40'. He could also say grace!
8. Frank Sinatra

Perhaps my favourite vocalist and someone that I have been privileged to see perform live twice, the last time during his final appearance at the Royal Albert Hall.
I would be very interested to hear his life story, particularly how he turned around his career after a period of struggling.
His career spanned over 60 years and in addition to his enjoying music, I love his films. He would be asked to sing a number of songs including 'All the Way' (sung at our wedding) and 'My Way'.

9. Mark Wilkinson

I have enjoyed a number of NYBB courses with Mark and as we are both Manchester United supporters, the meal will give us the opportunity to discuss MU's triumphs (This could take us a while!).
Mark has been principal cornet at Fodens for a number of years and performed with distinction under pressure.
10. Andrew Woodhouse

I have known Andrew for nearly 30 years and we have experienced many hilarious times, particularly whilst being members of the same SA band.
Many stories, incidents from the past will be retold with no details missed or forgotten.
---
Previous dinner guest lists:
Previous guests have included the 4BR selection; Chris Wormald; David Read; Pete Meechan; Alan Jenkins; Derek Broadbent; Philip Harper; Peter Roberts; Frank Renton; James Shepherd; Dr Roy Newsome; Paul Lovatt-Cooper; Bramwell Tovey; Kevin Crockford; Morvern Gilchrist and Lesley Howie; Richard Evans; Simone Rebello and Ian Porthouse.