4BR Interview - Simon Dobson
25-Jun-2009
4BR's Chris Thomas talks to one of the most exciting compositional talents around - Cornishman Simon Dobson.
---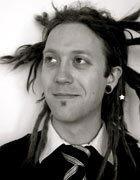 Many involved in brass banding will have made their first acquaintance with the music of Simon Dobson when his 'Lydian Pictures' was selected as the Fourth Section test piece for the Regional Championships in 2003.

Promise

At the time the composer was only twenty two years old, yet already it was evident that here was a young Cornishman of exceptional promise, refreshing and original in his approach, yet from a background that was steeped in brass banding.
At the time he was already adding to his early musical experiences by conducting Zone One Brass, the band he helped to found during his period of study at the Royal College of Music.

Vivid

Several further works were to follow 'Lydian Pictures' including 'Taliesen and the Cauldron', written for Brighouse, and the evocative 'Lyonesse', a vividly atmospheric and colourful portrayal of the ghostly echoes of bells said to be heard on still, cloudless nights from the mysterious sunken land that Cornish legend says once joined Lands End with the Isles of Scilly.

The work was used with acclaim as the test piece for the National Youth Brass Band Championship Final in 2005.
Diverse

The composer's diverse and wide ranging musical interests were to impact in a new way however when he wrote 'The Drop', the test piece for the "B" Section of the 2007 European Championships, held in Birmingham.

Dobson's parallel enthusiasm for DJ'ing and DnB (or Drum and Bass to give its more familiar name) were to inspire him to incorporate some of the techniques more commonly associated with night club and Festival musical culture than brass banding in a piece that proved to open up new horizons for both the composer and performers alike.
Maverick

Like Simon Dobson himself, there is an element of the maverick about the music, but there is no doubting its originality which is clear from the opening bars. At Paul Hindmarsh's request, the piece was subsequently expanded to be heard in its final incarnation at the 2008 Festival of Brass.
The work of Simon Dobson's that has possibly drawn the most attention however, is his most recent, 'Penlee', written for the Cornwall Youth Brass Band.

Moving

A moving, yet musically inventive tribute to the men that lost their lives in the 1981 disaster that saw the Penlee lifeboat lost during an attempted rescue of the Union Star in perilous high seas. The piece made a serious impression when Jason Katsikaris and Leyland performed it at the 2009 Festival of Brass and demonstrated the composer's terrific ear for effect and instrumental colour. It's a piece that should deservedly figure in many a future concert programme.
In a similar vein to 'The Drop', 'The Dreaded Groove and Hook', heard as part of Leyland's programme at the 2008 Brass in Concert Championships, is another clear indicator that Simon Dobson is a composer with both the ability and the spirit of adventure to lead the brass band repertoire into new territory; it's a quality that is in precious need, in what remain difficult and uncertain times for the movement as a whole.
Chat

4BR's Chris Thomas caught up with the composer to chat about his music, his conducting and his plans for the future....carefully avoiding the subject of his now famous hairstyle!
---
Chris Thomas: Being born into a musical family in Cornwall, brass bands were with you from the very start of your life. What are your earliest musical recollections?
Simon Dobson: I think my earliest musical memory is hearing my father practising his BBb tuba. I also have very distant memories of a brass band playing Philip Sparke's 'Year of the Dragon'; I've since been told that I could only have been two or three years old at that point. It's funny how certain things stay with you.
Chris Thomas: When did you start composing?
Simon Dobson: I think I was relatively late to begin composing. I guess I wrote my first notes just before my GCSE music course began. I remember that there were only three students interested in taking the subject so I had to take the course out of school hours.

Around this time my dad bought a copy of Sibelius, which back then cost an arm and a leg and I began using this to sketch primitive ramblings and was playing as much piano and cornet as I could. My first piece was for piano. This was closely followed by a piece for cornet and piano and pretty soon after that a (terrible!) march and test piece for brass band.

I was lucky that the band I played with at the time, Bodmin Town, played these pieces although I do remember certain players being less than complimentary about them!
Chris Thomas: As a student you studied at the Royal College of Music where your teachers included George Benjamin. Was there anything in particular that drew you to the RCM?
Simon Dobson: I was blown away by the grandeur of the RCM, with its turrets and prestigious location, but I had originally wanted to study at the RNCM. I was put on a waiting list for a place on a foundation course there as they said my music wasn't good enough for the degree.

I recently spoke to Edward Gregson at a concert at the RNCM in which we both had pieces being played. He offered me a friendly apology, but we both found the story funny really. Ultimately when the RCM offered me a scholarship it wasn't difficult at all to say yes. I do remember feeling totally out of place and utterly convinced that I had somehow sneaked my way in but after a while I felt fine.

Going from a brass band background and a small town in Cornwall to the RCM in Kensington was a huge change but one I am very thankful I made. In some ways it was very good for me to have been away from the banding hub of the RNCM and to see a wider musical view of the world.
Chris Thomas: Whilst at the RCM you helped found Zone Brass and subsequently conducted the band for some time. Do you miss your involvement with the band?
Simon Dobson: Now and again I miss them very much actually. They were difficult but brilliant times. It was hard for me being younger than a fair percentage of the band and also being very inexperienced, but I made friends that will be with me for life. I certainly believe that conducting Zone One in those formative years was very good for me in terms of experience.
Chris Thomas: You must have been delighted when the band made the breakthrough of qualifying for the National Finals this year?

Simon Dobson: I was delighted for them and they really deserve it. At least I can say I was there at the beginning! They'll certainly have the most conveniently placed practise room on the day!
Chris Thomas: As a composer, who do you feel to have been your most significant influences?

Simon Dobson: There are many people who have influenced me personally, but I think some of their influences may be a little difficult to hear in my music. Phillip Wilby was definitely a huge influence on me in younger years, as were Philip Sparke, Derek Bourgeois and Eric Ball.

Other musicians who have definitely influenced me in perhaps a wider and deeper sense would be Bach, Stravinsky, Shostakovich, Bartok, Brian Eno, Steve Reich, Aphex Twin, Jamiroqui, Bob Marley, Bob Dylan, Torstein Aagaard-Nilsen and the Esbjorn Svensonn Trio.

Most of my friends are musicians of one kind or another so I'd have to count them all too.
Chris Thomas: As a proud Cornishman, your native county has figured in several of your works including Lyonesse and Penlee. Does the scenery and folklore of Cornwall play an important part in your music and inspiration overall?
Simon Dobson: Cornwall was a great place to grow up. It holds a beauty like nowhere else I've ever known and its wealth of myth, folklore and folk music is something I couldn't help but be inspired by. Cornwall has loads of heroes and stories, all of which seem to be great fodder for composing. I was lucky to grow up fifteen minutes from the beach and ten from the moors and so it was never too hard to find somewhere to think.
Chris Thomas: Works such as Lyonesse and Penlee also demonstrate your ability to conjure atmosphere in your music. Do you particularly enjoy working with descriptive or programmatic musical material in this way?
Simon Dobson: I do enjoy trying to create an atmosphere but writing programmatic music is only as important to me as writing any other type of music. I feel all music should be descriptive, if not of a scene or event then of an emotion or a message. All music should have a point too, be it to make people dance, rise up against a government or unite as one.
Chris Thomas: The Penlee tragedy must have made a major impression on you to generate music of such graphic impact and imagery?
Simon Dobson: I was born just before the event but was made aware of the story at a young age. I was then and will always be, very moved by the tremendous bravery of the lifeboat men involved. They deserved to be honoured faithfully and so I chose to write the piece without sugar coating my feelings.

The result was painful to some and moving for others but stuck to my want to not write the tribute as a 'cheesy-epic'.
Chris Thomas: In terms of your working methods what tends to come first for you, the musical idea or external inspiration and how do you work forwards from there?
Simon Dobson: I don't seem to have any hard and fast rule. Often external inspiration will trigger the music and just as often the musical idea demands that I find a musical canvas suitable for its style. I tend to see music as shape and colour (often almost tangibly) and go from there.

I nearly always work at a piano for my formative sketches and ideas, but normally then move on to either Sibelius or just as often, another instrument. The opening chords to 'Lyonesse' came after a bass guitar jam! I don't really think I've got much of a technique and to be honest I find composing pretty tough, but I do feel that any artistic endeavour should be at least a bit of a struggle against your own mind and spirit!

I start writing music and just write till it's done. I guess you could say my music is composed through a sort of long improvisational process. If my music fits with what I see in my head I keep it, if not I throw it out!
Chris Thomas: Your musical interests are diverse and extend not only across brass bands but also into jazz, film music and Drum and Bass techniques in works such as The Drop and The Dreaded Groove and Hook. Do you find it natural to move from genre to genre and have you consciously tried to integrate or unite your wider musical interests in your brass band music?
Simon Dobson: I do it consciously; I often feel that brass bands need their horizons broadening and I enjoy challenging the beliefs held by some banders about other musical genres. However, I only write what I feel I should write at the time and I reckon only a few people in the brass band scene know much of my musical life outside brass bands.

I strive to be the most open musician that I can be and for this reason I'm into all sorts of music and many kinds that might seem very alien in brass band circles. Sometimes it works to equate a musical idea with a style that has not yet been much explored in brass bands.
Chris Thomas: Anyone that's a You Tube enthusiast might have come across your jam session on trumpet with piano accompaniment and you have also played trumpet with your band Men of Splendor. Are you keeping your lip in these days and is the band still gigging?
Simon Dobson: I'm embarrassed by that video; I didn't know it was going to go up! I'm a latecomer to jazz but am working on it! I played with Men of Splendor for nearly five years and we gigged hard, playing some massive crowds. We called our music 'dirty pop'! We split up last year and in fact our last gig was my wedding!

I still play quite a lot as I teach, but I also keep my lip in as I record a lot at home and often multi-track many layers of instruments (as Leyland band will confirm after I forced them to listen to a dub track at a party recently!)

I am currently working on a solo set of my own tunes under the guise of 'The Comedown Kid'. Partly DJ'ing and partly looping layers of vocals, beatbox and trumpet live using my 'Kaoss Pad 3' (ask Leyland!).
Chris Thomas: And you also now hold a regular teaching post?
Simon Dobson: Actually I have just left that job to spend more time composing! I still teach Guitar and Brass for my local music service though.

Chris Thomas: Conducting continues to play an important part in your musical life. Your recent appointment as Associate Conductor at the NYBB must have been a particular pleasure to you in this respect?
Simon Dobson: Yes, I'm so happy to have won this award! I'd always wanted to be involved in NYBBGB and when I saw the advert I knew I'd go for it.

Conducting is becoming more and more important to me as a musician and it's a true pleasure to conduct the nation's finest young brass musicians, people like James Fountain. I also think it's important for the members to see that it's possible to look and act in a way that isn't traditionally 'brass band' and yet still be able to play a valid part in our movement.

Meeting and working with the tutors (many of whom I've always held in high regard) was great too. Getting to know them as people, as opposed to for example, recording artists, was brilliant. Getting up at 7 a.m. each morning to go running with the legend that is David Dawes will stay with me for sure!
Chris Thomas: Are you relishing the opportunity of working closely with Bramwell Tovey on the band's courses?
Simon Dobson: Bram is the finest musician I have ever met. The chance to work with him is a dream and has already totally changed my view of conducting.

He is modest and one of the most open and true artists I have ever worked with. I don't think it's unreasonable to say that the brass band world is very lucky to have him!

Through Bram I have realised that the thing I most want to do is create art and poetry through music, be it as a composer or as a conductor. I feel honoured to call Bram a mentor and a friend.
Chris Thomas: You have also recently been busy conducting Oslofjord Band in Norway and will return to work with the band once again later this year. What will you be working on with them this time?
Simon Dobson: I think the first thing I am doing is a weekend of rehearsals followed by a concert in September. Siddis comes pretty soon after this but I guess the band would probably appreciate me keeping its programme under wraps.

It's a real buzz to be directing in the elite division though and I can't wait for my first time in charge of a band in the elite division at the NM in February.
Chris Thomas: Do you find the Norwegian band scene inspiring and are there any ways in which you feel we can learn from it here in the UK?
Simon Dobson: Yeah, the scene out there is great. It just seems really open and energetic. Although competition is still fierce it appears that people are more supportive of each other's music and certainly more open minded when it comes to the performance of new and contemporary music.

Composers such as Torstein Aagaard-Nilsen have been able to work in a relatively free way when compared to brass band composers here, with full concert halls for even the 'scariest' new Norwegian works.

In my opinion the British brass band scene could learn that without artistry and true feeling from players, conductors and composers alike, we are in danger of letting cut throat competition and business be the overriding factor in our music making.
Chris Thomas: Going back to your college days, your first major commission was for a fanfare from the London Philharmonic Orchestra. Do you intend to write more music outside of the medium of brass bands in the future?
Simon Dobson: I do definitely, however there are many more bands than orchestras and having been a part of the London contemporary composition scene I'm not so sure that any medium is more preferable than the next!

I'm just writing a lot for band as the opportunities have presented themselves. I have some work planned with wind orchestra later this year and have been writing for choir recently. I have also been arranging music for my wife's band (www.josieandthelovecats.com) and helping to produce their debut EP which has been a lot of fun.

Whilst I know how hard I need to work to earn and succeed as a freelance musician it's very important for me to go with the flow. A river always finds its way to the sea.
Chris Thomas: What is it that continues to inspire you to write for brass band and do you have any plans or ideas for further works in the near future?
Simon Dobson: The depth of colour and emotional range possible with a band is something that you'll never forget once you've felt it. The things that inspire me most are gung-ho performances (Leyland at last year's Nationals under Jason Katsikaris being one fine example), the youth of our movement (the NYBB course being a week of constant inspiration) and people giving it their all even when there is little chance of winning or amassing any kind of fortune.

I have plenty of music planned at the moment. Hopefully an interesting piece with Leyland at next year's Festival of Brass, possibly with electronics and a number of collaborations with some great players.
Chris Thomas: Are you optimistic about the future of brass bands in the wider musical world?
Simon Dobson: I love brass bands and have been around them my whole life but I'd have to say that on occasion I do worry about brass bands in the wider musical world.

There is very little ethnic diversity in brass bands and this may be seen in a bad light. Also, not that being cool is anything any of us should strive for, but I know that from an outsider's perspective the public image of brass bands does little to help its actual popularity. It can be seen as old fashioned and regressive.

Having said that there are definite moves to get brass bands involved in the wider musical world and we are in desperate need of this to invigorate and rejuvenate our movement. In terms of musicians there are few movements that contain so many virtuosic individuals and such a wealth of free training for young players, but in terms of attitude we have a lot to learn. This is where the change must occur I feel.

Chris Thomas: Finally, would you jump at the opportunity of writing a test piece for one of the "majors" if the opportunity arose?
Simon Dobson: I would love to write a test piece for a major competition but I feel that at the moment mainstream popularity is being consistently chosen over artistic integrity. With this mentality in place we risk cheapening our movement.

There are other composers who should be afforded this chance too; Peter Meechan is a great composer for instance and one who has already proven himself. Other contemporaries of mine have already begun to lose faith and for the brass band world to lose their compositional talents too would be a real tragedy.
I have always immersed myself in music and will continue to do so wherever it takes me. I think that if I was commissioned for brass band competitions I could produce music that would at least be a viable alternative for those seeking something more than another mainstream hit.
There are young composers and conductors out there producing some really exciting work and although the scene might not be able to embrace them yet I feel strongly that doing so is the key to the genre's survival.

I'm just going to continue what I'm doing in both composing and conducting and try to be the best musician I can. Anything that may arise from that is a bonus.
Chris Thomas: Many thanks for sharing your thoughts with us.