2009 English National Championship - The composer - Paul Lovatt-Cooper
23-Jun-2009
All you need to know about the man behind the music at this weekend's contest.
---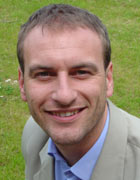 Paul Lovatt-Cooper is one of the most sought after composing talents of his generation.

He is the "Composer in Association" with the world famous Black Dyke Band and is currently enjoying performances and premiers of his works all over the world.

Enjoyed

Paul has enjoyed performances of his works including world premiers in the UK and in countries such as Ireland, Holland, Belgium, Switzerland, New Zealand, Japan, Canada, Australia, and The United States. His pieces have been performed in some of the worlds finest concert halls including Birmingham's Symphony Hall, Manchester's Bridgewater Hall, Perth's Concert Hall, Cardiff's St David's Hall, Holland's De Lawei Concert Hall, Belfast City Hall and London's Royal Albert Hall.

Commissions

His composing skills have earned him commissions from various bands including Black Dyke Band, The Cory Band, BT Band, Camberwell Citadel Band, Stockport School's Band and the National Children's Band of Great Britain. As well as ensembles Paul has had commissions from international soloists such as Brett Baker, Richard Marshall, David Childs and Owen Farr.
Family tradition

Paul was born and raised in the Salvation Army with his parents who were Officers. He was quickly introduced into music by all of his family members who were all keen musicians and keen to keep the family tradition going.
Paul started his musical career by playing the drums at school at the age of twelve. He joined the school band shortly after, which led to an invitation to play for former British Open Champions Kennedy's Swinton Band. The invitation came from his music teacher and conductor of the band Kevin Bolton.
University

After school Paul continued to study music at the University of Salford. Paul studied percussion under freelance percussionist Andrew Whettam and he majored in conducting under David King and composing with Peter Graham. In his final year Paul added to his degree success by winning the coveted 'Roy Newsome Conductors Award'.
Paul was invited to audition for the position of percussionist at the current European Champions the Williams Fairey Band in 1994. Paul was auditioned and passed, becoming a member of this illustrious band.
Impact

Paul quickly made an impact at 'Faireys' becoming a regular soloist and also became Principal Percussionist with the Williams Fairey Band. Paul enjoyed many contest successes at Faireys, including becoming North West Regional Champion, All England Masters Champion, British Open Champion and National Champion of Great Britain. Paul also enjoyed playing to packed audiences around the world including the United States of America and Brazil and many countries around Europe.
Composing

Paul started composing whilst at University, studying under the famous brass and wind band composer Peter Graham. Peter had a great influence over Paul as a mentor, realising Paul's talents Peter worked closely with his student giving as much help and advice in his musical and compositional development.
On graduating from university Paul earned his Post Graduate Certificate in Education at Manchester Metropolitan University and became a teacher of Music. In 2003 Paul left Faireys to join the world famous Black Dyke Band as percussionist.

The professional conductor Dr Nicholas Childs realised Paul's potential as a composer and soon had the band performing his works, starting with the world premier of his Trombone Concerto "Earth's Fury" at Birmingham's Symphony Hall which was recorded and broadcast on BBC's Radio 2.
Worldwide

Since then Paul has been enjoying both playing and composing successes with Black Dyke and with other ensembles worldwide. In 2005 Paul won the Brighouse and Rastick Band's 125th Anniversary Composers Competition with his piece "West Rydings", beating off many entries from all around the world.
Attention

Paul's talents as a composer have attracted attention from various musical circles including the world famous composer Karl Jenkins' latest EMI Classics CD entitled "This Land of Ours" featuring music written and arranged by Karl.

However Karl was so impressed with Paul's "Where Eagles Sing" that he included the piece as the finale to the CD. "Where Eagles Sing" was also performed on BBC Radio 2's famous "Friday Night is Music Night" programme by the Coldstream Guards.
Featured

Paul's music has been featured in the gala concert of the European Brass Band Championships in both 2006 and 2007, the National Brass Band Championships of Great Britain in 2007 and the National Championships of Switzerland 2007. His works have also been part of the winning performances of the Brass in Concert Championships 2006, 2007 and 2008 held at the magnificent Sage Concert Hall.
Test piece

Paul's piece "The Dark Side of the Moon" was selected as a test piece for the Regional UK Brass Band Championships in 2008 receiving over 120 performances across the UK. Due to its popularity it was also selected as the test piece for the Dutch National Championships 2008 receiving critical acclaim.
The incredibly difficult "Antarctica" another work by Paul painting a musical picture of the great continent received its world premier in Switzerland at the National Championships of Switzerland 2008. Antarctica was given its UK and BBC premier in January 2009 at the Royal Northern College of Music performed by the Black Dyke Band.
Youth works

Paul has enjoyed writing various works for youth bands; his first "Solar Eclipse" was commissioned by Colin Duxbury and the Stockport Schools Band who performed it at the National Youth Championships of Great Britain in 2000 in which they won.

"The Big Top" was composed for the Wardle High School Junior Band as part of their award winning performance at the National Festival of Music for Youth Final at Birmingham's Symphony Hall in 2006.
"Dream Catchers" was commissioned by the National Children's Band of Great Britain in 2007 and has since been performed at York Minster in the summer of 2008 by the Yorkshire Youth Band. Paul has been commissioned by the British Federation of Brass Bands to compose the test piece for the National Youth Championships of Great Britain 2009.

The piece entitled "Skylines" received its world premier on April 5th at the Royal Northern College of Music.
Within Blue Empires

The British Federation of Brass Bands selected Paul's major innovative work "Within Blue Empires" as the test piece for the English National Brass Band Championships 2009. The work, commissioned by Graham Taylor - a fan of Paul's music, focuses on the oceans and whales and uses live recordings of whales during the performance of the piece.
Commissions

Paul has enjoyed giving master classes on both percussion and composition and taking rehearsals with various ensembles and youth organisations around Europe. He is in high demand as a soloist, conductor and composer with a number of commissioned works in the pipeline for 2010, 2011 and 2012.
Album

In September 2008 Paul released his first album "Walking with Heroes" recorded by the Black Dyke Band.

The album has become one of the biggest selling brass band CDs to date and went straight into the brass charts at number one. It is still in the top ten six months on and due to its huge success the Black Dyke Band are currently recording Paul's second album entitled "Immortal" due to be released in 2010.
Paul is continuing to enjoy performing with the Black Dyke Band all round the world and his position as Composer in Association with this illustrious band. He has launched his own website and fans of Paul's music can visit him at www.plcmusic.com.