2009 English National Championship - Preview and predictions
23-Jun-2009
Has banding devolution got a future in England? We will find out this weekend at Preston as 14 bands battle it out for a passport to Austria.
---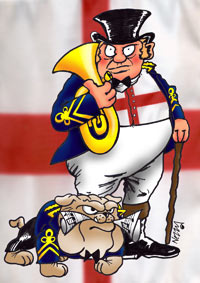 The English Bulldog spirit will be needed at Preston

The English National Brass Band Championship takes place in Preston this weekend amid increased speculation about the long term feasibility of banding devolution in this country.
Democracy

Running a contest, whose sole purpose is to provide a qualification process for another contest, may well seem democratic, but in an age when the actual cost of competing is spiralling, many people find that amount of devolved democracy increasingly irrelevant.
EBBA may well desire an English 'Champion' band to compete at its flagship event in Austria in 2010, but which of the 14 competing bands here can feasibly afford to represent England if they win through?
It seems democracy comes at a very high price.
Teething troubles

The English National has endured a number of uncomfortable teething troubles in its short history – from the lack of long term sponsor commitment to problems with adjudicator selections, the format of the contest, the bands and test pieces. We have even had to endure a well meaning but totally inappropriate bit of pulpit bashing and the contest being run on the same day as England's failure in the World Cup.
The BFBB has done well to wean to some sort of health the dodgy pup of a contest it was fostered with, but as much as they try, it remains the runt of the current contesting litter and in need of some confidence building.
Set work

This year there has been a great deal of disquiet over the choice of the set work – Paul Lovatt-Cooper's 'Within Blue Empires', whilst three bands have dropped out of the contest itself for a variety of other reasons (although the two may well be linked).
Someone we talked to about ticket sales for this year said they were 'sluggish', whilst a number of bands are questioning the need to pick a 'champion' English band in this way, when there is already a ready made (and much cheaper) option that has been used before – picking the highest placed English band at the Nationals.
Healthy?

Does that sound like a contest that is growing into a healthy, purposeful event, or one that is struggling to remain relevant, especially as 12 of this year's bands were here last year too? We will perhaps find out at the Guild Hall on Saturday.
Price

Whoever wins through will know that the victory will come at a price – about £18,000 if transport and accommodation costs for Linz are anything to go by.
The top prize here is £4,000, plus £1,000 from the BFBB towards the costs of competing in Linz next year (which begs the question to why is it that the British Federation is not also stumping up a grand each for the Welsh and Scottish qualifiers? Perhaps its because the English bands have to go through two sets of contests just to win through, whereas the Celts have just the one).
Take into account the cost of actually competing at Preston in the first place and all of a sudden you get the feeling that quite a few bands here would be better pleased by coming runner up come Saturday night than actually taking home the title.
Can't win either way

One band that perhaps cannot win either way is Black Dyke.
'Within Blue Empires' has of course been written by their percussionist Paul Lovatt-Cooper, but despite the fact that even they will have had to work their socks off to overcome the immense technical difficulties PLC has imposed on the piece, the conspiracy theorists (the faked moon landing, Elvis is alive and well and working in a chip shop in Clitheroe brigade) have still had a field day.
All the bands have had the piece long enough now to sort out whether or not they can play it – and they still have to perform it on stage to three experienced judges in William Relton, David Horsfield and Steve Sykes.
They cynics say it is Dyke's contest to lose – not to win – but that is assuming they don't get lumbered with an early draw, dodgy CD player, a few too many split notes etc, etc…
There may be no dead cert for victory on this one – but it appears there are plenty of bands who are under the mistaken belief that their own chances are certainly dead and buried before a note is blown.
Vein of form

One who certainly does not come into that category will be Foden's – a band that is perhaps in the richest vein of form of all the contenders on the weekend.
The Masters Champions will be lacking an entire first choice trombone section for the contest (due to a variety of unforeseen circumstances – especially in John Barber's case), but they are playing to such a level of technical and musical excellence this year that it is perhaps they, and not Black Dyke, that are the band in pole position before a note is blown in anger.
Starting gate

Then there is Brighouse & Rastrick – a band that some believed wouldn't perhaps even make it to the starting gate this year.
They acted with such rapidity once they knew they could get their hands on the services of Allan Withington, that you would be foolish to even think they would consider not giving it their best shot at getting one over their Yorkshire rivals and returning to the European once again.
Ups and downs

And what about Hepworth? A band that can have its occasional ups and downs, but who has a tremendous amount of self belief and commitment to the contesting cause. They will fancy their chances of once again making to the podium places at the very least.
Meanwhile, there has been something of an ominous silence emanating from Leyland recently – and under Jason Katsikaris they have shown themselves to be potential contenders for the title, whilst Fairey has made significant progress under Philip Chalk back towards the type of form that could see them very much in the hunt for honours.
Masters form

The recent Masters in Cambridge saw a few bands reveal exactly what type of contesting condition they are in as we head to the mid point of the year, and of those, Wingates will approach Preston full of confidence after their podium finish at the Corn Exchange.
There is always the potential for a surprise result at this level of contesting, and whilst many thought Wingates got their allocation for the year at Cambridge, it would be foolish to write off their chances of making another impression on the judges here.
On the cusp

Carlton Main and Reg Vardy both sounded on the cusp of returning to top six form too – if they can just rid themselves of a little self indulgence and early inconsistencies in their performances.
Verve

Butlins Champions Redbridge however has rather lost their way of late after such an impressive star to the year. Tine for them to rediscover the verve and self confidence of early 2009 if they are to feature in the prizes again. All three bands will be looking for decent returns on the weekend.
Outsiders

That would leave an interesting collection of 'outsiders' – with the West of England duo of Flowers and Mount Charles perhaps best placed to force their way into contention. Each showed up well at the Grand Shield, and although this is a significant step up in class, they have both shown that they can mix it in this company on more than a couple of occasions.
Mystery

Finally, some mystery has surrounded the two Yorkshire contenders of Hammonds Saltaire and Yorkshire Imperial Urquhart Travel, with rumours and whispers of possible struggles.
Hammonds is a band that is making long term progress, albeit slowly and surely under Morgan Griffiths, whilst David Evans may have his work cut out with Yorkshire Imps on this occasion after their recent well publicised problems.
Victory?

As for possible victors?
Black Dyke and Foden's appear to have the all round personnel to make the most of the fiendishly difficult technical obstacles placed in their way by Mr Lovatt-Cooper, and if they play to top form, it will surely be a head to head between them for the trip to Linz next year.
Brighouse could be the band to watch out for though under Allan Withington, whilst Hepworth and Leyland could be in the hunt too – although perhaps not quite good enough to start making Austrian hotel reservations.
The last top six place is up for grabs really on current form, but Fairey and Carlton Main may just battle it out between them.
4BR Prediction:
1. Black Dyke
2. Foden's
3. Brighouse & Rastrick
4. Leyland
5. Hepworth
6. Fairey
Dark Horse: Carlton Main
Start time

The contest starts at 10.45am with a break after the first six bands of 1 hour. Bands 7 – 14 will recommence at 2.00pm with results and presentations to take place at approximately 5.30pm.
Tickets for the Championship can be bought from Preston Guild Hall Box Office on 01772 258858.