4BR Dinner Guests - Ian Porthouse gives us his ultimate dinner guest list
11-Jun-2009
Ian Porthouse tells 4BR just who he would have around his dinner table for a good night out and chin wag...
---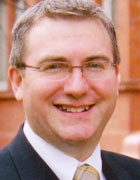 Given the opportunity, the wish list, the ability to mess about with the Space-Time Continuam like Doctor Who, and the skill to cook like Heston Blumenthal, who would you like to invite around to your place to enjoy a meal and chin wag with?

4BR started it all off a few days before Christmas 2007 with our 10 dinner guests, so we thought we had better ask a few more brass band personalities who would be on their all time dinner list too...
This time it's Ian Porthouse - regarded as one of the finest cornet players of his generation, and a former principal cornet of Black Dyke amongst others. He is now one of the most sought after conductors in the banding world.

Ian told 4BR: "This gave me a bit of a headache! There are so many people who have influenced me since I started playing, and I would have to make my father the guest of honour. I will make sure he has a seat sneaked in for him at the table.

"There are so many friends I would love to have with us on the night too - and family of course. Perhaps I can get a marquee erected in the back garden! These ten though will surely make it a night to remember - and the conversations should stretch well into the night!"

Just the ten though for Ian and no additional building costs as the budget for the meal and drinks comes out of the hosts own pockets!
---
1. Richard Evans

A huge influence on my musical career - I've known Dick for over 25 years but could still talk about music with him for many an hour!

A true gent and great friend.

2. Harry James

Harry and the next two guests are all linked as they performed together and against each as the star performers in their field.

I've read many books/stories about all 3 but would love to be part of the dinner party after a few glasses and see if all the legendary stories are true!!

My son is also named after Harry, so to say I'm a fan is a bit of an understatement!

3. Tommy Dorsey

A fantastic performer and quite a shrewd business man.

4. Frank Sinatra

As above!!

5. Muhammad Ali

Probably on most peoples list - a totally fascinating character and quite simply, 'The Greatest'

6. Jack Mackintosh

Obviously I'm far too young to have heard Jack live but from the surviving recordings he was simply way ahead of his time.

Some of the things he was doing back in the day were magical - just listen to his version of 'Facilita'.

It would be great to chat to him about how he developed his very individual style.

7. Leonard Bernstein

Again, probably a popular choice, but for good reason: His totally uncompromising demands as a conductor are of legend but nearly all players who have worked for him have only good things to say!

Talking to him would be an education and probably a little intimidating all at the same time!

8. Gustav Mahler

Simply my favourite composer. I'd love to discover the man behind such amazing music.

9. Maynard Ferguson

Another hero of mine. I once met Maynard but would love to talk with him about his years with Stan Kenton.

Maynard had a love for music and playing the trumpet that was truly infectious. Would also like to hear Bernstein's view on Maynard's version of 'Maria', could be very interesting!!

10. My Grandfather on my Dad's side

Unfortunately Grandad David passed away before I was born, but guess what, he was a bandsman so I'd love get his views on bands of today, and talk about his days as a player.
---
Previous dinner guest lists:
Previous guests have included the 4BR selection; Chris Wormald; David Read; Pete Meechan; Alan Jenkins; Derek Broadbent; Philip Harper; Peter Roberts; Frank Renton; James Shepherd; Dr Roy Newsome; Paul Lovatt-Cooper; Bramwell Tovey; Kevin Crockford; Morvern Gilchrist and Lesley Howie; Richard Evans and Simone Rebello.