4BR Scouting Report - Jordan Hall - Oldham (Lees) Band
9-Jun-2009
4BR casts its eye on another talented young performer who is making a name for himself in the banding world - Jordan Hall of the Oldham (Lees) Band.
---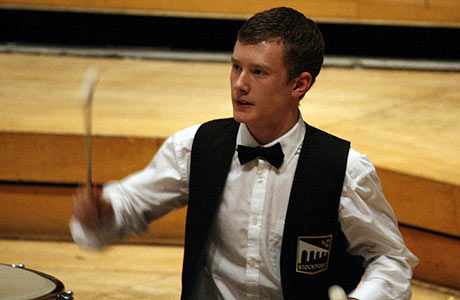 A damn good kit man - Jordan Hall

Jordan Hall
Age: 18
Instrument: Percussion
Current Band: Oldham (Lees) & Stockport Schools Youth
It's not often a kit player in a brass band contest catches your attention in a way that is usually reserved for a principal cornet or solo euphonium.
However, at this year's National Youth Band Championships in Manchester one player certainly did that with his solo and sectional contribution to his band's programme – 18 year old percussionist Jordan Hall, of the Stockport Schools Youth Band.
So damn good

And it wasn't because he was playing louder, or diverting the attention with choreographed playing antics either (the curse of many a percussionist it must be said even at Championship level). Your ear was kept being drawn to his playing, because it was so damn good.
Rhythmically precise and dynamically accurate, either on kit or timpani, this young man's playing provided his band with a bedrock of quality that enhanced each item they played – from the vibrant excitement of Paul Lovatt-Cooper 'Skylines' test piece to the more subtle colourings of Gregson's 'Laudate Dominum'. He was some player.
Ironic humour

Getting to know him a bit better also reveals a very modest and engaging young man with a neat sense of ironic humour.
Intelligent, level headed and with real perspective about his talent and what he wants to do with it, Jordan Hall has a very a bright future ahead of him – in whatever direction he chooses to follow.
Bred not born

It is assumed that drum kit players are born and not bred – but not in his case. Jordan first started playing the clarinet at school, but the slightly rebellious side of his nature saw him abandon all musical plans of a quiet life of orchestral woodwind, for the delights of being a rock drummer.
"I was taught clarinet in school," he told 4BR."I enjoyed it, but I really wanted to play the drums and be in a rock group, so when the chance came when I was 12, I grabbed it with both hands."
Luckily, Kingsway School in Stockport was just around the corner from the home of percussion star Gavin Pritchard - then playing with the YBS Band - who was also doing some peripatetic teaching work at the school.
Lessons

Jordan started having weekly lessons with Gavin and all of a sudden he had found the perfect musical instrument for his talents – the drum kit.
"Gavin was great. He was patient with me, but also allowed me to do my own thing. I owe him a great deal," Jordan says.
Own thing

That 'own thing' saw Jordan become a member of a fledgling rock group 'Korona' – although fame and fortune and a lifestyle of debauchery and excess was put on hold as brass bands became an increasingly important part of his musical life.
As Jordan recalls; "I also had some lessons from Chris Wood from the Black Dyke Band, as his brother was Head of Music at my school, and that seemed to lead me into banding. It was a bit odd as none of my family is really musical or has any banding background, but I started to really enjoy it."
Rock aspirations

Whilst at school Jordan joined the Hawke Green (Marple) Band and started gaining more experience by playing for the likes of Besses o' th' Barn, Glossop Old and Timperley, as well as keeping his rock aspirations flying with 'Korona'.
Unfortunately (or fortunately as the case may be) something had to give – and the thought of a LA lifestyle and super model girlfriend had to be put on hold – for the time being anyway.
"Banding became more important for me and I was out of the house up to four or five nights a week, so the rock star career was put on hold – although I wouldn't mind seeing if I can rekindle it in the future!"
Understandably, Jordan's heroes are from the rock world – rather than the banding one at present.
"Dave Grohl from the 'Foo Fighters' and 'Nirvana' is a brilliant drummer, and Neil Purt from 'Rush' is equally good playing rock or jazz," he informs 4BR.
Happy

The chance of brass banding bright lights has also been put on hold for the time being, and Jordan is very happy playing with the Oldham (Lees) Band and the Stockport Schools Youth Band.
"Now that I have left school and have started full time work, I will have to stop playing with the Schools Band at the end of August", he said rather sadly. "It has been a brilliant experience for me and I have enjoyed every minute of it – playing great music with friends."
Enjoying

He has though met new friends (and a girlfriend, Holly, a percussionist) with Oldham (Lees) Band and he is thoroughly enjoying the experience – both musically and socially.
"I enjoy playing film music – the John William's type of themes, although I like playing some of the older test pieces too and concerts with the band are great fun. Paul Lovatt- Cooper's music is fantastic – he really knows how to write for percussion and 'Dark Side of the Moon' and 'Skylines' at the National Youth Championships are two favourites for me."
As for the future then?
Ambitious

"I want to have a career in audio visual engineering, but keep improving my playing – hopefully by playing in shows or with banding at the highest level. Some of the percussion parts in the top section test pieces are amazing. Hopefully I can get there with Oldham – I haven't been with the band long, but they are a great bunch and very ambitious."
After speaking to Jordan, you get the feeling that a very talented young man will soon to doing just that – even if it may mean he eventually becomes a millionaire rock star drummer.

Real talent can get you as far as you want.
Iwan Fox