Gizmos & Gadgets - June
7-Jun-2009
4BR looks at some of the must have deals around for June...
---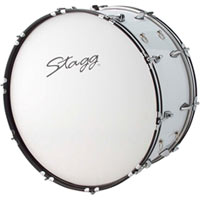 Stagg MBD-2610 Marching Bass Drum
Price: £104.53 (inc VAT)
Now that Whit Friday is over and you percussionist is off to see a chiropractor to realign the vertebra in his back, due to the weight of the old bass drum they have had to lug around Saddleworth for 10 hours – why not use some of that hard earned 'contest cash' to help the cause in time for 2010?
This is just the thing then.
10" x 26" in wood shell and white finish, this Stagg Marching Bass Drum is the perfect instrument for the musician who can't play anything else.
Watch them double beat to start your band off on the wrong foot, see them delight in increasing the tempo as you walk up a 1 in 5 incline.
They cannot ask for more – and it may stop one of them trying to put a claim in for Incapacity Benefit on Monday morning too….
http://www.normans.co.uk/p-1256-stagg-mbd-2610-marching-bass-drum.aspx
---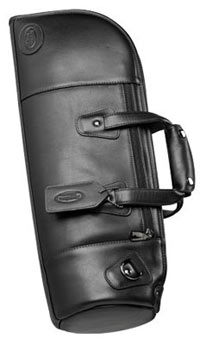 Reunion Blues cornet gig bag
Price: £99.00 (inc VAT) RRP
There are plenty of gig bags out there at the moment, but by all accounts these beauties from the USA are the ones that are catching eyes of the leading players.
Made with one thing in mind they protect better than the local branch of the Cossa Nostra and are not as expensive either.
Comes with a rigid end piece for the bell and double foam padding, removable shoulder strap, zipper pocket for accessories, brushed steel furniture, leather or fabric exteriors and soft fabric interior.

All this and it comes in at around the same weight as a 20/20 cricket bat (3.2lbs) and is about the same size too – 17" in length.

The makers claim you should show your horn your undying affection. Try that with your wife or partner first of all and then with your cornet. It may stop you from having to sleep in the spare bedroom….
http://www.bandsupplies.co.uk/index.asp
---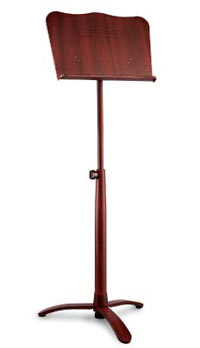 Hercules Home BS500X Music Stand
Price: £96.95 (inc VAT)

There are music stands and there are music stands.
This one is for the discerning type of performer who wishes to show that they do the type of home practice that doesn't interfere with the interior decoration of their front room.
Right out of an episode of 'Upstairs, Downstairs' it features a sturdy steel frame with wood patterned veneer and wood screw that enhances the classical appeal.

You can dress up as Herbert Clarke if you like and be transported back to the delights of Edwardian England as you practice the Arban Tutor in the comfort of your own home.
It weighs a sturdy 9.25lbs and can be extended to over 46" in height, it can also be folded away for the occasions when the local vicar comes for tea too.
Good taste comes at a decent price too – although the absence of a potted aspidistra and waxed moustache to go with it could be deemed as a major design flaw…

http://www.herculesstands.com/homeseries/BS500X.html
---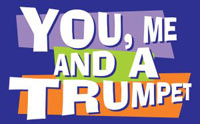 You, Me and a Trumpet
Price: £19.95 (inc VAT)
Hailed as something 'really new and original', this CD-ROM teaching aid aims to provide a solid and lasting source of inspiration for budding Maurice Murphy's out there.
Paul Mayes delivers a course of ten lessons for a beginner trumpet or cornet player through interactive multimedia and offers a menu of information, hints and repertoire on the side too.
Includes a melody book, play-alongs, video, audio and virtuoso demonstrations, you can even build a virtual trumpet and see a balloon play a trumpet. Good eh?
All this and you don't have to stick you hand in your pocket after the first £20 to pay for a teacher to tell you the same things three times over too – just put your finger on the rewind button of your DVD player….
you could be just ten steps away from the start of a life long love of playing the trumpet – or you could see if those balloon skills could herald a start as a children's entertainer..
http://www.deniswick.com/product.cfm?id=314
---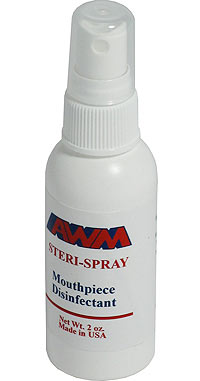 AWM Steri-Spray Mouthpiece Disinfectant
Price: £3.39 (inc VAT)
Given that most brass players treat their mouthpieces with the same degree of infection control as can be found on the A&E ward of their local NHS hospital, it should come as no surprise that there is a need for the occasional 'sheep dip' strength bit of disinfectant.
This spray contains active ingredients to thoroughly de-germ any mouthpiece, and thankfully comes with full instructions that warn that the mouthpiece must be rinsed after using Steri-Spray before coming into the same vicinity of your gob.
It won't get rid of the smell of the curry and ten pints of lager you consumed after Friday night's practice, but it may make you more appealing to your fellow brass playing colleagues in the band.

For the terminally thick, it isn't a mouthwash though…
http://www.woodwindandbrass.co.uk/acatalog/mouthpiece_brushes.html#a1960