2009 All England Masters International - Postcard from Cambridge
28-May-2009
Cambridge is a beacon of good taste and refinement - a pity nobody told the footballer's wives that at the Holiday Inn on Saturday night...
---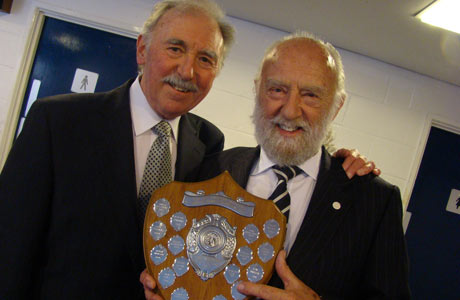 Two real Masters - Maurice Murphy and Richard Evans

Footballers wives.
Saturday night in a Holiday Inn on the outskirts of Cambridge. Just back from the opening Gala Concert of the Masters weekend. Quiet pint and a bar snack, rugby highlights, concert review, bed.
Not if the footballers wives have anything to do with it….
Sub species

These are a sub species Darwin never thought would evolve from the primeval swamp of humanity. Tanned the colour of over ripe Satsuma's, tottering on heels that make them walk as if they have ricketts, trailing a mist of hairspray that can cause a hole to appear in the Cambridge ozone layer, chunky jewellery, inane laughter fuelled by cheap wine and chewing gum. In a word - frightening.
Pig bladder

They hang on the arms of their pig bladder kicking partners – kitted out in the de rigeur uniform of the modern footballer – branded shirt, tie-knot the size of a Gingster's pasty, fake watch and enough hair gel to lubricate the chassis of a coal truck. They drink bottles of Brazilian lager, bathe in acrid smelling aftershave, refer to themselves as 'lads' and are able to use the ubiquitous 'F' swear word as a noun, pronoun, adjective and verb all in one sentence.
Posh & Becks

They inhabit a world of 'Nuts' and 'Take a Break' magazines, have aspirations to own a baby Bentley and mock Tudor beamed four bedroom house, and worship at the alter of Posh & Becks.
And they were all at the Holiday bloody Inn on Saturday night.
Panoply

The world of the weekend hotel stop over is a place where the whole panoply of human kind at play is on show – or in this case, the WAG's of footballers.
And not just any footballers either. Cambridge United perhaps? High flying Histon, or a Championship Division team enjoying their end of season awards bash?
No.
Eden Grove Pinkney FC... from Doncaster….
It was enough to make you cry salt tears at what has become of the beautiful game….
Heaven help us

Heaven help us if the banding world ever descends into this particular fashion conscious anarchy.
Thankfully, on the weekend, good taste at the All England Masters prevailed.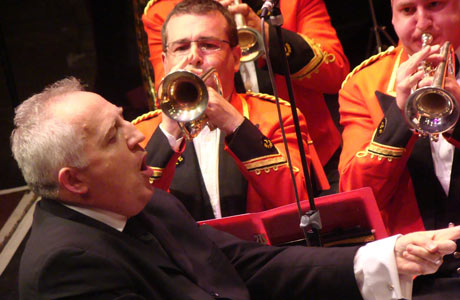 Quality and good taste - Bram Tovey with Fodens

Quality

18 good quality bands (a fair mixture of Premiership and Championship outfits it must be said), a super test piece, an interesting and welcome mix of judges, a very enjoyable brace of Gala concerts (with Bram Tovey in tip top form), a cracking contest, and not a single player from the winning band sporting a walking out uniform that was plastered with the 'chav' brand of 'Bench' of 'Mackenzie' across it.
Despite the warm weather, a decent audience enjoyed each of the performances (and 18 bands with a 10.00am start is more than enough to keep people interested), and the test piece proved to been an absorbing test of the bands musical and technical abilities.
Niche

Five years after the Masters became 'International' the contest has found it's niche and is prospering, despite the reluctance of some of the so called 'top bands' to come here and compete.
The close proximity of the English 'Nationals' may have something to do with that, but given that Preston Guild Hall on a wet weekend in June isn't the most appealing of venues, and the contest itself has the in built weakness of being perceived just as a means to rubber stamp the qualification passport for one of the three top ranked bands in the country to claim a place at the European, and you can see why the Masters holds an attraction.
Doing the numbers

Win here and you can pocket £4,000 and don't have to worry about finding the other £15,000 to get to Linz in 2010 – unless that is you are a band from Yorkshire who can claim a hand out from the Arts Council for the region, that as far as we know isn't available at present to any other band from any other area of the country.
Bands are starting to do the numbers, and the numbers don't add up – as a few players told 4BR on the weekend.
Increasing appeal

That is why the Masters is increasing in appeal.
The pre contest Gala Concert is a good idea, and despite the poor turn out (there were two other brass band concerts on the same night within a couple of miles) it should be persevered with.
Not too sure about the pre-results concert though, especially with two bands this year.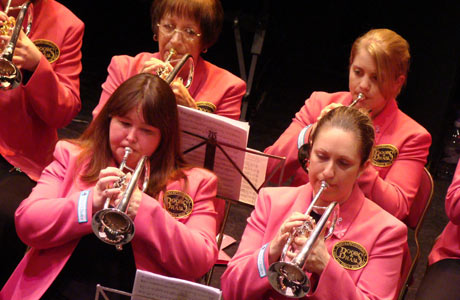 In the pink - Boobs & Brass do their bit to entertain the troops...

Wearing pink

Both Youth Brass 2000 and Boobs & Brass (who wore pink, but not in the same tasteless way some ladies at the Holiday Inn did) as were enjoyable enough, but just the one would have sufficed for an audience wanting to hear the results and still have time to freshen up back at the hotel or go out for a leisurely meal before the Gala Concert in the night.
That itself was hugely enjoyable – Fodens on splendidly slick form, buoyed by success and eager to please under Garry Cutt, whilst Bram Tovey brought a real sense of impeccable taste, wit and sheer weight of talent to his appearance with both the newly crowned champions and the National Youth Band.
Added bonus

There was also the added bonus of being able to see Richard Evans pick up the Masters Dedicated Service Award from his great friend Maurice Murphy – two blokes who know how to entertain and enjoy themselves in equal measures. How some bands could have done with their services at the contest too!
Horrors

It made the horrors of a sleepless night at the Holiday Inn, as the good folk of the 2008 Doncaster Cup winners (5th in the Doncaster Premier League this year too) enjoyed their 'Dance Off' Final and Player of the Year Awards well into the small hours of Sunday morning, very nearly a memory to cherish too…
Iwan Fox