2009 All England Masters International - Retrospective
28-May-2009
There was only one true Master of Space and Time at Cambridge - the 'Little Master' from Fodens - Garry Cutt.
---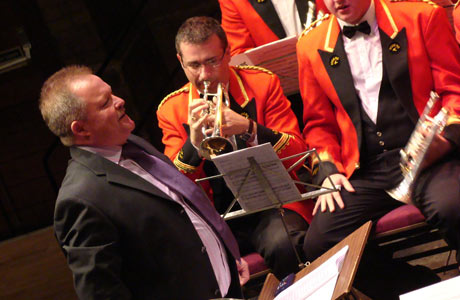 Hot stuff! Garry Cutt leads Fodens through the test piece unscathed

There is a perverse 'crash and burn' mentality to brass band contesting at times – especially from conductors.
Badge of honour

Heroic failure is seen as a badge of honour – especially when the man in the middle can deflect the blame away from the fact that their own navigational musical skills are the main reason why their bands come to grief like the Hindenburg docking at New Jersey in 1937.
Hiding behind test pieces that can see individual mistakes mask directional failings has been too much of an easy option for far too long at Championship level. It has also masked the fact that there are not that many high quality conductors of top level bands out there too.
That was patently obvious at the Masters on the weekend.
Swan Vestas

Present conductor's with a complex, but not incomprehensible ensemble work to decipher such as 'Masters of Space and Time', and you may as well have covered the score in lighter fuel and given them a box of Swan Vestas to help illuminate the thick fog of ineptitude that seemed to seep into many of their musical brains.
Rosetta Stone

The modern day penchant for technical pyrotechnics in test pieces is the predictable get out clause for conductors who live by the misapprehension that the Sibelius computer programme is the modern day equivalent of the Rossetta Stone.
Blaming the failure to impress judges by thinking that it was a high error count and individual frailties that caused combustible contesting disaster, only holds partial weight if you are playing a piece that contains a plethora of those pitfalls to overcome.
Self immolation

When it doesn't – and 'Masters of Space and Time' certainly didn't - the buck stops at the conductors stand. And on Sunday, some emerged with an odd singe around the edges, others having experienced a 3rd degree burn or two and quite a few dousing themselves in petrol and committing self immolation.
One man who certainly emerged without even a heat rash was Garry Cutt.
Beacon

The MD of Fodens directed a performance that was a beacon of understanding. Where others were in need of calling Red Adair, he just read the instructions, used his musical intelligence and let his band do the rest. They didn't let him down.
Dynamic variances and internal balances were acutely observed, pace and meter (and there were only three real changes of pace in the entire piece – not that too many other speed freak MDs seemed to notice) balanced by poise and spatial awareness.
Clue

The clue was in the title of Bruce Broughton's fine work – it couldn't have been clearer if he had stamped it in letters ten foot high - but such was the myopia it induced in certain conducting quarters you would have been forgiven into thinking that its musical subtext was in fact called 'speed and volume'.
Why so many conductors felt it necessary to sub divide bar after bar so often that the music lost all pretence to linear shape and direction was a mystery. Some will be sending claims for RSI injuries to insurers such were preponderance of down beats in bars that that only needed the one.
Endangered species

The thought that speed equates to excitement has long been a failing in conductors even in top level banding, but it seems that the complete absence of subtle dynamic variance is also fast becoming the norm too.
The mezzo piano and mezzo forte are in danger of being placed on the list of endangered species – decimated to the point of extinction by conductors who seem to think there are only three levels of contesting dynamic: quiet, loud and very loud.
T-Rex

On a piece that cried out for subtlety and understanding, the lack of defined strata's of dynamic was disappointing, especially as the score was very specifically marked. The end section for instance was only marked as forte, yet you could count on the fingers of a T-Rex the number of conductors who really observed it in its truest sense.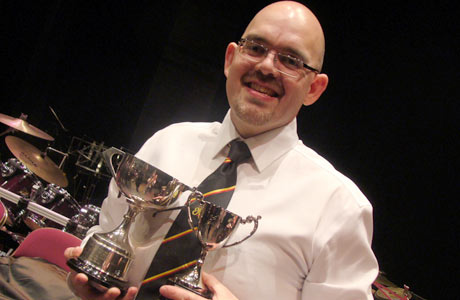 Red hot Williams - Glyn Williams picks up yet another solo award in 2009 - this time from 4BR..

Relevant

Fodens did up the volume control it must be said to end, but such was the clearly defined levels of dynamic they produced, it remained relevant. In others it just seemed harsh and inappropriate.
By the end of their performance off the number 4 draw, Fodens had posted a marker that was going to be exceptionally hard to beat (and which contained some lovely little individual motif playing, especially from Glyn Wiliams on euphonium, who is on red hot form in 2009) – and so it proved.
They are some band at the moment, deserved winners of the 2009 Masters title and headed by a conductor in Garry Cutt, who has a masterly understanding of test piece requirements and his bands ability to out them into practice.
Intelligent

In fact, it took until the reigning champion Desford as last band of the day, that Fodens were even remotely threatened.
Jason Katsikaris produced an intelligent reading of the score(with perhaps the best opening of the day, with all the complex rhythmical detail heard clearly) let down just the once by a couple of back row cornet players who induced a momentary shudder down the collective spine by coming in a couple of beats early.
Thankfully, that moth like attraction to the flames of disaster didn't end in charred grilled corpses all over the Corn Exchange stage, and wasn't the difference between success and failure either, but it did mean that the gap between the top two bands on the day was a clear cut one. It was an admirable defence though.
Triage of burns

The three adjudicators of Derek Broadbent, Steve Sykes and Ronad Holtz was a welcome mix of opinion and experience, who were able to put the 18 bands into a well received triage list that ranged from those in need of a touch of E45 cream to cover up the blemishes in their performances, to those who could only be identified by dental records.
Surprise

There was some surprise at the announcement of Wingates in third place however. Their robust and at times overtly power driven account seemed at odds with what they had found to reward in the other top six performances on the day.
Still, John Hinckley's reading resonated in the box (and it was certainly rhythmically resonant) and he led his delighted troops (who have been in need of a bit of a boost of late) to their best result here since 1997.
Literal meaning

The remaining top six places were filled by bands led whose conductors really did search for the literal meaning of 'Time and Space', even though they did sometimes find themselves just a little barbequed around the edges.
BTM and Tom Davoren delivered an impressive account that really knew its limits to come 4th. Solid and secure, the MD's measured approach to the score kept a compact sense of linear direction, and whilst it just lost focus in the final quarter it more than deserved its reward.
So too, Willebroek, who can perhaps count themselves a little unlucky that they didn't finish higher than 5th, after delivering a classy, and cultured performance off the number 1 draw.
Perhaps a little more excitement in the final section, where the tempo increases to 152 crotchet beats would have just lifted them into the podium places, but it showed once again what a fine band they are, and what a impressive MD Frans Violet is.
Also enjoying their day was Virtuosi GUS, conducted with real brio by John Berryman. Their confident, vibrant account may have just needed a touch more subtlety in places, but it confirmed that they are fast making ground back to the top echelons of the contesting tree.
Lyrical interpretations

The two bands that perhaps may have forced their way into the prizes were Carlton Main and Reg Vardy – both of whom delivered more lyrical interpretations of the score under the stewardships of Russell Gray and Nicholas Childs.
Russell is well known for wearing his musical heart on his sleeve, and once again his persuasive interpretation won admirers – although there was the odd occasion when he opted for as much time and space as could be found on an Australian sheep farm – very nearly meandering into self indulgence as the tempo's just waned.
Nicholas Childs meanwhile kept a tighter rein with Reg Vardy, only to see their chances of finishing in the top six undermined by a poor start in a performance that grew in stature the longer it evolved.
Little to disagree with

There was little to disagree with the judges about in these eight bands (we opted for a running list of Fodens, Willebroek, Carlton Main, Desford, GUS, BTM, Reg Vardy and Rothwell – the rest in something of a heap) and it was encouraging to hear Derek Broadbent make the all important observation that many bands simply needed 'more space and time' on the day.
Those at the bottom end of the results table will have been made crystal clear where they went wrong from Derek and his fellow judges.
Encouraging

As for the rest, there was an encouraging result for Aveley & Newham ahead of their preparations for the English Nationals. Solid and workmanlike, it was a touch non-descript, but did the job in coming 9th.
Rothwell meanwhile sounded knackered. Glimpses of their true quality only sporadically shone through, but it says something for that quality that even in glimpses they still managed to finish in 10th.
Impression

Metropole Brass certainly made an impression (on the ears if nothing else) to come 11th, with a performance is need of a volume control switch from where we were sitting, whilst fellow Belgians, Brass Band Buizingen produced an interesting rendition under the baton of Luc Vertommen that was perhaps a little too uneven in execution to have forced itself higher than it's 12th place.
Fire fighting

After these bands it was fire fighting time, with MD's falling into the trap of simply either not being able to understand the score in front of them, or being hoodwinked into thinking that they, and they alone, knew what was best, without recourse to the musical markings so clearly written in front of them.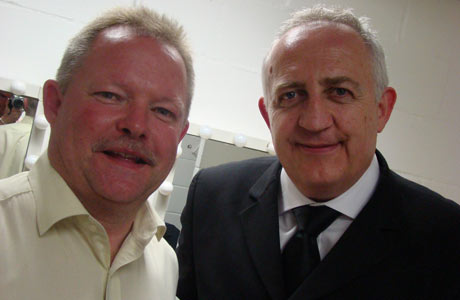 Masters craftsmen - Mr Cutt and Mr Tovey

Flat pack

At times, you really did wonder if these are the types of chaps who take home a flat pack cupboard from IKEA and totally ignore the instructions that come with it.
The lack of dynamic variances in these performances was palpable – as was the aggression in the delivery. Think of that flat pack cupboard nailed together with a two pound lump hammer and you get the drift (Whereas Mr Cutt and Mr Tovey would put it together like a piece of Chippendale furniture)

Demands for more volume, heads stuck in scores like last minute university students cramming for their exams, harsh timbres, more sub division than Carol Voderman could cope with…the MDs dipped themselves in 4 star and set about crashing their bands into the nearest musical petrol station.
No complaints

No complaints from Sovereign, whose chances blew up in their face within the space of the first 20 bars and were always playing catch up thereafter, or, Pemberton, who worked hard to overcome a ludicrous seating plan, that worked for the first section of the piece, but then became redundant and then a real handicap in maintaining balance.
Redbridge meanwhile sounded as if they enjoyed this particular experience as much as they would have if they were teaching themselves fire eating – with predictably the same result.
Poor start

No complaints either from 1st Old Boys, who worked hard after a very poor start to battle their way into 16th place, whilst Jaguar (Coventry) and Zone One will want to forget about this one as soon as the burn marks start to disappear.
Reign supreme

Fodens though reign supreme at Cambridge for the seventh time. Perhaps just the merest hint of a singe on the cuffs of Garry Cutt's suit was the only sign that they had been made to feel uncomfortable in any way by the heat of battle.
Others MD's were not so lucky – and had only themselves to blame for ending up as they did.
Iwan Fox