2009 All England Masters International - Introduction and prediction
19-May-2009
The Masters has always been a contest that has an unique appeal - and a £4,000 top prize helps a lot too...
---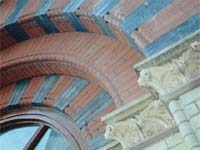 One of the great strengths of the All England Masters over the years has been its ability to reinvent itself as contest.
Sense of adventure

Bands choosing test pieces and judges, different methods of adjudication scoring, inviting international competitors – some decisions have proved to be popular, others more contentious and even puzzling. All though have been undertaken by Philip Biggs and Richard Franklin with a sense of adventure and even a touch of bravado.
It gives the Masters, even 20 years after it was first held, a maverick quality of contesting metamorphosis that ensures it can never be taken for granted.
Pioneering spirit

Some people haven't liked some of those decisions and there have been cries that the pioneering spirit of the Masters has been lost somewhat over the years. None though can ever say the event is anything other than uniquely interesting.
Given the inherent conservative nature of the contesting mentality, it remains a remarkable achievement that some of the ideas first used at the Corn Exchange even saw the light of day.
Comfort blanket

Bands hold onto tradition like a comfort blanket, and those who cried loudest when it was taken away, usually did so because they felt their own chances of remaining safely ensconced in complacent mediocrity was under threat.
The Masters has evolved, at times with difficulty, because difficult decisions had to be made – most notably over the question of gaining that official stamp of European qualification approval.
Individuality

Today, the All England Masters International still projects that sense of individuality, it sights set on a horizon that does not exclusively stop at the boundaries of perfidious Albion. It is left to others to provide yet another level of European contesting bureaucracy.
Niche

It has also carved for itself a contesting niche that remains accessible and popular, attractive (£4,000 to the winners) and relevant. The traditionalists may well continue to complain that the contest has perhaps sold its birth right, but then again, the Masters was never an event that ever set out to be yet another pillar of the banding establishment anyway.
The fluid nature of entries remains one the Masters great attractions – be it from new bands from the European mainland, or the occasional visitors from America and Australia.
New bands

New bands replace old bands, and this year there will be debuts for Metropole Brass Band and Brass Band Buizingen from Belgium and Pemberton Old and Zone One Brass, a little closer to home. There is also a welcome return for Brass Band Willebroek and Sovereign Brass in what is a high class field of competitors.
International composer

All the bands will have been intrigued by Bruce Broughton's 'Masters of Space and Time', a major work from a truly international composer that was rather shamefully treated by its rejection as the set work for the 2001 British Open.
That it eschews the traditionalist architecture of test piece construction makes it an ideal piece for the Masters.
Strongly coloured and subtly shaded, it takes some playing, especially with its dark wit and tempting changes of pace and rhythm. Those who make the most of it will be those who truly understand the exact nature of what it's structure – what you don't hear is as equally important as what you do with this piece.
List of contenders

Heading the list of contenders this year are a number of bands in tip-top form.
Fodens will once again come to the stage as favourites, and having performed the work to considerable acclaim at the RNCM Festival of Brass they will surely be the band to beat as they look to claim a seventh Masters title.
The other form horse is of course Rothwell Temperance – former winners and on a crest of a tsunami wave of contesting success of late. If they have something left in the tank after their Grand Shield success they too will be strong contenders.
Stand out bands

The other stand out bands are reigning champions Desford, who will defend their title under the talented baton of Jason Katsikaris, whilst the main European challenge will surely come from Brass Band Willebroek.
The former European champions have something to prove at this contest, and despite losing their domestic National title last year, they did show in their recent guest appearance at the Europeans that they are still one heck of a band under Frans Violet.
Belgian challengers

Buizingen and Metropole also cross the Channel with hopes of doing well on their debut appearances too, and both are more than capable of finishing high in the prizes, with Buizingen in particular a dark horse worth a few bob each way at the Cambridge bookies.
After their disappointment last year, Carlton Main will be looking to impose themselves on the contest under Russell Gray, whilst both Redbridge and Virtuosi GUS will fancy their chances after posting decent returns last year.
Full of confidence

Virtuosi GUS come to the contest full of confidence on the back of their British Open qualifying performance at Blackpool, and whilst Redbridge failed to really shine at the Winter Gardens, the Butlins Mineworker's Champions could find this piece much more to their ensemble liking.
BTM have already had a winning outing on this work at Ebbw Vale just a week ago, and sounded in pretty good trim as they look to improve on last year's disappointing 19th place, whilst Reg Vardy team up with Black Dyke's Dr Nicholas Childs as they look to return to prize winning ways after an encouraging outing at the Grand Shield.

Back on track

A few bands will be looking to get their contesting season back on track, with Jaguar (Coventry) and Aveley & Newham looking to post better returns than their 15th and 19th places at Blackpool.
Sovereign meanwhile, will be more confident after an encouraging 8th place at Blackpool to show that they are continuing to build momentum after last year's Pontins success.
Duo

The North West duo of Pemberton Old and Wingates would have liked to have done better at the Grand Shield, coming 12th and 14th respectively after their good Area results, but both will be confident of making a mark if they can up their form.
Welcome visitors

1st Old Boys continue to be welcome visitors to the Masters, and the band continues to benefit from the chance to play against high class opposition – something that was reflected with their clear cut victory at the Strabane Contest recently.
That just leaves Zone One Brass, who qualified for the Nationals at Stevenage and could well be a band that could well surprise many more people here if they have been able to put concentrated rehearsal time in.
Trophy cabinet

As for the bands that should make space in the trophy cabinet after Sunday's contest?
Fodens if they hit top form are a class apart and should be the band to beat (although the Masters hasn't always been the luckiest of hunting grounds for them in recent times), whilst Willebroek, Desford and Rothwell will be snapping at their heels.
Carlton Main should finally get a little bit of long overdue luck here if they can play to form, whilst Virtuosi GUS could well be in the mix too. Our dark horse is Buizingen.
4BR Prediction:

1. Fodens
2. Willebroek
3. Desford
4. Rothwell
5. Carlton Main
6. Virtuosi GUS
Dark Horse: Buizingen