2009 Spring Festival - Senior Cup: retrospective
12-May-2009
The long trek to the British Open can either be taken in small steps or in giant leaps like Marsden...
---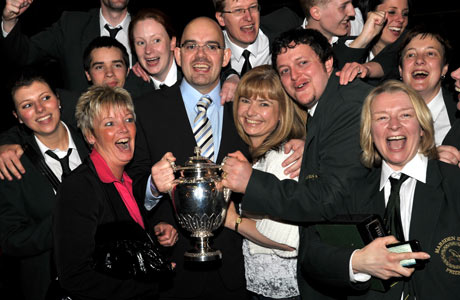 One small step - for Marsden and MD Glyn Williams to the British Open
Picture: Ian Clowes

More presentation pictures can be found at:
http://www.pbase.com/troonly/presentations

Unlike Chairman Mao, Glyn Williams and Marsden Band took one heck of a big step on the great musical trek that could ultimately lead to a place at the British Open on Saturday.
Classic mantra

This was no revolutionary march to consign the old order to history either – a very respectful and clearly defined performance of the mantra of classic brass band playing according Herbert Howell's 'Pageantry' saw to that.
This was a band looking towards a very impressive future by making sure it didn't lose sight of the essential footsteps of the past. All that and there wasn't a little 'Red Hymn Book' in sight either – Marsden winning in style off the early number 4 draw.
Ornate

'Pageantry' provided a stern test for the bands in the Pavilion Theatre – an appropriate venue to perform a work that mirrored the ornate detail and bold colours of the snug auditorium.
Herbert Howell's test piece can now be carbon dated in terms of age, but it has lost none of its potency. It is a piece that time has enhanced: the detailed scoring, the precision and modernity of its architecture, its sense of timeless nobility and inherent good taste bring remarkably prescient tests of musicality for today's bands to try and overcome.
Working history

It has not really needed the additional 21st century percussion scoring (something that Frank Renton highlighted in his on stage remarks) and in fact, a number of bands performed the work in very much its original 1934 format, without penalty.
It remains a priceless piece of working history – and it still has the ability to spank the backsides of conductors and performers who don't give it respect.
Defined strata

That certainly wasn't the case with the best performances in a contest that had clearly defined strata's of competency.
The bands that came in the prizes not only played the notes (a fair task in itself), but did so via an understanding from MDs of the score that didn't try to kid Frank Renton and Roger Webster in the box that they had found the long lost answer to Pageantry's complex musical riddles (and there are none).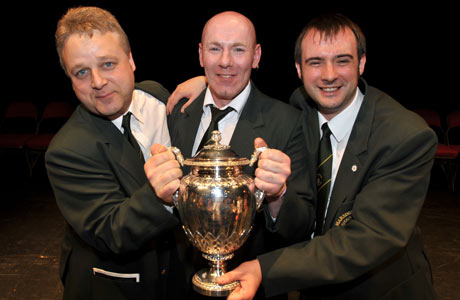 Marsden's trio of winners - including solo winner Jason Evans
Picture: Ian Clowes

Filigree work

Too often the opening 'King's Herald' was overblown and monotone, lacking precision and delicacy in the solo filigree work of the soprano and top cornets in particular.
In the wrong hands the sublime 'Cortege' fell predictably into a elongated spasm of emotional bombast, whilst the tour de force opening to 'Jousts', saw many a solo cornet player fall foul to a 'Fred Dibnah' – a limpness in virility due to a combination of nerves, over-ambition and poor technique.
Highlighted

Many of these points were highlighted by Roger Webster, who later told 4BR that not many bands came through the piece unscathed, whilst a couple had tried to take a few liberties with the score itself – and were penalised accordingly.
Clear victor

In terms of the winners he stated that both he and Frank Renton had no need for debate, with a clear victor and runner up, and the remaining bands falling into place.
The two bands that really caught the ears in the box were the Yorkshire duo of Marsden and Skelmanthorpe, whilst the remaining promotion places saw delight for the Celts of Kingdom Brass and Burry Port.
Classy

Marsden's classy performance set the qualification bar at a height that couldn't be matched.
Polished, detailed and benefiting from a clutch of confident soloists they delivered each of the three movements with a bold stamp of authority. In Jason Evans they also had the pick of the 'Jousters' too, with a purposeful opening to the third movement that set the tone for a bravura conclusion to a high class rendition. He was a deserved 'Best Soloist'.
Glyn Williams kept a tight control on dynamics and tempi, allowing the music to unfold with a classic appreciation of style. No wonder he was a delighted man when he spoke to 4BR after the results – it was a performance worthy of taking the title, even against higher level competitors.
Intelligent

Skelmanthorpe's performance also benefited from an intelligent appreciation of the score from MD John Roberts, and whilst there were times when little rough edges just took the gloss of a polished rendition, it was another high class outing from a band that is fast becoming a very competent top section force.
With the contest seemingly coming to a predictable conclusion both Kingdom Brass and Burry Port delivered late draw performances that resonated in the box, perhaps more than they did in the hall.
Celtic round up

Kingdom rounded off the contest with a purposeful show that certainly had its moments of quality, although at times it did seem a little overblown in search of excitement. Craig Anderson's reading was more broadly drawn than others on the day, but it was one that the judges felt captured the style and nobility of the subject matter.
So too Burry Port who preceded them. Confident and passionate, MD Craig Roberts also painted a colourful and enjoyable musical picture throughout the three movements, and whilst it didn't quite have that polished edge of its rivals, it was a persuasive reading that was never blandly portrayed.
Powerful

On another day, both Fishburn and SWT Woodfalls could have forced their way into the qualification places after delivering powerful performances that certainly found favour in the hall.
Alan Morrison's reading with the North East band was one of space and time, and whilst it had a lovely tonal quality and style, just hints of nervousness and occasional lack of focus denied them the chance of promotion.
So too Woodfalls, who benefited from a fine reading from Nicholas Childs, but perhaps just took one risk too many in trying to stamp their class on the contest. We felt it may just have had enough about it to take the title on the day, but not so in the box and they had to be content with a disappointing 6th place. They can count themselves a little unlucky.
Hallmarks

The one other band who many felt would be in the mix come the results was Powerfuel Hatfield Colliery, who delivered a performance that had all the usual Graham O'Connor hallmarks throughout.
Perhaps an over forceful bit of 'Jousting' cost them their chance of promotion as up until then they seemed on course for the Grand Shield after delivering the best opening movement of the day and a very controlled 'Cortege'.
Contesting consistency

After these contenders came a whole raft of performances that cried out for the priceless commodity of contesting consistency.
Staffordshire seemed on course for a higher finish for instance until a final movement that lost focus consigned them to 8th, whilst Bo'ness & Carriden produced almost the opposite in a performance that grew in stature, confidence and purposeful execution the longer it went along.
Ratby Co-operative meanwhile managed to deliver three movements all rich in promotion promise but which in the end never quite blossomed fully into a coherent whole to eventually come 10th.
Three decent bands, three decent performances – but none with that sense of control and compactness that hallmarked the top two podium finishers.
Problems

The further down the prize list those inherent structural problems became ever more apparent, and towards the tail end the basic cohesiveness of the piece was undermined by some below standard intonation, sloppy ensemble precision and costly unforced errors.
Too many MDs allowed poorly chosen tempi to wreak havoc too – a 'Cortege' may well be a funeral procession, but it didn't have to become a death march. There is a subtle, but very noticeable difference between sorrowful expression and downright maudlin depression. Herbert Howell's was no prototype Leonard Cohen.
No complaint

The bands that therefore occupied the lower midfield places and those who dropped through the relegation trap door will have no cause for complaint. Both Roger and Frank are known for strong and well informed opinion, so they would have been told in no uncertain terms the reasons behind their placings.
Basic errors

Once again, consistency was the key, although at Championship level there can be no excuse for many of the crass, basic errors that blighted some performances.
The likes of Ashton under Lyne, Dalmellington, Cwmaman, Stocksbridge, United Co-op Crewe and Unison Kinneil all had extended periods when it seemed that they had fully mastered the intricacies and more obvious ensemble pitfalls of the piece, only to lose focus, concentration – call it what you like – and find themselves having to do a bit of impromptu fire fighting to get things back on track – all the time subconsciously knowing that any chance of promotion had gone.
Crispness

Nearly all lacked that crispness to the delivery in the opening section which could make 'King's Herald' sparkle and shimmer, whilst many lacked security in the more exposed passages in the 'Cortege'. An uneven opening to 'Jousts' also gave the judges the easy option of subtracting marks too.
Struggled

The bottom four all struggled – noticeably so in a couple of cases, although each came out of the contest with more ticks in the credit than debit side of the performance ledger.
Aldbourne, Bournemouth, Knottingley and Lindley may have left the Winter Gardens disappointed at being relegated to the Senior Cup, but they could have no real cause to think they got anything other than what their uneven performances deserved. All should be more competitive in the lower division next year.
Sweet taste

For Marsden the sweet taste of victory, and confirmation that Glyn Williams is building a compact band very much in his musical image – robust, purposeful, committed and very well rehearsed. They will be a handful in the Grand Shield next year – and they are now just one small step away from completing their long journey too.
Malcolm Wood & Iwan Fox