2009 Spring Festival - Senior Trophy: retrospective
12-May-2009
There was a clear winner in the Senior Trophy as Milnrow brought a British classic back to techicolour life.
---

The full spectrum of emotions: Milnrow's MD John Ward enoys the winning moment
Picture: Ian Clowes

Further presentation pictures can be found at:
http://www.pbase.com/troonly/presentations

When 'Spectrum' first appeared in 1969 at the British Open it was seen as an immense challenge to players and conductors alike – many of whom it must be said, didn't think much of the piece at all.
Times have changed?

How times have changed – or not, as the case may be. More than forty years later, it still proved an immense challenge for bands at the Senior Trophy, although thankfully, few, if any, didn't find the piece to their liking.
In the first few years that 'Spectrum' was performed, the piece was subject to numerous 'idiosyncratic' interpretations too – as MD's brought up on a diet of Eric Ball and Frank Wright found the overtly descriptive writing difficult to portray with any degree of subtlety.
Thankfully, there were quite a few MDs in the Spanish Hall on Saturday who knew that to bring the piece successfully to life, a degree of sophistication with tempos and dynamics (especially in the lively acoustic) was required.
Best bands

As a result, the best bands, and the winners in particular, brought 'Spectrum' thrillingly, and intelligently to life once more – and if some MDs had sought to read the prescient programme notes of the 1969 British Open provided by Harry Mortimer (published on 4BR) many more would have too.
For adjudicators Malcolm Brownbill and David Read (both of whom played, conducted and adjudicated on the piece on numerous occasions) there was much to ponder over – right from the dislocated chromatic accelerando to start.
Speed

Getting the speed of the accelerando was of primary importance (as was the ability to clearly articulate the runs so that they didn't sound like a straightforward ascending chromatic scale), hitting 'Red' at a tempo and with a degree of ferocity that didn't necessitate a further step on the gas. Few really managed it successfully.
Thereafter it was the ability of the best MDs to make the subtle changes in tempi and style that proved the essential element in separating the bands out - 'Orange' and 'Yellow' requiring a change of mood at the flick of a baton beat.
The lovely pastoral flow of 'Green' saw a number of fine individual contributions, but few that really had a sense of serenity, whilst 'Blue' was invariably taken at too fast a tempo to bring the razor sharp clarity of the ensemble cornet playing to life.
The quick waltz of 'Indigo' demanded stylistic appreciation, whilst the contentious 'Purple' (written as a cipher to the composer's acceptance of his mortality) was at times thumped out with a harshness that lacked pathos.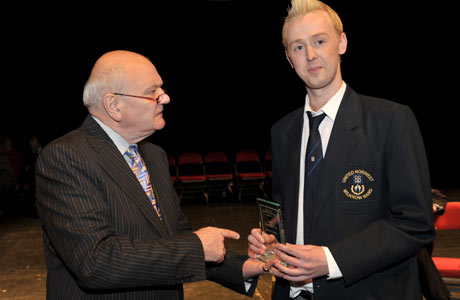 Milnrow winner: Adam Snape picks up the Best Soloist Award
Picture: Ian Clowes

Hard fought

At the end of a hard fought contest it was United Northwest Co-op Milnrow conducted by John Ward who came out winners – very clear winners in fact with a performance that combined fine ensemble and solo work with an acute appreciation of the score.
Polished execution was allied to a subtle that brought clear definition to each of the colour motifs (and a very classy euphonium in Adman Snape who took the soloist prize). By its conclusion off the number 12 draw it was a fair margin ahead and was never seriously threatened.
After making an immediate impression together in 2008, John Ward has made further progress with his young band, and there was a feeling here that the potential has a long way to go before it is fulfilled.
Milnrow will be joined in the Senior Cup by NASUWT Riverside, Derwent Brass, and Laganvale – all of whom produced performances of considerable musical merit.
Enjoyable day

At the beginning of an enjoyable day it was Northop who opened with a performance that certainly put down a good marker, and they can consider themselves more than a little unlucky that they finished a low as 12th.
Meanwhile, Besses o' th' Barn who followed produced a brave account of themselves (especially given their recent circumstances) but could have no complaint in coming 19th. Hopefully they will return a better and stronger band than this.
Yorkshire Co-op also had their moments, but a lack of balance and fading stamina and style in the final third of the piece dropped them down to 10th place, when there was early promise of better things.
First to impress

NASUWT Riverside was the first band on the day to impress in the box. A performance that built in style, finesse and solidity as it went along climaxed with a superb ending and ensured their promotion to the Senior Cup.
Friary Guildford Brass meanwhile will perhaps look back and wonder why it took them so long to settle into a level of performance that from the halfway point was worthy of a top six placing. Over excited and harsh to open their chance had gone before they really showed a degree of quality not many matched on the day to end in 13th.
Glossop Old can also consider themselves a little unfortunate that their early performance just faded from the memory of the two judges. It was certainly exciting, but perhaps a couple of the tempos chosen may just have been a cause for concern – and left them missing out on a promotion place in 6th.
Late replacement

The late replacements of Point of Ayr should be welcomed back to the contest next year despite ending up in 18th place.
Even with Roy Newsome's fine direction they sounded understandably 'undercooked' – highlighted by the poor opening that had quite a few ferociously wrong entries. They deserve another chance though.
Individual

Keith Leonard's interpretation with Derwent Brass was perhaps the most individualistic of the day – some of the tempi chances were a bit clunking in their severity. However, there was always something to catch the ear (with the best 'Green' of the day) and the band responded to the direction with splendid facility.
It may not have been to everyone's liking, but it certainly found favour in the box to come 3rd and gain promotion.
Welsh mishaps

Both Welsh bands of Newbridge (Celynen) and Wrexham could have no complaint at their eventual placings, with midfield finishes that reflected solid if somewhat error prone performances. Both had their moments, but significant unforced mishaps robbed them of any chance of coming further up the prize list than 16th and 14th respectively.
Johnstone Band in 11th place just fell short of a very good show, a few clips and at times a lack of balance detracted from what was a very well thought out performance directed by Ray Tennant. Just a few wobbles in the middle sections cost them a chance of finishing higher than 11th.
Contest settled

Milnrow then settled the outcome of the Senior Trophy with a performance that was a class above anything heard on the day.
A controlled opening flowed neatly into 'Red' and well shaped 'Orange', before exact changes in style and tempi saw some lovely ensemble and solo playing in the following sections. By its conclusion, which was darkly hued, they were leaders, and eventual winners. It was very classy playing.
Satisfaction

Wantage A Band can take plenty of satisfaction from a performance that promised much, and 8th place was for us just on the low side for us. It just took a while to come to the boil perhaps, but when it did it contained plenty of fine ensemble and solo playing and a sense of controlled style.
Disappointment

As for Camborne? 7th place will be a big disappointment to them, and perhaps the reliance on their powerful ensemble sound just needed a touch more refinement. In the darker coloured passages it was by far the best sound of the day, and whilst a little lightness and crisper ensemble may have benefited in the lighter shades, it still had a stamp of authority.
Beaumaris were another band that impressed with the quality of its ensemble sound and 5th place was well deserved, although a wrong entry early on and a touch of harshness towards the end as stamina just faded may have been the difference between promotion and another year in the same division. It was close though.
Pipped

It was Laganvale (Metal Technology) that pipped Beaumaris with a performance of many plus points. Neat and tidy the band kept just enough in reserve to finish off with two cracking movements – and just nip into take that final promotion place. It would be great to be able to hear this band on a more regular basis, as on this form they would more than hold their own in many regional championships around the country.
Not a day to remember

Mossley didn't have a day to remember, and whilst there was plenty of evidence of solid ensemble work and brave solo lines, the accumulation of significant errors consigned them to 20th place.
Easington Colliery won't look back at Blackpool with any degree of satisfaction either. Some neat touches and musical responses to Ray Farr's intelligent direction seemed to have set the band up for a top 10 finish, but not so in the box and they left disappointed with 17th place.
Fellow North East challengers Felling also left empty handed, after a performance that ran out of steam after early promise. Enjoyable but a little light, 15th was about bang on the mark.
Extra touch

That just left Blackburn & Darwen to end the contest with a performance that just needed that extra touch of finesse to have pushed it higher into the frame. The lack of real dynamic contrast perhaps cost them more than most, as it was certainly an exciting and solidly executed performance.
No problem picking the winners on the day – Milnrow was deserved victors and by some margin too. They will gain a great deal of confidence from this win and will be a band to watch out for the rest of the year.
Dave Tinker