4BR Scouting Report - Philip Varley - Elland Youth Band
2-May-2009
4BR casts its eye on another talented young performer who is making a name for himself in the banding world - Philip Varley of Elland Youth Band.
---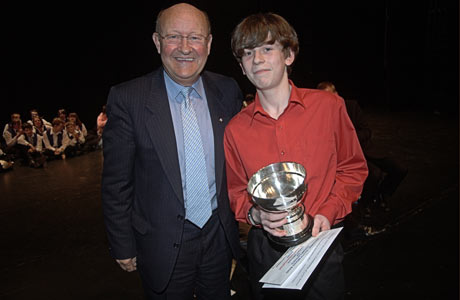 Full of potential: Philip Varley receives his Best Instrumentalist Award at the recent National Youth Band Championships from David Horsfield
Picture: John Stirzaker

Philip Varley
Age: 17
Instrument: Cornet
Current Bands: Elland Youth Band; Elland Silver; Yorkshire Youth Band
Spotting a young player with real potential is one thing. Getting that potential to blossom into something more lasting is something else indeed.
Potential

Philip Varley's potential was spotted some time ago - a young performer who caught the ear of 4BR and others with his natural musicality allied to a solid technique and a true cornet sound.
Now at the age of 17, that well nurtured potential is starting to blossom in full and the principal cornet of the Elland Youth Band is fast becoming one of the rising stars of the Yorkshire banding scene.
That was certainly shown to fine effect at the recent National Youth Brass Championships of Great Britain in Manchester, where Philip was awarded the prize as 'Best Instrumentalist' in the Intermediate Section for his performance of 'Adriondacks Polka'.
Musical family

Philip hails from something of a musical family: The youngest of four children, older sister Helen is currently the principal horn of the Hammonds Saltaire Band, whilst twins, Graham and Heather, both played brass instruments until they left for University. Even his mother Sue, has taken to playing the baritone as a 'Late Learner', whilst Dad has the unenviable job as the family chauffeur.
Philip started playing at the age of 8, following his siblings into brass banding under the tuition of Sam Harrison at Elland Silver Band.
Measured progress

His progress has been measured and thoughtful ever since – taking solid steps at the right pace, so that today he has developed his raw potential to such an extent that a whole new and exciting world of brass playing has opened up before him.
"I'm so grateful to Sam Harrison for the way she helped me from the start," the personable young man told 4BR.
"I didn't get consistent brass teaching in school, so it has been a bit of mix and match over the years. I have been going to see James Shepherd for a couple of years now, and he has done wonders for my playing too – he knows so much."
Cornet legend

That association with the cornet playing legend has made a huge impression on Philip – and the qualities that made Jim the legend he is, are starting to be shown in his playing. "He talks about the importance of breath control and the correct use of the diaphragm all the time, and now I can see why. My playing has come on so much in the last two years, especially my stamina, just by listening to him talk and play."
Philip knows he has much more to learn too, and is finding the experience of playing repiano with Elland Silver, as well as principal with the youth band, a great bonus.
"I enjoy playing rep," he as said, "…it's such an independent part to play. There is always something interesting to do – from playing the main parts to teaming up with the flugel and back row cornets. "
Band experience

That band experience has also meant that he has developed his solo playing too – all under that watchful eye of the former Black Dyke principal.
"My solo playing has really come on a lot. I enjoy slow melody playing, but I now feel more confident with pieces like 'Adriondacks Polka', which I played at the Youth Championships."
Jim has also planned out further pieces with a progressive eye on the future. "I would love to be able to play 'Cleopatra' like him, but I think that's a few years away just yet," Philip admitted.
Talent

Not that far it would seem given the quality of his winning performance in Manchester a few weeks ago, where David Horsfield, a former player with Jim Shepherd, recognised a real talent in the making. "I think I may have a go at 'Hailstorm' next though, he added.'
Studies

Philip also has other important hurdles to overcome in the next couple of years with his studies. He is currently in the Lower Sixth form ploughing through Maths, Physics, Design Technology and History at AS Level and hopes to follow his siblings and go to university to study perhaps architecture, engineering or even physics.
"I'm not 100 percent sure yet, but as I haven't got a GCSE in music and have only passed Grade 5 with my playing, so I think I may have a better chance getting a job as an engineer than a professional trumpet player," he said with genuine modesty.
What he is sure of though is that he wants to carry on playing the cornet, even if he does have to leave home to go to university.
"I'm not really interested in playing the trumpet and want to keep improving my cornet playing. I would perhaps like to try and get a higher grade on my cornet, but that can wait a while. I'm enjoying playing in the bands at the moment."
Enjoying

Philip has been principal cornet of the Elland Youth Band for the past 18 months and hopes to carry on playing with them as long as he can. "I really enjoy playing with the band, playing new pieces and seeing us get better. I also enjoy playing in the Senior Band, especially when we have pieces like Paul Lovatt-Cooper's to play. "
He also enjoys meeting up with friends at the Yorkshire Youth Band, but hasn't really got any ambition to play in the National Youth Band of Great Britain at the moment. "I like meeting new people and the Yorkshire Youth Band is great fun, so I'm happy at present."
Honest

This refreshingly honest and personable young man does have a few hidden ambitions though. "I would love to be able to be good enough to play for Black Dyke one day."
As for the immediate future? "I'm practising for the Elland Solo Contest and will be playing the 'Orange Juice' piece," he said with a laugh.
Somehow you sense that he may well be celebrating with something a bit different in future. Philip Varley's blossoming potential will see to that we are certain.
Iwan Fox