2009 Spring Festival - Test Piece review: Spectrum
7-May-2009
4BR looks at Spectrum - courtesy of Harry Mortimer's thoughts on the piece back at the British Open in 1969...
---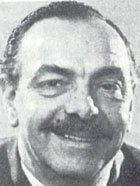 According to the notes given in the British Open programme of 1969, 'Spectrum' was described by Harry Mortimer in the following manner:
Spectrum – Gilbert Vinter
The work begins with a slow chromatic ascent from the bass, accelerating quickly through the band to a shimmering incandescence in the cornets, under which the main harmonies and theme are given out.
This plunges immediately into a march like movement representing 'red' - harsh and disturbing, with discordant harmonies and complicated rhythms.
The fierce heat subsides and the tempo drops to a more leisurely speed for 'orange', which, over a basic Latin-American rhythmic style, becomes diffused and languorous.
Next comes 'yellow' – dynamic and playful, with a bold and surging tune building to a high climax and finishing abruptly – to be followed by the peaceful, pastoral 'green'.
This is represented by a quiet expressive melody on soprano cornet and solo horn, with interjections by the solo cornet. Trombones and euphonium hold a conversation, which leads up to a short but passionate section, before returning to the quiet opening melody on the full band.
'Blue' brings a delicate crispness and clarity, and features the solo and repiano cornets in a brilliant unison passage, after which, the short sections in three-quarter time that run through the movement, suddenly develop into a strong waltz representing 'indigo'.
This is in Rondo form and leads into the final colour in which three quarter rhythm continues as an insistent throbbing bass, under a strong and powerful harmonic structure, first on euphonium and trombones, and then on full band.
A reiteration of the introductory passage acts as a coda, and brings the work to a close.