2009 European Brass Band Championships - B Section retrospective
5-May-2009
There was a superb B Section contest to whet the appetite on the Saturday morning - and a fine winner from Germany.
---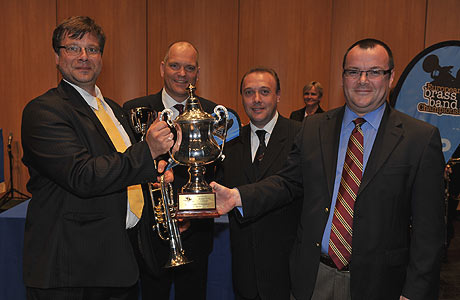 Get ready to celebrate!: 3BA Brass get their hands on the trophy

More pictures at:
http://www.pbase.com/troonly/09ebba_b_bands

Whilst the tension and excitement mounted ahead of the own choice contest, Saturday morning saw six bands compete with national pride and no little amount of talent in the B Section.
Having six bands compete here was good news for EBBA as this was the highest number since 2005. Twelve months ago, EBBA admitted that the section could well be at a crossroads as there has been a drop off in the numbers attending in what in theory remains a contest for emerging countries. Now the future looks a little more secure.
Cathedrals – a fine composition
The set work by Bert Appermont entitled 'Catedrales' (Cathedrals) proved to be a fine composition from a talented composer that portrayed the various acoustic effects to be experienced on a visit to such magnificent building. A Gregorian chant was depicted along with a chorale section and a typical triumphant ending where he envisaged visitors looking up at the sights and taking in the wonderful sounds.
Good standard
It has to be said that the overall standard was very good this year. Austrian Brass Band of the University of Music and Performing Arts Graz and the Italian outfit, Brass Band Wipptal vied for second place, but it was 3ba-brass from Germany who was head and shoulders above their rivals. Nobody who heard all six contenders would deny they didn't deserve to take the spoils.
As has been the case previously at this contest, you can have a great degree of competitive sympathy for the other five bands.
3ba-brass finished runners up last year and this time put the record straight with a performance that will certainly give EBBA something to think about. 3ba may not be at the standard of the Championship Section outfits just yet, but they are a mightily impressive group of players, keen to improve further.
Best till last
It was a case though of saving the best till last to hear the Germans in full flight. They were just so confident and composed in their delivery, all topped off with a real professional sheen in execution.
They opened with a full-throttled, 'Where Eagles Sing' complete with electrifying tempo's and dynamics before an authoritative account of the test piece, that was so descriptive and full of ambience.
To close, a fine performance of Wilby's 'Paganini Variations' that was robust in its execution with so much clarity and detail shining through. Eighteen years after it was first used, 3ba demonstrated that it requires a good band to pull it off – and this was a good band.
That 9.00am feeling
At 9.00am, it was Drogheda Brass Band under Michael Maher from the Republic of Ireland who got the contest underway in fine style. Gregson's 'The Plantaganets' took a bit of time to settle but when it did there was plenty to admire, particularly in the ensemble and dynamics.
The world premiere of 'Catedrales' was a thoughtful reading with attention given to projecting the right effective sounds. The closing 'Island of the Setting Sun' had the audience dreaming of warmer climates in what was a descriptive performance to lead them into a well merited and encouraging 5th place.
Murley's return
Murley Brass returned again this year and they got off to a rousing start with the march, 'The New Colonial' that was taken at a fine swagger tempo, and featured some excellent playing (particularly in the obligato part) by the band's soprano player.
The set work certainly tested the band and it was an edgy performance, nervy at times and not quite on the boil.
To close, a safe reading of Eric Ball's 'The Wayfarer' which unfortunately suffered from a lack of clarity and detail in the faster passages and also a lack of dynamic contrast which just took the edge off a musically shaped performance. The band is certainly improving and 4th place was their reward for a second year in a row.

Impressive Italians
Brass Band Wipptal were mightily impressive. 4BR had them third with the Austrians second, whilst the all-important judges had them the other way around.
If they compete here again, they could well emulate Brass Band Frener-Reifer Pfeffersberg who took the title a year ago, as this is a band with so much untapped potential.
Everything was tight and precise, and a lot of attention was given to detail. The opening 'Feel Young' epitomised the youth of today and was a fun, funky, chilled out piece that was great to listen to. Meanwhile, the set test was extremely descriptive and atmospheric and Peter Graham's arrangement of 'The Swedish Folk Song' (O Lord My God) brought a sense of calmness to proceedings with some nice cornet playing heralding a bold climatic finish.
To close a vibrant interpretation of 'Czardas' that maintained the quality that had gone before and gave the band a deserved runner up place.
Following in the footsteps
Austrian Brass Band of the University of Music and Performing Arts, Graz, came to the contest no doubt intent on making the kind of impression Oberösterreich had done previously, and they can be immensely proud of their performance.
For their challenge, the band opted for just three pieces including the test piece.
Firstly, the set test for the Europeans in 1990, Peter Graham's 'The Essence of Time', which was by no means flawless but had much to admire throughout.
The interpretation of the set work was the most impressive up until this point. So much clarity and detail came through and the dynamic changes were very effective. Whereas the work had stretched others, it was well within their capabilities.
Finally, a vibrant account of Peter Graham's 'Gaelforce' where once again the focus was on good ensemble and solo playing – especially the flugel voice in Minstrel Boy, which was beautifully darkly hued in tone.
Eclectic Senjorai
The remaining contender was Brass Band Senjorai who opted for an eclectic programme, which highlighted their strengths. 'Vaivoryksté' was short and tasteful on the ear as was the 'The Heart of Lithuania' (which gave more than a hint to the judges as to where the band was from)) where the band seemed most composed.
Their principal cornet proved to be a little gem with a performance of 'Zelda' (although the audience was expecting Harold Moss's The Nightingale), and the soloist held his nerve, displaying a fine technique and great composure throughout.
Unfortunately, the set test was more than a little nervy and uncomfortable at times and it just left 'Terra Tremuit' where the band sounded a little tired after giving their all.
That said, the six bands provided almost four hours of high quality playing with some challenging music. The winners will no doubt have celebrated long into the night drinking plenty of Belgian beer - and they deserved to. It was classy stuff.
Malcolm Wood