2009 European Brass Band Championships - The high wire stars of Ostend
5-May-2009
There was one group of players who thrilled everyone on the weekend - the amazing bunch of high wire soprano stars...
---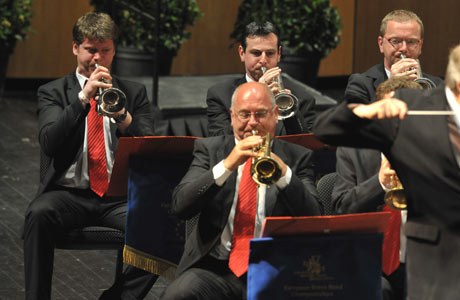 Soprano star: Christian Hollensteiner adds his class to Mr Gansch with Oberosterreich

It may well have been the euphonium virtuosi Michael Dodd who deservedly won the 'Best Instrumentalist' Award for his fantastic efforts in dragging Grimethorpe back into contention on the Saturday afternoon on 'Masquerade', but there was little doubt which group of players were the real star turns on the weekend.
Cauldron

In the high pressure cauldron of the Elite Section there was no hiding place for the soprano players – the high wire acts of banding.
Time and time again the 11 (or was it 12? – at least one band played with two) players responded to the immense challenges laid down in both the set work and their own choice selections like Trojans – that's if Trojans had balls the size of grapefruits that is.
Sisyphean task

Playing the soprano cornet is Sisyphean task at the best of times – for all the hard work in getting to the top of a horrendously difficult test piece, it only takes one slip to send a player (and his reputation) hurtling back to the contest floor: And the soprano part on 'From Ancient Times' was as high as Everest.
The potential consequences of flying too close to the sun on this piece made the plummet of Icarus look like a well choreographed dive in the sea.
Cruel streak

We don't know if Jan Van der Roost has a particular dislike for soprano players or just a cruel streak in his musical make up that makes him write the type of parts for the instrument that only the very, very best performers have a hope in hell of playing (we don't think he has either, as he's such a nice bloke - but you get the drift), but on the Friday night, some of the finest practitioners were tested to the full.
However, one man who would have surely relished the chance to test his musical mettle in Ostend was sitting quietly in the audience. Peter Robert's looked and listened, nodded and clapped in appreciation. He knew just how hard the part was and just what skill and talent was needed to play it. How some of the band's must have wished they could have employed his services though…
Chancers

It is said that soprano players fall into two distinct categories – the mad and the bad, and the mad, bad, and dangerous to know. There is undoubtedly something in their musical DNA that draws comparison to thrill seekers and chancers (they would make terrible poker players), but there is also something about them that draws an unprecedented amount of admiration from the listener too.
They know that they are only one small step away from disaster, one mistimed entry, one badly produced note from scuppering the chances of their bands of winning the biggest prizes in the business. That's why they love them - especially the ones who never play safe.
Traps and potential

Not that 'Ancient Times' gave them much of an opportunity to do that: From the opening pp muted entry to the final eye popping blood vessel bursting fortissimo top D to close (with a pause to boot) there were traps and potential pitfalls at every turn.
There can't have been a test piece written with so many top Ds in it, or one that asked so many questions of the soprano players skills – from lyrical expression and precision filigree work to delicate solos and those blast out cherry topping screamers.
Different world

It may appear to be unfair to pick out a single performer who was the best of a very fine crop of players, but the 21-year-old Christian Hollensteiner of Brass Band Oberosterreich inhabited a different world of soprano playing.
True, he is a leading professional trumpet player in his day job back home, but what a sop player too. Nothing was beyond him – not the most delicate high speed filigree work that was played with a razor sharp clarity that almost crackled in its intensity, to the lovely warm nuance he placed in the more lyrical lines.
When it came to the big blowing stuff, no one was in his league, and the abiding memory was surely the final chord of the set work, which he hit like a laser beam, making it grow in breadth of volume before snapping it off at its zenith.
On helium

Then came the staggering finale of the Austrian's own choice work, 'Spirits of Puccini' which had him sailing at breakneck speed above the band as they whacked out a high tempo version of 'Nessun Dorma'. He was like Luciano Pavarotti on a helium fix. No wonder the audience went bonkers – the man was unbelievable.

Amazing dexterity

Others too performed with amazing dexterity and sheer commitment to the cause.
Both Kevin Crockford and Frode Rydland showed their experience and class over both days with Grimethorpe and Eikanger respectively, whilst Leon Klink of Rijnmond and Steven De Volder with Festival Brass sounded like star pupils of the Maynard Ferguson school of high note expertise on both days.
Traditional

On the other hand there was some lovely, more traditional soprano work on show from the two young titans of Scott Forrest of Whitburn and Adrian Williams of Tredegar – both of whom enhanced their reputations in high class company, whilst there was the most tasteful playing you could imagine from Manuel Cathoblaz with Treize Etoiles - a study in intelligent musicality.
The experienced Lars Haedersdal was the star turn with Lyngby Taarbaek whilst Olivier Voisin of Brass Band Aeolus was a beacon of French flair and élan.
Loudest cheer

The loudest cheer however was reserved for Bert Van Theinen with Cory. The Belgian producing two performances of the very highest class in helping his adopted compatriots to the title – (he even sung a bit of the Welsh anthem too!)
All of them earned their money and the cheers from a knowledgeable and appreciative audience when their respective conductors stood each up at the end of their band's performances.
More importantly, they will have earned the undying respect from their fellow players too.
They are a breed apart – and all of them showed why on the weekend.
Iwan Fox