2009 European Brass Band Championships - Medals for bravery?
27-Apr-2009
Sometimes being brave isn't enough - Some of these choices really did put the necks on the line...
---
There are times when the old SAS motto of 'Who Dares Wins', may well come in handy at the European Championships.
Bands taking a risk to win a contest is one thing – judges, organisers putting their necks on the line, quite another. Some have proved successful; others are a touch more debatable…
These are 4BR's ten bravest choices at the contest since 1978…
---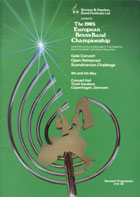 1. Black Dyke Mills Band – Volcano
Own Choice selection, Copenhagen – 1985
Would any band and MD in their right mind pick a piece with a quiet ending as an own choice selection nowadays at the European?
There is no doubt the Black Dyke of 1985 was some band, but after the set test in Copenhagen they were lying second, three points behind Sun Life, who had chosen to play the all bells and whistles 'Carnival Overture' by Dvorak.
With others opting for the likes of 'Dances & Arias', 'Blitz' and 'John O' Gaunt', you would have thought they were out of it, but a combination of luck and judgement by Peter Parkes and the lads, saw them come 4th and still take the title by a single point.
Amazingly three bands beat them on the day, all of whom played Gregson's 'Dances & Arias'. Sun Life dropped to seventh and Dyke went on to win the Grand Slam of all major contests they entered that year. Phew!
---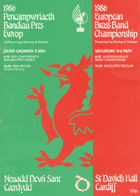 2. Desford Colliery Dowty - Daphnis and Chloe
Own Choice selection, Cardiff – 1986
A year later and we were in Cardiff where Desford were in their pomp under Howard Snell.
On the set work, 'The Year of the Dragon' they were awarded 99 points and the contest seemed in the bag, as second placed Black Dyke was 5 points behind.
Then all hell broke loose, as Dyke literally set fire to the hall off the number 1 draw on 'Contest Music' and Desford followed with a bit of Ravel. Many thought Howard Snell had lost his musical marbles, and the traditionalists in St David's Hall thought it the end of the brass band world as they knew it. Others just sat opened mouthed at the sheer brilliance and audacity of it all.
The judges awarded them second place, but the overall title was theirs and Snell's bravery saw him claim his first European title in truly memorable fashion.
---
3. Kerkrade 1983
For the first five years of its existence the European Brass Band Championships resembled Britain's political relationship with the Common Market under the then Prime Minister Margaret Thatcher – ' don't trust the buggers'.
Still, change had to come and the decision by Boosey & Hawkes to dip their toes into Euroland proved a huge success. Even Black Dyke, who had earlier stated their intention of not setting foot outside 'Blighty' were persuaded to take part, and duly won the contest by eight points.
The seed was sown and now the contest has been to Norway, Denmark, Germany, Swtizerland, and next year, Austria. Who would have thought it…
---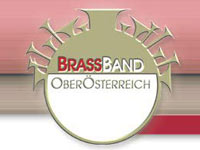 4. David King, Jens T. Larsen, Jan Van der Roost
Dreams – Bertrand Moren
Brass Band Oberosterreich – 10th place, Stavanger
A brave decision this – no doubt about it. Whether it was a right one however, will be debated for many a year to come.
There was little doubt that the Austrians produced a quite thrilling performance of their own choice work – a tour de force that had the audience on their feet at its conclusion.
Not so the judges, with David King stating that their downfall had been in part to the band and MD straying from what he called, 'subservience to the score' - and failing to remain faithful to the composer's wishes.
When the result was announced most neutral observers were puzzled to say the least – the Austrians almost apoplectic.
---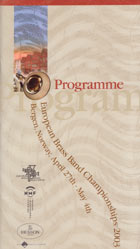 5. Yorkshire Building Society – Concerto Grosso
Own Choice selection, Bergen – 2003
More David King – this time with his decision to try and repeat the triumph of Brussels twelve months earlier when the YBS performance of 'Concerto Grosso' was simply irresistible.
The Australian's ability to keep everyone guessing when it came to own choice selections at the contest was already legendary, but this brave decision to retain the title on a repeat performance took some musical balls.
In the event it just did enough – coming second on the day to Cory's 'Revelation' to win the tied contest by virtue of their extra point gained on the set work the day before. A brave decision that very nearly backfired.
---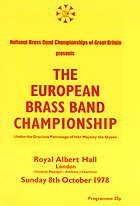 6. Black Dyke Mills Band – Connotations
Own Choice selection, Royal Albert Hall – 1978
A brave decision or a stubborn one taken with undisputed self interest at heart?
Bands at the first European were asked to enter into the spirit of European co-operation and friendship by playing an own choice piece that reflected their nations musical heritage.
Something got lost in translation though (the Irish played a piece called 'Norwegian Carnival') and with Black Dyke not wishing to perhaps put their necks too firmly on the line with a piece of 'English' (or even Yorkshire) inspired fare, opted out and played 'Connotations' instead.
Who dares wins indeed?
---

7. Own choice works – London 1997
The decision by EBBA to restrict the competing bands to play repertoire written between 1920 & 1940 from a prescribed list of twelve compositions from the period, could certainly be deemed a brave one.
The bands didn't really like it, but the music from the 'Golden Age' (as the organisers called it in the programme) certainly tested the bands to the full - although five of the twelve played 'Pageantry', and two each opted for 'Freedom' (including the own choice winners, Tredegar) and 'Epic Symphony'.
It was certainly different (and copied for different eras in the following two years) and for many it brought the contest back to something approaching a level playing field. There are many proponents of it happening again…
---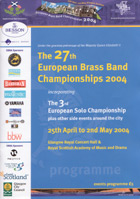 8. Yorkshire Building Society – Music of the Spheres
Own Choice selection, Scotland - 2004
After the close call the year before in Bergen, David King simply blew away the opposition in Glasgow with his brave decision to opt for a very specific piece of contest winning writing.
If you have Peter Roberts, Stuart Lingard, Sheona White and the rest in the ranks then why not showcase their talents to the full. 'Music of the Spheres' did just that and more and opened the floodgates for the rest to try and play catch up in the years to come.
It was the final bit of contest winning genius from Australian – brave and brilliant in equal doses.
---
9. Gala Concert – Groningen, 2005
A man using his head as a percussion instrument, a scantily clad troupe of dancers who looked as if they came from the Dutch equivalent of Raymond's Revue Bar in Soho, all topped off with a peloton of cyclists dressed in national outfits playing brass band instruments…
All that was needed was Stuart Hall and it would have been a brass band version of 'Jeux Sans Frontieres'.
Brave ain't the word for it. This was surreal – as if the organisers had pumped cannabis into the auditorium without anyone noticing…
---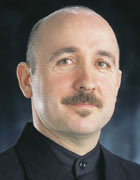 10. Roger Webster – Groningen, 2005
Now then. Just think. Two minutes before you are due to lead Black Dye onto the stage on the set work at the European Championships, your third slide trigger breaks.
With quick thinking you fix the problem with the help of a well-placed blob of 'Super Glue' dabbed into position on your finger. Relief!
Without a second thought however, you then proceed to lick the finger clean, thereby sticking your tongue to your bottom lip. Disaster!
Without a second thought, you bravely cut your tongue free with a nail clipper borrowed from a female member of the band, walk onto the stage and play a blinder to lead Dyke to their first European title in a decade.
That takes balls the size of a Grand National winner don't you think?